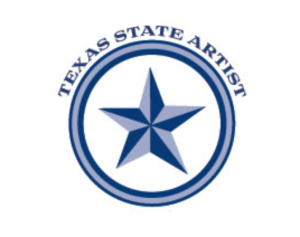 In case you didn't already know about this: Each year the Texas Commission on the Arts chooses two artists (one 2-D, one 3-D) to represent the state, sort of like a poet laureate or Miss Texas gig.
The call for nominations is ongoing; the deadline is October 15th and the nomination form is here. You can nominate yourself and are in fact urged to do so, and the overall number of nominations for each artist will not effect the outcome, because instead of this being a popularity contest, winners are chosen by a panel of judges. (You can also nominate a state musician and a state poet.)
Via the Commission's website: "Texas State Artists serve one-year terms and represent the state's artistic legacy. Texas State Artists are widely recognized for their contributions to the state and the advancement of their respective art forms."
And why apply? "Artists receive statewide recognition, and the designation provides a unique marketing opportunity." The State Artist can also join the Texas Touring Roster. Some recent past State Artists include Texas favorites Julie Speed, Melissa Miller and Jim Woodson.
FAQ's are here.