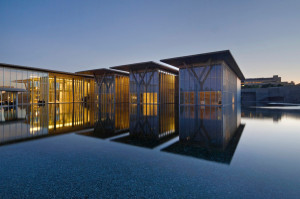 Following yesterday's news about Austin's Museum Day comes news of Fort Worth's similar initiative, now in its ninth year, called a Day in the District (meaning FW's Art District). This family-friendly event takes place all day on Saturday, Sepember 27, with free admission to nine museums and other non-profit art venues. There's plenty of events and programming throughout the day, and while the neighborhood is walkable, there's also free transportation on The T (FW's city bus service) for the day.
The Amon Carter, Kimbell, and the Modern are of course participating, and six other organizations, including the Fort Worth Museum of Science and History and the Fort Worth Botanic Garden; the full list of venues and special programming is here.
Fort Worth's Day in the District, Saturday, September 27, 10 a.m.- 5 p.m. at multiple venues.