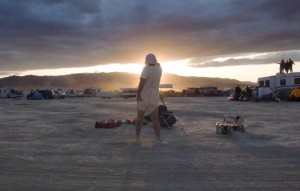 Late last week MOCAtv, a web channel devoted to the goings on at the Museum of Contemporary Art Los Angeles, posted a short but excellent video featuring artist Michael Smith telling his story about his friendship and various collaborations with the late great Mike Kelley. It also features some rare photos, footage, and audio.
The video compliments MOCA's ongoing Mike Kelley retrospective, and in it Smith recalls first meeting Kelley in 1975 in Ann Arbor, and their occasional collaborations before delving into a project they undertook together in a few years ago, titled "A Voyage of Growth and Discovery", featuring Smith as his alter ego Baby Ikki. For this, Kelly suggested they take the character to Burning Man and record him wandering the festival and interacting with people for days. Kelley loved the result and together they produced a multi-channel video and sculpture installation (Austin's Andy Coolquitt was involved as well) around the footage; it was exhibited at the SculptureCenter in New York in 2009.
In the MOCAtv video, Smith is remarkably respectful and honest about Kelley, without getting overly wistful (I really like hearing good artists talk about other good artists), though it's hard not to find in his recollection of Kelley how much the art world is still reeling from his suicide.
Highly recommended viewing.
(photo: LA MOCA)