On Saturday night, after a rapid and intense battle against cancer following a diagnosis of the disease less than six months ago, the artist Theo Wujcik passed away at his home in Florida, his dealer and friend Ree Willaford from Galleri Urbane in Dallas reports. "With his loved ones around him, he moved on from this world," Willaford says.
Born in Detroit in 1936 but a long-time resident of Florida, Wujcik was known primarily as printmaker. He worked for every major printmaking house in the country, including the presigious Gemini G.E.L. in LA where he was Jasper Johns' printer in 1968. He was also a co-founder of the Detroit Lithography Workshop where he printed Robert Morris' "Earth Projects" suite, a commission from the Detroit Institute of the Arts in 1969. He was beloved by many of the artists he printed for, including Ed Ruscha and James Rosenquist who recently flew to Dallas for Wujcik's solo show opening at Galleri Urbane when Wujcik himself could not because of his illness, "as an homage to Theo," Galleri Urbane's Willaford said. As a printmaker, "Theo was the best," Rosenquist said of him that night.
Like his friend Rosenquist, in his own artistic practice as a painter and printer Wujcik had a keen eye for irony: he knew just how to compose a picture to highlight life's many hypocrises. He tackled the nitty gritty banalities of American life with imagery of fast food, bad beer, and fading logos of Coca-Cola, and explored how American commercialism spills out into the rest of the world in his Asian Series, a highly-detailed, sometimes exquisite picture of cross-cultural influence.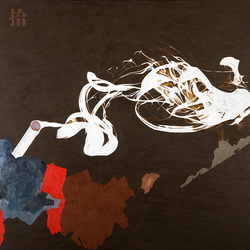 Wujcik's recent Global Warming Series considers the fallout of consumeristic glut,  depicting a sacchrine world slowly succumbing to erasure by digital pixels.
Wujcik's solo show of paintings at Galleri Urbane in Dallas was his last. He was eager to come to the opening and have a dialogue with his old friends Ruscha and Rosenquist in the space because the "show/event was the one bright light that lit his eyes up and kept him going for a bit longer," Willaford says. Last week, Glasstire publisher Rainey Knudson recounted her experience at that opening and gallery talk that Wujcik was not well enough to attend. By all accounts, the night was strange and more than a little uncomfortable, but her piece underscores the odd intersection between art and life's deeper meanings in a way that Theo Wujcik, an artist who spent a lifetime making images he hoped would show something real and raw about the world, perhaps would have appreciated.