It's no secret that the people who work at museums have always been predominately white, but the Andrew W. Mellon Foundation is now supporting a new initiative at five major museums aimed at diversifying curatorial leadership.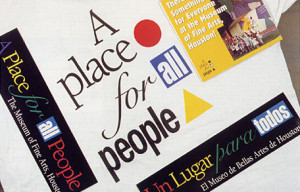 Chicago-based critic Jason Foumberg recently published a report about a new fellowship program to begin next year at the Museum of Fine Arts, Houston; the Art Institute of Chicago; the Los Angeles County Museum of Art; Nelson-Atkins Museum of Art (Kansas City); and the High Museum (Atlanta). According to Foumberg, the program will connect college sophomores from "marginalized backgrounds" (in quotations marks because the Art F City summary describes the future participants as coming from "underprivileged backgrounds" and those sorts of distinctions get sticky in conversations about diversity) with curators at the five participating museums. Over four years, the students will receive professional mentoring and paid fellowships in "an effort to make art museum curatorial offices as diverse as the communities they serve."
There will only be four positions in each of the museums, but twenty paid internships (with a $10,000 stipend per summer for four years) at five major museums can do much to offset the seemingly recent recognition that good museum internships are really only for rich kids (who are paying college tuition to get credit for it and also have no need of a summer job).
Both Foumberg and Art F City point to statistics that show that about 80% of museum workers are white and over 50% are men (okay, half men seems fair, until one looks at the gender ratios of those who receive art and art history degrees). Art F City also quotes art critic Ben Davis' numbers of actual frequent museum-goers and it's even more depressing at 92% white.
Even as folks like Dave Hickey lament the political correctness that has made its way into the art world, possibly undermining the creation and recognition of bolder contemporary art (as could be construed from Hickey's recent Glasstire talk), Mariët Westermann, vice president of the Mellon Foundation and an art historian, states that the diversity initiative isn't just about affirmative action. Rather, "lack of diversity in the museums is a risk to their future relevance," warned Westermann. "More inclusive and diverse staff including curatorial would allow museums to serve their publics better," she said.