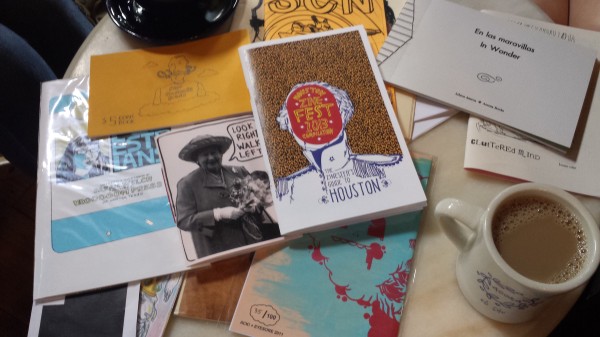 An underground tradition of twenty years is coming to the Museum of Printing History this October. Zine Fest Houston has booked the indoors location for a celebration of indie print and zine culture.
Like The Phantom, Lee Falk's pseudo-immortal crimefighter, Zine Fest's true identity has changed hands several times. The annual event was originally organized in 1993 by Shane Patrick Boyle, who handed it down to Lindsey Simard, who passed it to current masterminds Anastasia Kirages and Maria-Elisa Heg. Both women are zine-makers, and rising movers and shakers. Anastasia, who joined the organization in 2011, has organized and curated shows for the Undergraduate Art History Association at UT Austin. Maria, who has been an organizer in Counter Crawl and Occupy Houston, joined up in 2012. This marks the first year the ladies have run Zine Fest together.
Describe Zine Fest Houston in one word.
(A moment of exchanging agape stares follows.)
Maria: Eclectic!
Anastasia: Inspiring.
Maria: Wait, can I change my mind? Supercalifragilisticexpialidocious!
If you're unfamiliar with Zine Fest, allow me. A zine is a small publication, generally independently published or hand crafted. They're an outlet, sometimes more visual arts and sometimes more literary, that anyone can make and publish and distribute. It's grassroots. It's personal. It's punk. Like the culture of street art, it's a subculture that resists definition. It has strong ties to activism, feminism, mental health, politics, spirituality, or just a love of the medium as an art form. This isn't your typical comic book demographic.
You might wonder: why zines—in this digital age, with social networking being at the peak it is, when you could make web comics or a blog? Zine artists can work with texture and color and whatever limited materials you may have in a way you typically wouldn't for a web comic. While many zines are printed by home printers or the copy store, others are hand-printed, painted, drawn, or collaged in limited editions, truly as works of art. Some have three-dimensional elements: buttons, embroidery, or pressed flowers for example—which you don't replicate in the same way online.
It's the tangibility of zines, of holding a book in your hands, that holds them in the hearts of both Anastasia and Maria. For these ladies, and fans like them, their zine collections are sacred. Maria tells me,"…[Zine Fest is] also a part of gift culture: there is a lot of trading and sharing going on." It's very much participation-based. Like street art or DIY culture, this is a community. Artists repeatedly show or visit the gatherings, trading and selling their zines with other makers and fans.
This year will be no exception: original organizer Shane Patrick Boyle is making a return this year, as well as some repeat artists such as Jason Poland and Nation of Amanda. During the pre-registration period, twenty-eight artists signed up in under a week. More are expected as tabling setups are finalized and the last registration period passes. A lot of art will be available to buy, and artists often have other handmade items to sell alongside their zines. Visitors are welcome to bring their own zines that they may wish to hand out or swap.
What's your favorite Zine Fest memory?
Anastasia: Last year, a little girl tabled next to me who had a zine about a magic eraser. It was inspiring because she was so small but she was making zines! Her mom was stoked! 

Maria: When people respond to the kinds of things I'm making. It's really motivating.  Also its fun to get people I know and respect to perform.
There will be more than just zines at Zine Fest. David Ensminger, a punk rock historian and zine archivist, will be giving a talk. There will also be a panel discussion moderated by Space City Nerd. Michael Bise will be a featured speaker. In addition, Harris County librarian Maggie Block will lead a kids zine workshop and a teen zine swap, and there will be a demonstration of wood block printing by the Museum of Printing History staff. An after-party will feature local musicians as well. (Details TBA.)
Zine Fest Houston will be free to attend and is a family and kids friendly event. You really really really need to mark October 12th, 3-8 pm at the Museum of Printing History on your calendar. Circle it in red marker. Like, twice. See you there! If you're an artist who's hoping to show, contact the gals via the website to check for available space. You can also follow them on Twitter @ZineFestHouston.