Houston's 17th annual QFest begins Thursday, its five days of screenings featuring over 30 films that go where the sun don't shine—both literally and figuratively. Under the direction of Kristian Salinas, the festival's programming celebrates the kind of explorations of sex, love, identity, reckoning, and reinvention that are not only at the heart of queer culture but in the gray-area struggles and desires of anyone existing between worlds.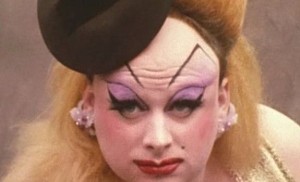 Two stand-outs of QFest are portraits—one new, one a rediscovery. The festival's opening night premiere, I Am Divine, is a great, new documentary profiling the life and career of Harris Glenn Milstead, better known as larger-than-life drag superstar, Divine. Both Glenn and Divine are complex, boundary-pushing characters determined to have it all, and their evolution is fascinating. The rarely seen 1967 documentary film Portrait of Jason by Shirley Clarke is a different kind of experience. Rather than chronicle an entire life and career, this film takes place in one small space over the course of one late evening. Shot in Clarke's Chelsea Hotel apartment, houseboy and self-proclaimed hustler Jason Holliday drinks, smokes, and discusses his life experiences, half-baked philosophies, and aspirations as a cabaret performer. Influenced by Warhol's screen test films, Portrait of Jason is intimate and simpler than Clarke's previous films (The Connection, The Cool World). Best seen as a work of performance art, Portrait of Jason is, by turns, fabulous and frustrating—and decidedly more layered and entangled as more weed and gin pass through Jason's grin.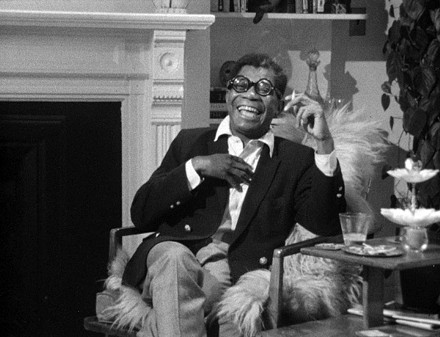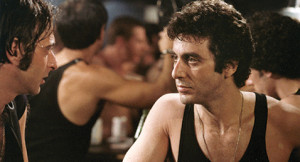 William Friedkin's controversial 1980 film Cruising is showing in a special screening via a 35mm print. Starring Al Pacino as a cop who goes undercover in NYC's gay S&M community to investigate a series of murders, the film was heavily censored and, upon release, caused a stir with both the gay community and straight society about its depiction of homosexuality. The main reason for this special screening is to pair it with the new film, Interior. Leather Bar—an unusual film experiment by Travis Mathews and James Franco. More than 30 years later, they creatively imagine and recreate the unseen missing footage of Cruising, and, in the process, challenge the expectations of both gay and straight actors. Interior—especially seen the same weekend as the original film—is a smart instigator of questions about sex, movies, masks, roles, depictions, boundaries, and expectations.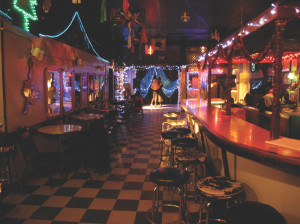 Wu Tsang's film Wildness, about the intersection of queer performance artists and transgender immigrant women at L.A. bar The Silver Platter, screens at the festival's furthest satellite venue, the Galveston Artist Residency. (Side note: DiverseWorks is commissioning new work from Wu Tsang for exhibition early next year.)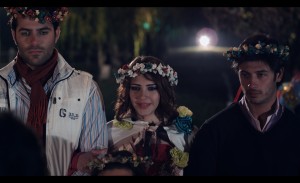 The festival is showcasing a number of new narrative features from around the world: among them, American indie Hunter, Jean-Claude Brisseau's acclaimed Secret Things (France), Juares (France), Lose Your Head (Germany), She: Their Love Story (Thailand), and the US premiere of Out Loud, Lebanon's first gay-themed feature film. There is also a diversity of short films, shown before features and in curated programs. Houstonian Kyle Henry will be in attendance for his Fourplay, a quartet of short films showing at the Aurora Picture Show.
Perhaps because the festival is turning 17 this year, a number of films in the program revel in the awesome, awkward, and awful of the teen years, from the new comedy features G.B.F. and First Period to a trio of high school horror movies co-presented by the Alamo Drafthouse, including Prom Night (1980).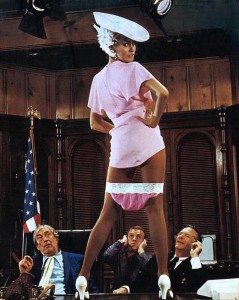 And then there's Myra Breckinridge. No 35mm screening of this outrageous 1970 film oddity, an adaptation of the Gore Vidal novel of the same name, should ever be missed. Raquel Welch, Mae West, John Huston, Farrah Fawcett, Rex Reed. This screening honors the passing of Vidal, and will be introduced by Vance Muse of the Menil Collection.
By its diverse nature, not everything in the festival will be your cup of tea, but I recommend checking out the schedule and making a few picks for the weekend. QFest's dedication to celebrating differences and showing normally unseen perspectives is commendable and as rare as, well, a three dollar bill.
QFest 2013's screenings take place July 25-29 at the following venues: Museum of Fine Arts, Houston, Rice Cinema, Asia Society Texas, Houston Museum of African American Culture, Alamo Drafthouse, Aurora Picture Show, Galveston Artist Residency.