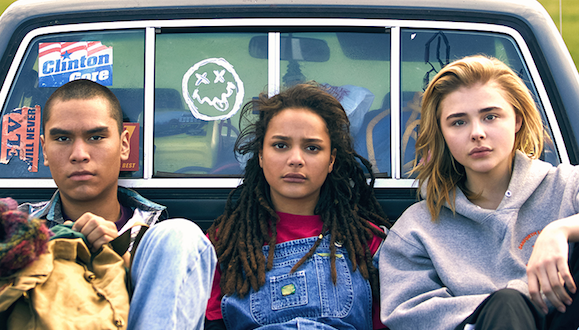 The 22nd annual Houston QFest is coming up and the lineup looks pretty great, as usual. It starts this Thursday, July 26th and runs through the end of the month at venues throughout the town. Every July, QFest presents narrative films, documentaries, and shorts. It begins with a splash and ends with a splash, with some gems in between.
The opening night begins at 7:30pm with The Miseducation of Cameron Post at the Museum of Fine Arts, Houston (director: Desiree Akhavan, 2018, 90 min, USA).  The project revolves around conversion therapy and it should so some different perspectives. Rotten Tomatoes writes:
Cameron Post (Chloë Grace Moretz) looks the part of a perfect high school girl. But after she's caught with another girl in the back seat of a car on prom night, Cameron is quickly shipped off to a conversion therapy center that treats teens "struggling with same-sex attraction." At the facility, Cameron is subjected to outlandish discipline, dubious "de-gaying" methods, and earnest Christian rock songs-but this unusual setting also provides her with an unlikely gay community. For the first time, Cameron connects with peers, and she's able to find her place among fellow outcasts.
This film has been making the film festival circuit and getting rave reviews, so it's a must-see. There will be an after-party at Brasil Cafe. Fun. The festival ends with an awards night on Monday, July 30, at Rice Cinema with a film screening at 7:30pm and a reception at 9pm.
It's the 22nd festival, and the world has changed dramatically in regards to gay rights since the early days of QFest. Attending years ago must have been very exclusive, but these days, it's also open to everyone who wants insight into the lives of their friends, family, and others.