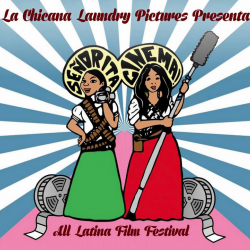 Houston's independent Latina-made film festival kicks off tonight with a reception from 6-9pm at East End Studio Gallery. There will be art, vendors, refreshments, and a chance to win an all access VIP festival pass and tickets.
Founder Stephanie Saint Sanchez was originally inspired by the Boyle Heights Latina Independent Film Extravaganza in Los Angeles, founded by Josefina Lopez, screenwriter of Real Women Have Curves. Lopez's new film, Detained in the Desert, will be screened on Friday night at the Rice Media Center. Señorita Cinema has also just added a Saturday afternoon workshop with Lopez called "Where is the story? Creating and connecting" to take place at East End.
On Sunday afternoon, Aurora Picture Show will present "Señorita Cinema Saturday Night Super Shorts." At 14 Pews, there will be a "performance and film fiesta" billed as "Mystery Matinee Live." So far, the mystery seems to be the date and time.