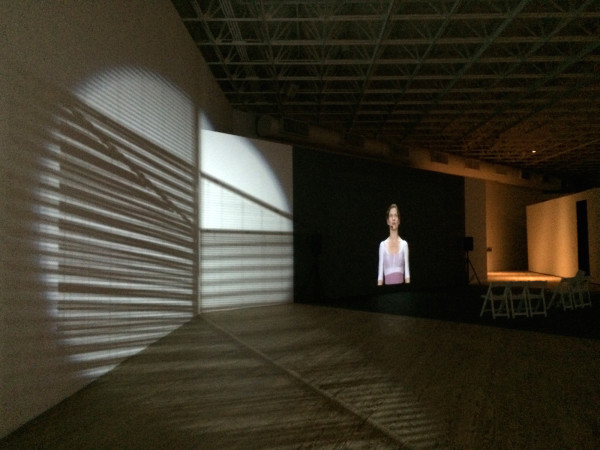 Exhibitions of performance-based art sometimes leave viewers to sort through documentation of past acts: grainy videos, black and white photos, flyers, and other ephemera. If you missed the live performance, sometimes it feels like you just missed it.  Double Life at the Contemporary Arts Museum Houston doesn't simply present performance-based work; instead, four large, light-based works of installation, film, and video in the CAMH's darkened space create an immersive, theatrical ambience that questions exactly what it means to perform.
Entering, a video projection by Jérôme Bel of dancer Veronique Doisneau stretches from the floor nearly to the ceiling. Bel takes us into the Doisneau's psyche. She delivers short autobiographical monologues in between dance numbers, an intimate portrait that feels more like candid video of a practice routine than a formal performance. She hums the music and reminds herself "lift with the partner" as she dances. You see her breathing heavily and sipping water after finishing. In her monologues we hear of her struggle as a performer who is about to retire and will never ascend to the very top of her profession, that she had health problems and was simply not talented enough to be a star. She performs, alone, her part of an act from Black Swan where 32 dancers are on stage. In her role, she is often on the periphery of the stage and has to hold a still pose. These long portions of immobility turn Doisneau into what she describes as "human décor" and make her feel like screaming. Bel reveals the "double life" of a dancer's public façade versus an internal world of private thoughts.
Other works hint more obliquely at ideas of performance and theatricality. Korean artist Haegue Yang uses moving spotlights to pan across and illuminate an ascending maze-like arrangement of red Venetian blinds hung in the museum's corner, a piece particularly suited for the museum's angular, parallelogram-shaped space. The roving lightsilluminating the blinds have a mysterious, film noir feel. Titled Mountains of Encounter (2008), Yang's piece is based on secret meetings that took place in mountains of northern China in 1930 between a journalist and Korean national who was hoping to secure the support of the Chinese communist party to protect Korea from Japan. The red of the blinds and the "rising sun" of the spotlight allude to this backstory, but it would be difficult for a viewer to piece together much of this narrative without reading the wall label. In relation to Bel's video of the dancers, the blinds and spotlights take on the feel of an empty stage waiting for visitors to meander between its partitions and pathways.
In the opposite corner of the CAMH, two works by Wu Tsang expand upon the concept of performance to include race, class, gender, and sexuality as facets of identity that shape our self-presentations. In For how we perceive a life (Take 3) (2012), a short film shot by Tsang on a single roll of 16 mm film, Tsang and performers dressed in black like a theater troupe lip-sync dialogue from documentaries like Paris is Burning (1990) and The Queen (1968) that introduced mainstream culture to drag queen competitions and New York City ballroom culture, such as "voguing." They come together to often speak in unison and then recede into individual conversations and monologues about race, beauty, wealth, and celebrity. Different layers of performance exist in this restaging: a performance for the drag competition, the subject's performance for the filmmaker, and Tsang's actors' performance of this performance. Identity is expressed and understood through elaborate layers of staging.
The other work by Tsang is a video installation that uses the tools of documentary — Errol Morris' Interrotron, a device that allows a subject to make direct eye contact with a filmmaker instead of a camera – to present a series of voicemail messages Tsang and the cultural theorist Fred Moten left for each other. Tsang and Moten kept trying to meet one another, and this video attempts to show a "missed encounter, an attempt at connection, and a love story," according to the exhibition brochure. Moten and Tsang are projected across from one another in a narrow space and the viewer can sit with wireless headphones on a bench in between Moten and Tsang's longing gazes writ large and their sometimes smirking lips, often adorned with red lipstick. Their voicemails are played as an overlapping soundtrack and only sometimes separate to feature one speaker over another. The statements are like disjunctive stories and spoken word poems and while very difficult to follow, portray two people grappling with issues of love and art. It is an impenetrable mix, perhaps purposefully, but does not necessarily leave the viewer with a lot to hold onto. Like reading disconnected email messages in a correspondence, the piece might leave you more bewildered than emotionally drawn in, but it does communicate ideas about disconnection and longing.
Double Life ambitiously brings together work that on the surface would not have a logical connection, but when shown in concert create a cohesive ambience in the CAMH's darkened space. Less is more in this case. The amount of video is not overwhelming, and each immersive piece has an experiential, contemplative power. What is a "double life"? When are we performing versus just being? Can such a clear distinction ever be drawn? In these works, the idea of the live or spontaneous is mixed with the staged to explore rehearsal, mimicry, and self-representation. Instead of a dry, theoretical exercise that leaves the concept of performance anemically deconstructed, the scale and theatrical presence of the individual works makes it vibrantly alive. Through the use of film, video, and installation, these artists show that a performed moment captured can also have a "double life" and live on in the museum space.
Hurry! Double Life will be on view at the Contemporary Arts Museum Houston through March 15, 2015