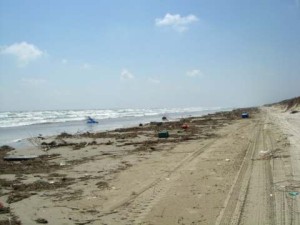 The Galveston Artist Residency and Bill Davenport (that's me!) are collecting all kinds of things found on beaches near Galveston into one room on April 19, for a regional show called "All Time Finds: The Best of the Beaches," aimed at mining the wealth of miscellanea that washes ashore along the 78 miles of beach between High Island and Freeport.  It doesn't have to be the best thing ever: just the best thing YOU found. This is a show about people collecting things, not the Guinness Book of Records. Everyone's invited."
The show is part of the Driftwood Festival, a weekend of events and wonders, April 19-21, funded by an Andy Warhol Foundation Idea Fund grant.
How it works: Bring or send your find to the Galveston Artist Residency, 2521 Ships Mechanic Row, Galveston TX 77550, during gallery hours, Tuesday-Saturday 11am to 4pm and tell about it. They will display the finds and their stories  in the G.A.R. main exhibition space, until it is filled. The deadline for dropoff is Sunday, April 7. If you need help transporting your find, contact Bill Davenport at [email protected], or the G.A.R. at  [email protected], 409 974 4446.