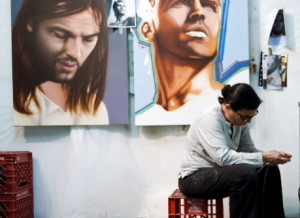 Art League Houston has named Rachel Hecker as their Texas Artist of the Year for 2013. Leigh and Reggie Smith were named as Texas Patrons of the Year, and, in recognition of the honor's 30th anniversary, will award artist Kermit Oliver with a Lifetime Achievement Award in the Visual Arts. The annual awards honor those whose work or patronage has had a significant and positive impact on contemporary visual art in Texas.
Hecker was worn in Providence, RI, and attended Moore College and RISD before moving to Houston in 1982 as assistant to Allen Hacklin, first director of the Museum of Fine Arts CORE program. She served as associate director of the program from 1982-1991, and is now an Associate Professor of Painting at the University of Houston. As an artist, Hecker has remained at the forefront through consistently high technical standards, and constantly inventing surprising new ways to use pop-art ideas to articulate a broad range of experiences and emotions, everything from political activism, to personal loss and information overload. Her most recent works manage to craft poignant spiritual statements from Hollywood publicity shots.
Leigh and Reggie Smith moved to Houston from Atlanta in early 1995. By 1998 Reggie was serving on the board of the Contemporary Arts Museum Houston, and the two were active with and hosting events for CAMH and the MFAH. He has served as Board President, Board Chair, Chair of the Director Search Committee (leading to the hire of Bill Arning as Director) and Chair of Long Range Planning. He is also on the Board of the Core Fellow Program of the MFAH's Glassell School. Leigh co-chaired a CAMH gala, chaired Another Great Night in November and has served on the CAMH Special Events Committee. She currently serves on the boards of the Houston Arts Alliance and the Houston Ballet, and has served on the boards of Aurora Picture Show and Fresh Arts Coalition.
For more than 40 years, Kermit Oliver has painted nature and myth-inspired portraits and landscapes rooted in his life as a native Texan, earning public recognition while carefully guarding his privacy. A self-described "recluse", Kermit Oliver has for years sorted mail on the night shift in a Waco, Texas, post office and painted by day. His paintings blend contemporary and classical elements inspired by his rural Texas heritage and his study of mythology, religion, and history.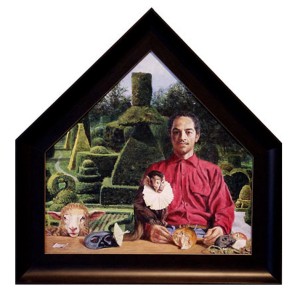 Born in 1943 in Refugio, Texas, the son and grandson of African-American working cowboys, Oliver majored in art and education at Texas Southern University in 1960, married Katie Washington in 1962, and graduated in 1967 with a BFA and a teaching degree. Throughout college, Kermit was nurtured by a legendary mentor, John Biggers.
As Texas Artist of the Year, Rachel Hecker will be featured in a six week exhibition at Art League Houston, opening on October 4 and continuing through November 15, 2013. For the first time, Art League Houston will present an exhibition featuring a survey of works by Lifetime Achievement award recipient Kermit Oliver. All four awardees will be celebrated at the annual gala, which will be held in their honor in November at the Hotel ZaZa.