Houstonians are eagerly awaiting the late October presentation of Selven O'Keef Jarmon's piece 360 Degrees Vanishing, commissioned by Art League Houston (ALH). It's set to be as big of a traffic stopper as Patrick Renner's popular Funnel Tunnel or Havel Ruck Projects' 2005 Inversion (until very recently, still documented by the Inversion Coffee Shop's big photo mural, but that's another story). Jarmon and his crew of South African beaders and local volunteers plan to wrap the Art League's building with beads.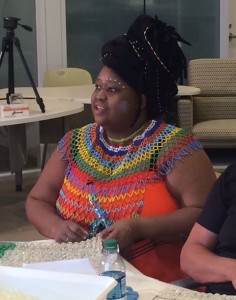 Bulelwa Bam is one of 16 traditional beaders from the Eastern Cape province of South Africa here in Houston for a few months as part of ALH's cultural exchange program. She is staying with an ALH patron in River Oaks and, baffled by Houston's extreme dependence on cars, has been taking the city bus from a stop near her host's home to ALH and to the building on the Rice University campus where beaders and volunteers are weaving the 350,000 acrylic beads. The other day, a River Oaks Police private patrol car, equally baffled by a black woman casually walking in the neighborhood, stopped her.
As reported by Free Press Houston (FPH), the conversation went something like this:
"Awfully hot day to be walking," he said to her.
"Yes," Ms. Bam agreed, "it is very hot."
"Where do you work?" the officer then asked.
When Bam told the officer that she was not an employee of the neighborhood but a guest, he did not comprehend and again asked where she worked. When she could not remember her host's last name, he detained her and called for backup. While he sat in his air-conditioned car making calls (and while several light-skinned folks jogged or sauntered by, Bam told FPH), she phoned Jarmon, who then spoke with the officer. The officer ultimately spoke with the host and allowed Bam to proceed to the bus stop.
Welcome to Houston!
(Photo via Bulelwa Bam's Facebook page. This story was also reported by Houston's Channel 2, which includes interviews with Bam and Jarmon.)