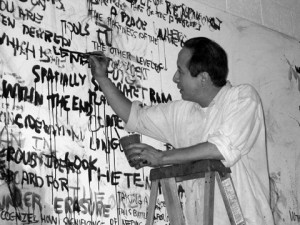 The Meadows Museum has announced that Stephen Lapthisophon is the recipient of the 2012 Moss/Chumley Artist Award.  The award is given annually to an outstanding North Texas artist who has exhibited professionally for at least ten years and has a proven track record as a community advocate for the visual arts.  Lapthisophon received the award on December 5, 2012 at an evening reception at the Meadows Museum.
Lapthisophon's work addresses questions of language, history, and cultural memory through installations that address the sensory world. His sensory preoccupation is in part due to his own experience with an optic nerve disorder in 1994, which left him legally blind. Recent solo exhibitions include "Quotation as Gesture" at the Modern Art Museum of Fort Worth in 2009, "Spelling Lesson" at Conduit Gallery in 2011 and "The Construction of a National Identity" at Hyde Park Art Center in Chicago. He is represented at Conduit Gallery in Dallas.
The jury for the 2012 award included George T. Lee, Jr., attorney and chair of the Collections Committee of the Meadows Museum Advisory Council; Kevin Vogel, president of Valley House Gallery in Dallas and member of the Meadows Museum Advisory Council; Joan Davidow, director emeritus of The Dallas Contemporary; Heyd Fontenot, artist and director of Central Trak, University of Texas at Dallas Artists Residency; Lucia Simek, artist and writer; Nicole Atzbach, assistant curator at the Meadows Museum; Shelley DeMaria, curatorial assistant at the Meadows Museum; and  Iraida Rodríguez-Negrón, Meadows/Kress/Prado Fellow at the Meadows Museum.
Jury member Fontenot commented, "I've only lived in Dallas for less than two years, but from my experience Stephen Lapthisophon is a consistent presence in the social/cultural art scene in North Texas.  Besides having his quite prolific, personal studio practice, Stephen teaches at two different institutions, is involved in at least one collective, curates shows, acts as a mentor to up-and-comers, and is regularly out at opening events in support of his peers.  These combined activities are exactly what the Moss-Chumley award was established to recognize.  Stephen very much deserves this honor."