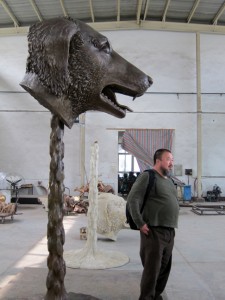 The Hermann Park installation is part of a six-stop US tour that includes New York, Los Angeles, Princeton, NJ, Washington D.C., and Pittsburgh.
The 12 monumental bronze heads each weigh 800 pounds and stand roughly 10 feet high.
They're giant copies of elements from a famous water clock made for the Yuanming Yuan (Old Summer Palace) outside Beijing by Jesuits in the 18th century. The sculptures were looted by European soldiers in 1860.
Seven of the 12 original heads, the rat, ox, tiger, rabbit, horse, monkey and boar, have been recovered. The dragon, snake, goat, rooster and dog are still missing.
Ai Weiwei gained global recognition for his Bird's Nest Stadium designed for the 2008 Olympic Games
In 2011, Weiwei was imprisoned, held incommunicado by the Chinese government for 81 days on charges widely thought to be a pretext for politically-motivated intimidation.
 The exhibit is scheduled to coincide with the April 14 – 15 opening of the new Asia Society Texas Center.
The sculptures require three 40-foot trucks to be transported. Thirty man hours (or three 10-hour shifts) are needed to install all 12 sculptures in Hermann Park.
Quotable quotes:
New York Mayor Michael Bloomberg, about the  piece's NY premier: "As we continue to showcase the best art exhibits and attractions, we maintain our status as the cultural capital of the world."
HAA' director Jonathan Glus, about the Houston installation: "Thousands from Houston and beyond will share in this culturally relevant experience, which helps build our city's visibility as an international arts center."
Weiwei, about his  first public art work: "because Circle of Animals/Zodiac Heads is composed of animal heads, it's a work that everyone can understand, including children and people who are not in the art world."