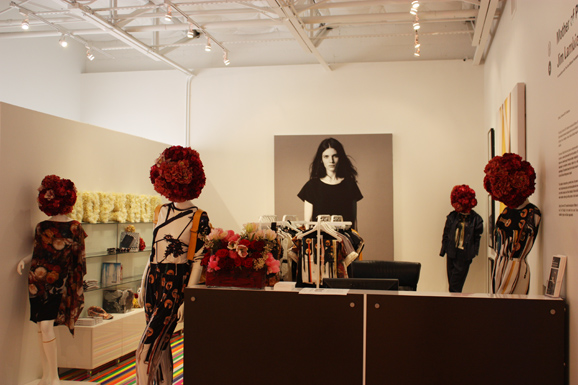 You can wear ugly clothes sort-of designed by Damien Hirst's baby momma! You are so lucky! Remember buying that Peter Max t-shirt at Dillard's in Plano in 1986? I know I do! And this is even better since these clothes cost hundreds of dollars! Thank you, Goss-Michael Foundation, for taking me back to the Dillard's in Plano in 1986!
A pop-up is a temporary retail space that just appears out of the blue one day then goes away in a few months – a cute concept with lots of creative potential, if not the world's strongest business plan. A clothing pop-up called "MoP SHoP" is now in business inside the Goss-Michael Foundation; it showcases clothes from British fashion house Mother of Pearl, which I had never heard of prior to reading a press release last week. The press release tells me that Mother of Pearl "brings art and fashion together by working with contemporary visual artists to combine sports inspired silhouettes with luxurious fabrics and iconic prints" and that "attending the grand opening will be Mother of Pearl Creative Director Maia Norman, (Damien Hirst's partner)."
Can a press release's defining of a creative director by whom she is shagging be a good sign?
Most of the clothes have a floral pattern "inspired" by a work on exhibit in the gallery, Jim Lambie's "Careless Whisper" (2009).  Lambie painted flowers on a George Michael poster. George Michael had a song called "Careless Whisper" that I would listen to while wearing my Peter Max t-shirt. George Michael is the Michael in Goss-Michael Foundation. Jim Lambie is the big show there now (and his work makes me happy, and it will make you happy). Michael's willingness to let his faded celebrity be the meat of Lambie's kitsch makes a fun gallery even more fun.
So maybe I would want to ride their coattails too, were I a coattail-riding significant other of a YBA. But if you're going to do it, do it big. If you're going to do a collection based on Jim Lambie's art, offer a tight-fitting minidress made of intoxicating color-mad tape. The pop-up MoP SHoP doesn't do that.
There is nothing horribly wrong with this pop-up, and that is its crime – it is a boring souvenir shop taking up space where more of Lambie's work could go. When both your product and the promotion of your product heavily rely on the fame and talent of other people, maybe having the word "creative" in your title is a bit of a stretch? You can't just walk into Dallas with an armful of ugly pants and expect us to be grateful. We won't even notice you.
Oh, Dallas, we're going to be getting a lot of the Fashion As Art/Art As Fashion thing in the months leading up to the Jean Paul Gaultier exhibition. You, my beautiful shallow city, are absolutely the right place for that show, but I fear I will be tired of it before it even gets here.
The MoP SHoP will be open through September 3rd.
More importantly, the Jim Lambie exhibition runs through September 3rd also.
Images courtesy of the Goss-Michael Foundation, Mother of Pearl Ltd, Jim Lambie, and Sadie Coles HQ, London.
Betsy Lewis is a writer who likes art and lives in the beautiful, shallow Big D.