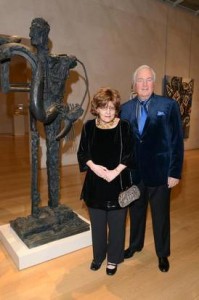 Generous art collector and benefactor Nona Norsworthy Barrett, of Dallas, died last week. She is survived by her husband Richard. There has been no official obituary released as of this writing. This post will be updated when one becomes available.
Nona and Richard Barrett had been collecting art for about 25 years, and started their collection with regional work (Nona's first purchase, while working with Dallas dealer Murray Smither, was reportedly a Vernon Fisher). Over the years they have gifted many works to the Dallas Museum of Art, the Museum of Fine Arts Houston, and other major institutions, sometimes with stipulations that some of the work find its way to regional museums across the entire state. Later on, they began collecting Swiss and Czech modernism.
In 2004-5, SMU's Meadows Museum presented the well-received "Texas Vision: The Barrett Collection," exhibiting more than 100 works from their private collection.
Nona was one of the top collectors in the region. She was a 4th-generation Texan who was a tremendous champion of Texas artists, and she will be missed.
(photo: Nona and Richard Barrett in February. Dallas Morning News)