That's Wolverton!
They're a San Antonio art-rock band made up of Caralyn Snyder (vocals), Kate Terrell (vocals, keyboards), Jeremiah Teutsch (vocals, electric bass, fiddle, banjo), Hills Snyder (vocals, guitar). If you follow that first link, you'll get to hear their music, which I like a lot. It's got a durable alt-rock-folk-country top hand and is excellently rendered, and what it leaves out is as important as what it throws together but is gloriously free free of twang or self-conscious neo-traditionalism. Contemplative, affectionate, warm and gently flawed, it's roots music sans self-importance, and Hills Snyder's songwriting is witty and doleful and full of unexpected touches; in "Guts," a small song that sounds like deeply personal footnotes to the human epic. You know how in "Tangled Up In Blue," you can't tell whether the timeframe is 19th century or Now? Kinda like that.
The soldier in the story has brains on his helmet, but also "the mosh (I think) at the end of "School of Rock" always made him cry / He cried all the way through that movie, he never did know why." I love that. Your everyday, popular-media-induced open-heartedness that occasionally makes mincemeat of the heart. Maybe "School of Rock" doesn't do it for you. Maybe "The Color Purple" or TLC, (as in "Don't Go Chasing Waterfalls," not the goddam Learning Channel.)
In another song, "Sissy's Lament," the speaker, a "little sissy from way down South/ I got glasses on my face and candy in my mouth/ you don't like my shoes, well, I don't like 'em either/ but why every day do you have to always be there?"
Maybe it's the Lubbock Factor. Hills Snyder, who's also the curator behind emerging-artist powerhouse Sala Diaz, and Jeremy Teutsch, a generation younger, are both from Lubbock. Historically, I really respect and enjoy those Lubbockites. How're you gonna be pretentious from Lubbock? If you're smart, you have to confront the small-town Christian hegemony while drawing on it's strengths, which can make for some terrific territory for an artist. From Buddy Holly until today, that town has produced quirky down-South gems. Down South, I know, is  a tricky concept vis-a-vis Texas. In fact, I witlessly generated the most comments I've ever gotten from a Facebook status update when I asked, a couple years ago, "Is Texas the South?" Folks fought for days. To those whose forbears emigrated from Mexico either two generations or 300 years ago, we're resolutely "El Norte." Other Mexican-antecedent Tejanos consider themselves soundly Southern, though. Descendants from non-slave-owning German ranchers (a good friend whose last name, actually, is Wolverton, is among these) strongly disavow the Confederacy legacy, while other Texans descended from either Confederate lineages OR those African-American families entangled in the pre-Civil War economy argue, with wildly varying emotion, that we are the South. Where the past isn't past, but it isn't even gone.
Lubbock, in this sphere, is an important cultural lab. One which produced Hills Snyder and Jeremiah Teutsch. And as such, Wolverton's got some potent, quiet music, and the recordings make you feel like they're right there, reckoning the quirks of our heritage right alongside them.
Here are some more Wolverton photos, hoping YOU  have the inclination and opportunity to stop by and see them: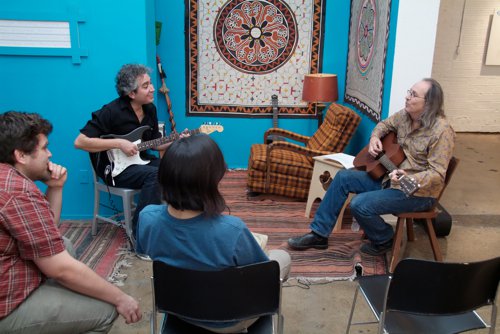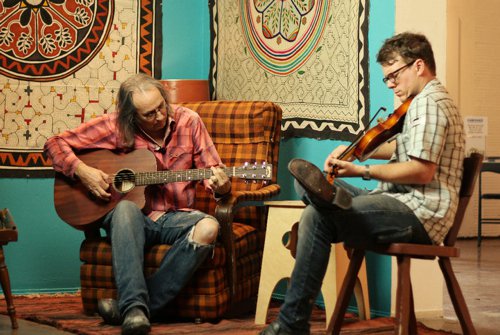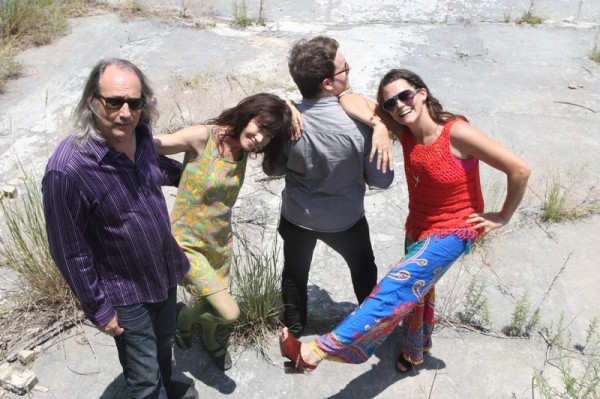 HERE'S THE INVITE:
Join us this Saturday July 21 for a Wolverton performance in collaboration with a Guy Hundere video projection.
doors 8 PM / performance 9 PM / La Tortillaria Popular / 1415 South Presa San Antonio, TX 78210 / no cover BYOB
Who's Guy Hundere?
He's a tremendously talented San Antonio hometown artist, now living in San Antonio and New York city.
So what's happening Saturday?
Wolverton will play alongside some Guy Hundere projections. Guy regularly hosts interesting and openhearted arts events at his capacious and friendly studio, formerly a tortilleria called "Tortilla Popular." I've known him for ages, but recent years have seen him relocate to Berlin,, NYC and always back to SA again. He's that rare specimen, the video artist with genuinely poetic underpinnings, and I'll wager the juxtaposition of his ever-curious Texas eye and the daydreams of Wolverton will be very interesting indeed.
Seriously, go look at Guy Hundere's site – I think Ornithomancy, 2003 is a knockout, rendered as iy is from computer models of bird flight, combined with 747s. It was one of the first pieces of video art post-911 that made me gasp.
Go by Guy's tortilleria and absorb the vibe, y'all — we'll be happy to see you.