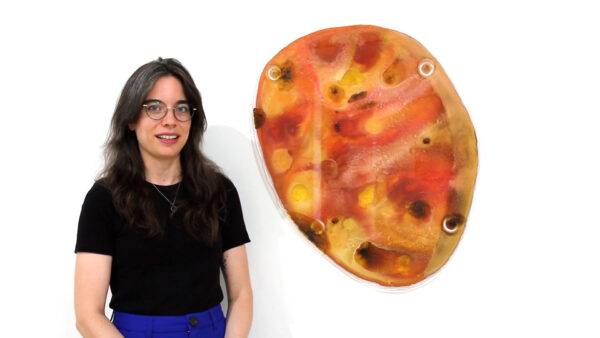 Note: the following is part of Glasstire's series of short videos, Five-Minute Tours, for which commercial galleries, museums, nonprofits and artist-run spaces across the state of Texas send us video walk-throughs of their current exhibitions. Let's get your show in front of an audience.
See other Five-Minute Tours here.
Laura J. Lawson: Jovian Resonance at Ro2 Art Gallery, Dallas. Dates: September 9 – October 14, 2023.
Via the gallery:
"Ro2 Art is proud to present Jovian Resonance, an exhibition of new work by Dallas-based interdisciplinary artist Laura J. Lawson. The exhibition will open September 9 and remain on view through October 14, 2023, at Ro2 Art located at 2606 Bataan St., Dallas, TX.
In Jovian Resonance, Laura J. Lawson creates a new way of interpreting and understanding the orbital resonance of Jupiter's system of ninety-five moons. Lawson playfully visualizes the moon system's resonance and topology, particularly the gravitational relationships between Ganymede, Europa, and Io, with references to mythology, science fiction, and art history. Each moon, ranging in scale from 2 to 48 inches in diameter, is painted on a translucent substrate with acrylic inks so that light passes through the surface of the painting. The delicacy of the surface becomes a metaphor for the act of discovery of these far off moons. The ethereal and luminous color Lawson achieves through pouring, layering, and surface manipulation makes each piece feel like a jewel; taken together, the moons become a precious collection of exquisite detail. Ultimately, Jovian Resonance frames the seemingly abstract and distant astronomical discoveries of Jupiter's system of moons into radiant paintings that depict moments of interconnectedness, curiosity, and community."