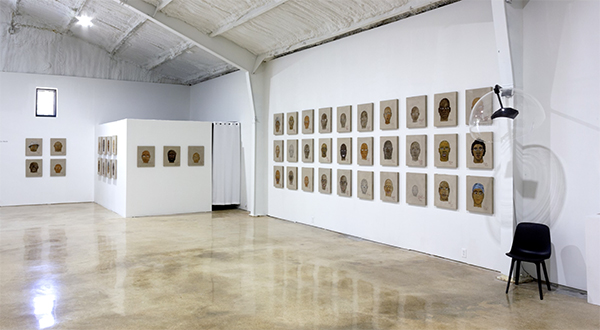 Note: the following is part of Glasstire's series of short videos, Five-Minute Tours, for which commercial galleries, museums, nonprofits and artist-run spaces across the state of Texas send us video walk-throughs of their current exhibitions. Let's get your show in front of an audience.
See other Five-Minute Tours here.
Lillian Young: The Problem with Archives: A Portrait is Worth Our Words at Ro2 Art, Dallas. Dates: July 29 – September 2, 2023.
Via the gallery:
"Lillian Young's The Problem with Archives: A Portrait is Worth Our Words features two projects, Wanted: The Runaways and The Black Elder Archive, that bring attention to historical Black experiences that have been or could be erased. In The Runaways, she creates interpreted portraits from the language of historical runaway advertisements, while in The Black Elder Archive, Young paints portraits of individuals who lived through Jim Crow and Segregation. In this second series, a sound component adds to the process of recording these experiences, sensitively and powerfully drawing attention to their memories and experiences. Throughout The Problem with Archives: A Portrait is Worth Our Words, Young's use of portraiture and language invites viewers to reexamine the ways in which history has been recorded. By shedding a light on these moments, Young not only represents histories that have been or could be forgotten, but also creates a new way of sharing knowledge, experience, and memories."