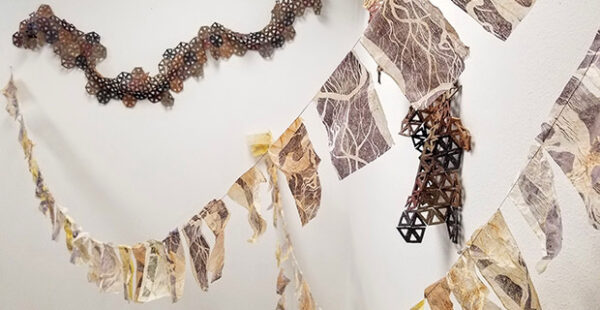 Note: the following is part of Glasstire's series of short videos, Five-Minute Tours, for which commercial galleries, museums, nonprofits and artist-run spaces across the state of Texas send us video walk-throughs of their current exhibitions. Let's get your show in front of an audience.
See other Five-Minute Tours here.
Lisa Horlander and Jessica Sanders: Patterned Rituals at Janette Kennedy Gallery, Dallas. Dates: July 15 – August 20, 2023. 
Via the gallery:
"In their collaborative exhibition, Lisa Horlander and Jessica Sanders use untraditional materials to open up conversations about traditional female practices from their own heritage such as quilting and teatime. Their artistic practices are rooted in process and repetition. Jessica Sanders uses ceramics and wire to make flexible sculptures which hint at her family's lineage of quilting. Lisa Horlander deconstructs, prints, and sews together donated teabags from her community and family to lead the viewer across memory and a shared ritual."