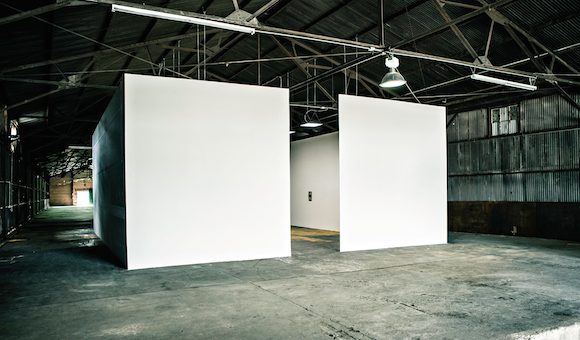 The Box Company, a highly anticipated new exhibition space in Dallas, was set to open to the public with a two-person show on Saturday night. It didn't, because the previous night, during a private (non-publicized) collectors' preview of the inaugural show, officers from the Fire Marshal's department showed up early in the evening and shut it down, as they have been doing to art spaces throughout the city since late last year. The Box Company received two citations: one for not yet having its certificate of occupancy (which was in the pipeline and had been delayed) and one for preview goers not clearing out quickly enough, despite the presence of many police officers who had been called in "for backup." (The breakup of the evening was by all accounts peaceful.)
(Here's a recent Glasstire account of the Fire Marshal's activity in Dallas. Here's last week's Top Five video featuring the Box Company as a top pick, with a show of new works by Francisco Moreno and Paul Winker. Here's a recent Glasstire news item on the impending opening of the space.)
Box Company founders Jason and Nancy Koen told Glasstire that they still have no idea how the Fire Marshal's office would have known that any event was taking place as early as Friday, given the very tight nature of that night's invite list. The following day, the Koens sent out word that the pubic opening set for Saturday evening would be postponed.
In the weeks-long process of securing a CO for the former manufacturing space and the days leading up to the opening weekend, the Koens had been told by city officials not to worry about Fire Marshal interference, and in case of it to simply explain to the Fire Marshal officers that the CO was still being processed, and that this would, presumably, be enough to reassure the Fire Marshal's office that the Box Company should be allowed to operate in the meantime.
The Koens will proceed with acquiring the Box Company's CO, and will soon announce a new opening date for the space and its show.