Other than a blip in 2008 with the financial panic, the price of a barrel of West Texas Intermediate crude oil climbed pretty steadily from 2000 until late 2013, reaching highs of well over $100 a barrel. Even if you had nothing to do with oil and gas, if you lived in Houston, you were swept along with this 15-year boom. This includes Houston's art institutions and non-profits. Corporate sponsorship was available, and individuals who worked in the energy industry opened their wallets.
Then the price of oil began to drop, slowly but inexorably. On January 19 of this year, WTI was $28.47/barrel and dropping, sending shivers through Houstonians who remember the grim days of the mid-1980s, when the price fell to under $10 a barrel and the city was awash in empty office buildings and bankrupt former oil executives.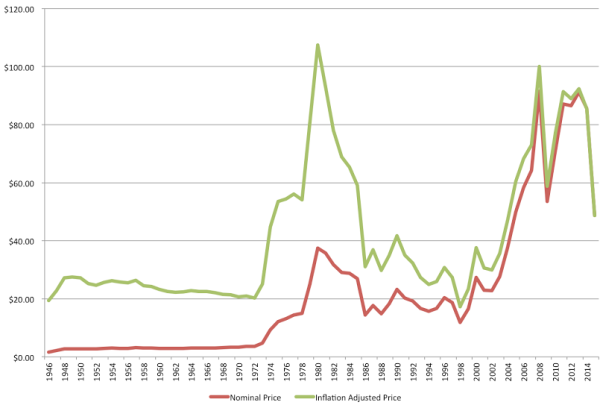 [A better measure than the price of oil is the rig count. In the last year, the number of drilling rigs operating in the United States has declined from 1,358 to 541. Consider that each of these rigs accounts for 60-odd blue-collar jobs. And in aggregate, they represent any number of back-office jobs—engineers, geologists, accountants, land men, etc. Every rig that is "laid down" represents jobs lost and decreased revenue for Houston.]
And individuals have been hit hard. As of late November of last year, the energy industry had already laid off 250,000 people. Since then, the industry has laid off tens of thousands more (including me).
The slowdown doesn't just affect energy companies and their employees. Real estate developers will be tightening their belts. Services all over Houston that depend to some degree on energy workers—doctors, lawyers, accountants, interior decorators, personal trainers, dry cleaners, etc.—will see some of their business dry up. Restaurants and shops will have fewer customers. And so will museums.
Have Houston's local arts organizations been hit yet by this slowdown? I talked to several art leaders in Houston to suss out what they're seeing. In particular, I was wondering if they had noticed anything in 2015. Did they sense a slowdown in 2016 in revenue? And how did they plan for it?
The Museum of Fine Arts, Houston takes the longest view—the second-largest museum in the country, it has an endowment of $1.18 billion invested in a diversified selection of income-producing investments, mostly equities. About 52% of their operating revenue comes from the endowment. A little over 20% comes from philanthropy, and the rest comes from earned income (membership fees, admissions fees, the museum store, Glassell School tuition, etc.). Because so much comes from admissions and memberships, they depend on popular blockbuster shows. Of the money earned from investments, 40% is reserved for accessions and the rest goes to operating expenses. The endowment is highly diversified, so what matters to the MFAH are large-scale macroeconomic movements—major economic downturns—more than the price of a barrel of oil.
This is not to say that they are completely insulated from energy. If you read their 2013-14 annual report, a lot of their large gifts (which as mentioned above account for some 20-odd percent of the operating budget) come from individuals and companies associated with the energy industry. In the 2013-2014 report, in the category of gifts over $500,000, we see "Mr. and Mrs. Richard D. Kinder" of Kinder-Morgan. In the $100,000 to $499,000 category, we see names such as Apache Corporation, Aramco Services Company and ExxonMobil. But all in all, in 2013-2014 philanthropic gifts totaled $12.8 million, 20% of the total $62 million total operating support and revenue. Of that, most of the philanthropy comes from foundations and high net-worth individuals. The percent that comes directly from energy companies seems relatively small. I would suggest that as long as the MFAH continues to put on crowd-pleasing shows (like the upcoming "cool cars" exhibit), they'll be fine. Even after 2008-2009 bank crisis, when everyone's investments lost money, they were still in the black.
And I suspect that the Glassell School might get an uptick in enrollment. When talking to Art League Houston Executive Director, Michael Peranteau, he pointed out that when a community is in a recession, people often choose to take classes instead of going on vacations. Perhaps it's an instinct for self-improvement kicking in. MFAH chief financial officer Eric O. Anyah concurred, pointing out this is an observable phenomenon in recessions. So maybe the Art League and the Glassell School will benefit from this downturn. Peranteau explained that about 33% of the Art League's income came from school fees, and this year that income is up a bit because they are over-enrolled. "The truth is, it hasn't affected us so much yet," he said, referring to the energy industry downturn.
The general word so far is that the effects have not filtered down to individual arts organizations. Everyone is waiting to see what happens with local foundations (the Brown Foundation, the Houston Endowment, the Cullen Foundation, etc.) and with the Houston Arts Alliance, which distributes grants from hotel occupancy taxes to most of Houston's non-profit arts organizations. Lawndale Art Center executive director Stephanie Mitchell said about foundations, "We won't know about foundation giving until spring." I've heard rumors that HAA's grants may be lower this year. Hotel occupancy taxes, which fund most of HAA's grants, are lower in 2015 than was budgeted by about $8 million (8%). Houston First Corporation, which collects HOT from hotels, ascribes this shortfall to the energy industry. In their December 2015 report, they wrote: "Oil price decline deeper and longer than anticipated; HOT revenues higher than last year although under budget." As for the foundations, their endowments are likely dependent on widely diversified investments. They may be hurt by the weakness of the stock market, but not so much by what is happening in the energy industry.
We've been through this before in the '80s and '90s. One of the survivors of that era is DiverseWorks, which was founded in 1982. (Another survivor is Fotofest, founded in 1985. They almost went under in 1992 when they lost the support of Kodak.) Michael Peranteau, one of the co-founders of DiverseWorks, said of the difficult years in the '80s, "DiverseWorks' content and programming was too radical for mainstream corporate giving. We were supported by indivuals like Louisa Stude Sarofim and others like her, which kept us insulated from oil."
No one knows how long this slowdown will last. When oil collapsed in the early '80s, it took years for the effects to filter through the Houston economy. Energy companies stopped hiring for a generation. People hired between 1998 (the nadir of the price of oil after 1980) and now noticed their offices were full of young graduates and managers 20 years older than the new guys. Could the current slowdown last nearly 20 years like the last one did? If you listen to analysts in Houston, you hear a lot of optimistic forecasts. But that seems like wishful thinking to me.
Because corporate giving is a minor part of the picture for small visual arts organizations (as opposed to foundation grants, which account for a big chunk of everyone's annual revenue), it may be that places like DiverseWorks, Lawndale and the Art League are still somewhat insulated. The MFAH, with its huge endowment, doesn't have to worry too much about Houston's largest industry—although it certainly can't be helpful while they're trying to raise $450 million for a construction project. But everyone I talked to is looking to the future. The bad news takes a while to filter into the economy as a whole. It's already affecting real estate and construction. If the current environment persists, it will eventually have an effect on the rest of Houston's economy. This suggests that 2017 and 2018 may be key years for the survival of Houston's art institutions.