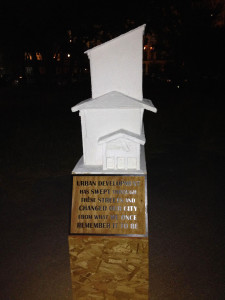 Sometime last month, someone anonymously placed a sculpture in a vacant lot in Houston that appeared to bemoan gentrification and the slap-happy development of slums-of-the-future, Hip Urban Living townhomes made of styrofoam "stucco." The sculpture was placed in the lot on Main Street between the Isabella Court building and the current Diverseworks space, and lettering on its plinth stated:
URBAN DEVELOPMENT
HAS SWEPT THROUGH
THESE STREETS AND
CHANGED OUR CITY
FROM WHAT WE ONCE
REMEMBER IT TO BE
On Friday morning, the sculpture was still intact, but by the afternoon it had been smashed, and the lettering partially removed (with force), apparently by a fork.
What impassioned defender of gentrification attacked the sculpture? And who made it to begin with?
A postcard found at the site for Eric Thayer's Land Grab project at the University of Houston was a dead end: we contacted Thayer, who said he did not know who made the townhouse sculpture and had just stuck a few postcards there while distributing them one day.
Perhaps this will have to remain a mystery…