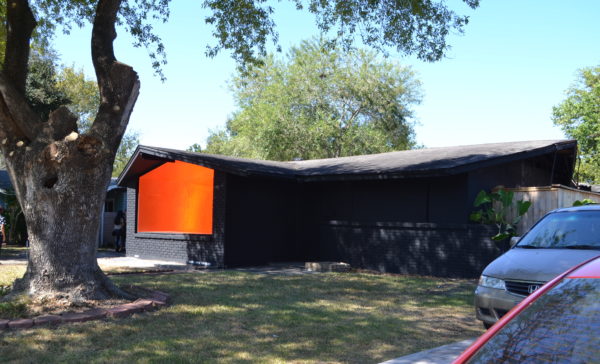 Art in Houston stops at the 610 Loop. A few small institutions exist outside the Loop, and many artists live beyond its confines (pushed out in part by the difficulty of finding economic live-work space inside the Loop), but the further you get from the center, the less art there is to see. That's one reason Sharp, a new site-specific installation by Dan Havel and Dean Ruck, is so unusual. Sharp is in Sharpstown, a neighborhood in southwest Houston between Hillcroft and the Sam Houston Tollway, well outside the Loop.
Like many of their collaborative projects, Sharp uses an entire house as its raw material, though their previous projects have been inside the Loop. In this case, the artists contacted developer Michael Prentice when they heard about his earlier project, Remnants of the past, Visions of the future, in which Prentice let artists Alexander Squier, Alice Bateman and Edwin Terrell put an installation into a house he had purchased in Sharpstown. Prentice calls this house-transformation project Seeds of Sharpstown, which is used to promote the neighborhood as "one of Houston's great hidden gems."
Sharp is a house at 6822 Rowan Lane. It was seriously damaged by a fire that destroyed most of the inside and burned a hole in the roof, and Prentice intends to demolish the house by January 1, 2017. In this regard, the project is not unlike Havel Ruck Projects' first installation, O House in 1995. O House was a condemned house in the Rice Military neighborhood that was donated to Havel and Ruck by the developer, who planned to tear down the house and rebuild on the site.
Other Havel Ruck Projects have involved trespassing on condemned structures and deconstructing them with saws, to turn essentially disposable houses into large and surprising new sculptures. Going into a house with reciprocating saws creates work that's inevitably somewhat rough-hewn, and that raw sawed wood has been a hallmark of Havel and Ruck's collaborations since the partnership began. But Sharp is a departure from that approach. It is surprisingly sleek work.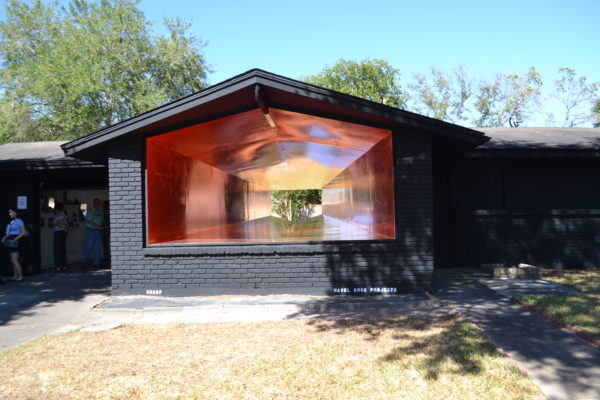 Before it was Sharp, 6822 Rowan Lane was a modest suburban ranch house with a large front window. The front window is shaped to echo the simplified outline of a house—a rectangle with a shallow triangular roof. Havel and Ruck decided to use the window's shape as the basis for the transformation of the house: they constructed a tunnel going all the way through the house, from front to back. The opening in front is the shape of the former window. The tunnel narrows as it goes toward the back, and there the tunnel's exit is shaped like the front window but inverted. The surface of the entire tunnel is coated with copper foil, which is highly reflective, and if you view it from an angle in the sunlight, it appears to be glowing. But if you view it head on, you can see the reflection of the trees and the street.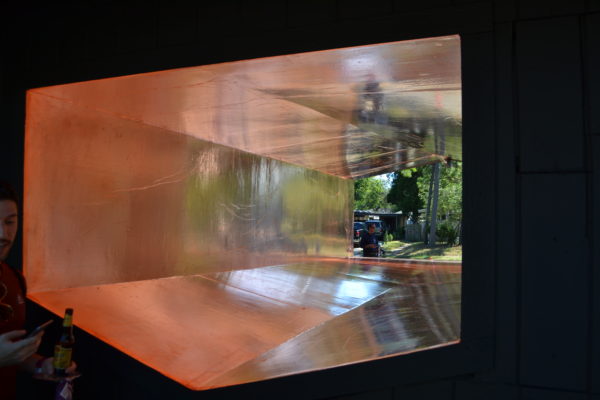 Making a hole through a house is not an original idea for these artists—that was essentially what they did with their best-known work, Inversion. But Sharp feels completely different from Inversion. Inversion looked as if they somehow froze the Art League bungalow as it was exploding. Inversion had a feeling of motion that Sharp doesn't attempt.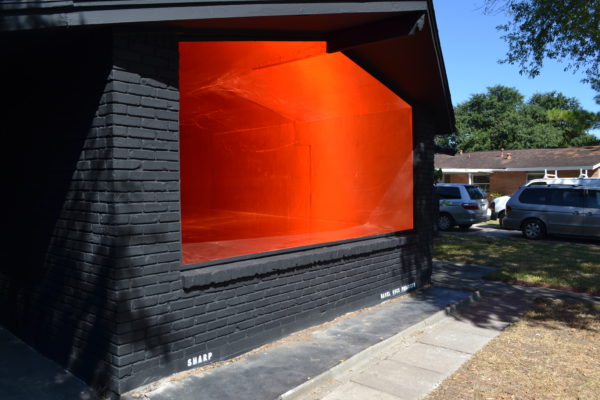 The key element of Sharp is the copper foil, which reflects copper-hued light onto the other copper walls, which is what gives the whole that glowing appearance; the work dramatically changes over the course of a day as the sun moves across the sky and hits the copper from different angles. The rest of the house is painted a dark, matte black, which makes me think of the black-clad puppeteers of Bunraku who share the stage with their puppets but work to be as unobtrusive as possible. The house, counterintuitively, recedes compared to its interior copper tunnel, which is what the viewer is meant to notice first.
On the opening day of the installation, the garage was open and there was a display of scorched artifacts from the house and small pieces of portable art made from house debris. There were also photos of other work by Havel Ruck Projects and copies of their retrospective catalog from 2014. Visitors from Sharpstown and its surrounding neighborhoods may have been perplexed by the installation, and it seems that Havel and Ruck want to help them understand what Havel Ruck Projects is about. Such is the burden of doing art installations in the suburbs.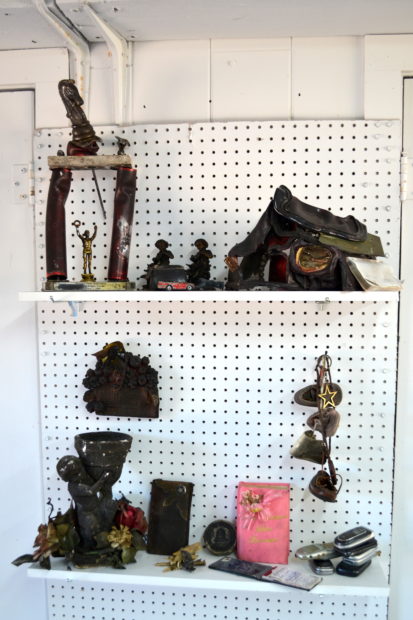 Sharpstown is a classic postwar suburb: mostly single-family homes on curvilinear streets. It was the first master-planned subdivision in Houston, founded in 1955, and it consists mainly of the zip codes 77036 and 77074. In those two zip codes, the total population in 2010 was 104,291 with a racial mix of 45% white, 18% black, 12% Asian and 25% other. The median family income was $44k and the unemployment rate was 5.3%. Harris County as a whole had an unemployment rate of 5.6% and a family income of $80k, so Sharpstown is poorer (on average) than the rest of the county, but most everyone has a job.
Sharpstown has a reputation for crime, and part of this is due to its proximity to Gulfton, the next neighborhood to the east. Much of Gulfton was built up with massive apartment complexes that were designed as housing for young singles flooding into Houston during the 1970s, but then a change in the law made it illegal to discriminate against renters with children, and the oil bust of the '80s stopped the stream of young singles moving to Houston. Rents dropped in Gulfton and big families moved in, and these complexes gradually became bases for a some mutually antagonistic gangs.
This happened to a lesser extent in Sharpstown. In 2007, John Nova Lomax observed in an article in the Houston Press that "residential Sharpstown never changes. The houses are still decent and the apartments still rotten." In 2013, Harris County forced a legal agreement on La Promenade, a combination of condos and apartment units in Sharpstown at 7400 Bissonet, which required the owners to engage in gang and crime abatement. The next year, the apartments were sold to a developer with a record for rehabilitating crime-infested apartments. So Sharpstown suffers from higher than normal crime rate and this counts against it in terms of popularity and property values.
But gentrification has been on the mind of many in Houston lately, as housing costs have gone up and up; it's a hard subject to avoid. People talk about how the old funkiness of Montrose, for example, has been obliterated by inflating property prices that insure that only the wealthy and upper-middle class can afford to buy a home there. By contrast, prices in Sharpstown are far cheaper. And it's true that artist and art institutions aid the process of gentrification. Artists move into cheap urban areas, attracted by low rents and the laissez-faire attitude of landlords, the neighborhood and the city. No one cares what they do with their spaces, as long as they pay rent and don't engage in crime. Soon bars that the artists go to pop up, then galleries and art spaces, then the middle class starts slumming there on weekends, and then some start moving in. They and the artists are all "urban pioneers," but only if you ignore the people who already lived there.
Historically, this process takes a while. Artists stared moving into Montrose in the early '60s, the Menil was built in 1987, and still it took another 30 years for Montrose to become so gentrified that its cheapest condo now costs $260k. (An artist I know bought a beautiful house in Montrose in 1964 for $11,500. Adjusted for inflation, that would be $89,600 today. The Harris County Appraisal District gives it a current value of $661,000.)
And maybe part of the reason gentrification takes a long time is that no one powerful entity forces it to happen. But if I were a developer, I'd be sponsoring artists' spaces all over—and that's how Sharp happened. Michael Prentice, the Sharpstown developer, is not a big operator like Camden or Mischer. His business, MPVP Holdings, operates by buying distressed houses in Sharpstown to rebuild or remodel and then rent out. In 2015 he got the idea to buy one, turn it into a temporary art installation, which he would subsequently rebuild as a rental property. He has tried to sell a few of them, but right now it's hard to buy a property, rebuild or remodel it, and then sell it on without taking a loss. The real estate market all over Houston is soft due to the crash in the energy sector.
But if I were a developer who wanted to position Sharpstown for revival, I might host projects like Remnants of the Past, Visions of the Future or Sharp. These kinds of things can create a new equation in people's minds: Sharpstown = cool, instead of Sharpstown = crime. If the neighborhood's fortunes revive, Prentice will have a portfolio of refurbished houses ready to sell. His art houses may be the catalyst.
Gentrification has a bad reputation these days. Anti-gentrification activists see it as a modern form of colonization—as something that removes poor people from the neighborhoods where developers see potential profits. You now even have anti-gentrification activists fighting art galleries when they show up in their neighborhoods. This has happened, for example, in Los Angeles' predominantly Hispanic, working-class Boyle Heights neighborhood. Gentrification is viewed as racist, as the poor neighborhoods targeted are often inhabited primarily by black and brown people. Sharpstown is racially and culturally diverse. Chinatown used to be just east of downtown Houston; now it is in Sharpstown, roughly where Bellaire meets the Sam Houston Tollway.
But no one yet has protested Prentice's efforts to jazz up Sharpstown, as far as I can determine. The only complaints about Sharp are about the house being painted black; that's against neighborhood association rules. But for the residents of Rowan Lane, they got more visitors in the past week than they have probably gotten in a year, and visitors to Sharp saw a pleasant suburban neighborhood with well-kept lawns and mature trees. And just two blocks away, they may have seen the home of their dreams, for sale for just $190,000.
Sharp is on view at 6822 Rowan Lane, Houston, TX 77074. For info, go here.