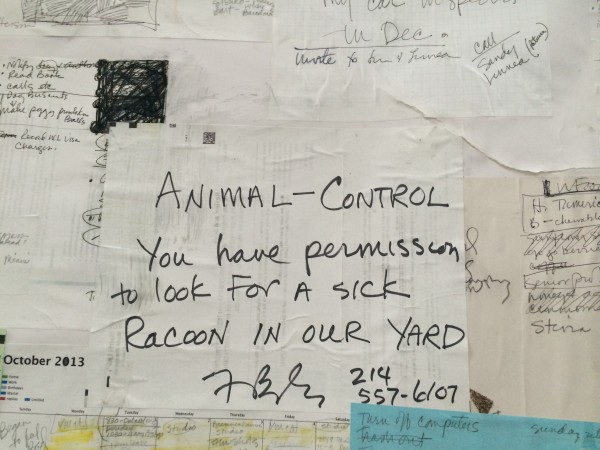 Frances Bagley and Tom Orr, two of Dallas' elder statespeople of art making (and also a couple) opened their joint studios—a whole compound, really—to the public on Sunday, partly as a way to engage with an audience and friends before the summer heat makes their non-air-conditioned cavernous workspaces inhospitable to visitors, but mostly to showcase a new piece by Bagley. The piece is so physically expansive that she needed to get it up and have it seen before dismantling it to make room for other things that have to happen in the space, and presumably, in her life and with her work. The piece is, in more ways than one, ten years in the making.
Titled Shall We Gather at the River, it's a massive installation made up of ten years' worth of Bagley's daily obsessive-compulsive notations on paper: to-do lists, engineering calculations for sculptures, recipes, invitation lists, directives made out to workmen or family members, financial budgets and breakdowns, shopping lists. She's kept them all. The notes completely wallpaper, continuously, a giant nautilus-shaped, tarpaulin-shelled structure hulking within one of Bagley and Orr's warehouses on their property. The piece is a sort of hyper-organized yet neurosis-shellacked Serra.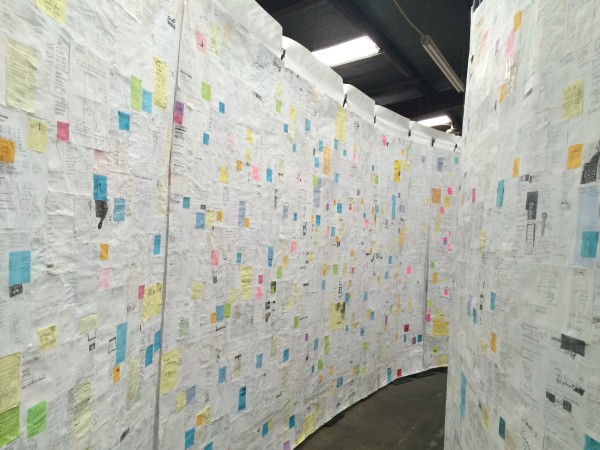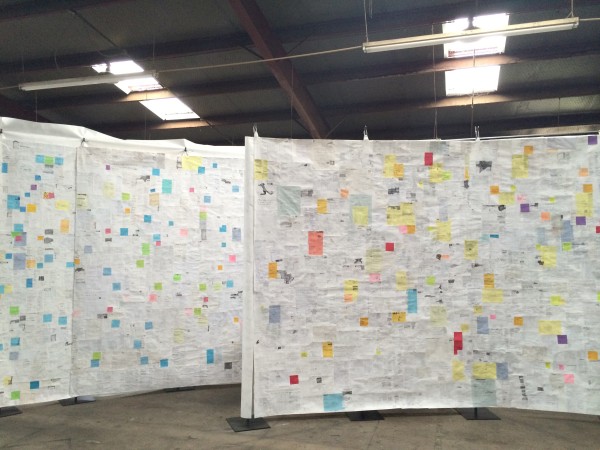 It's a wonderful exposure to Bagley's brain, and a confessional about how she structures her thoughts and her time. Its scale is humbling, and as I walked through and perused the endless pathway of ultra-personal notes and lists—handwritten, typed, photocopied—I recognized in her private esoterica the very human need to maintain governance over one's life, and the attempt to create and believe in a magical sense of control that happens when we write something down and thus attempt to make it physical and undeniable. I also sensed from this curving wall of notations that Bagley has a more impressive follow-through ratio than a lot of people who keep notes. There were many, many lines crossed off. Done.
And for a person who makes her living making art, with big public art projects sometimes lined up back to back and sometimes not, the need to create a sense of accountability and follow-through could prove overwhelming and essential, especially for a Type A artist. Because artists, even ones married to other artists, experience a kind of self-exile or isolation of mind that could be dangerous for a person with a careening, impatient, perfectionist disposition. How to deal? Pills for some, booze for others, meditation, exercise, or… notes and lists and notes.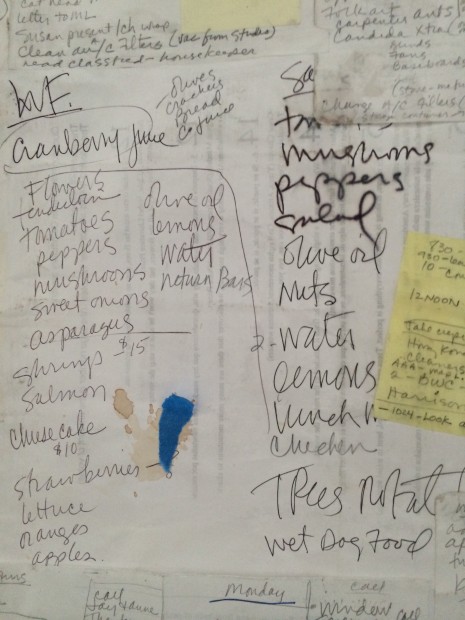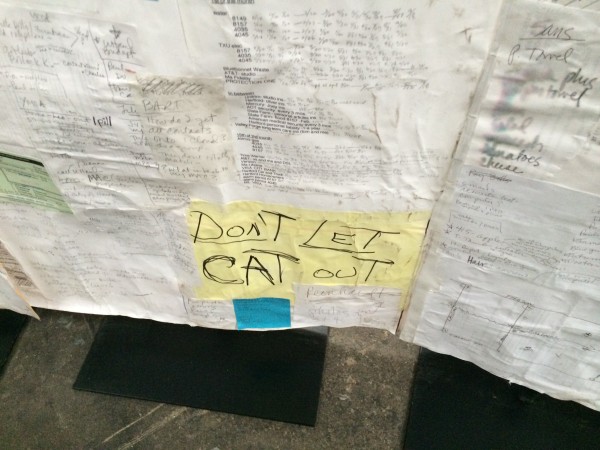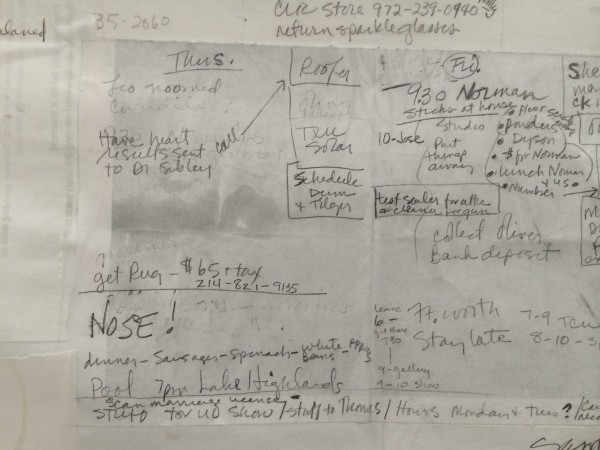 The scene was set, though I didn't know it yet, just by driving out to the Bagley-Orr buildings along the shockingly emerald-green Military Parkway, in an area whose poverty is overlooked by the city yet made verdant my Mother Nature during these past weeks of relentless rainfall—the banks of trees and verges along the roadway glow and shimmer like something out of a sci-fi movie—and this old part of southeast Dallas is currently engorged with a monstrous, unapologetic glory. Out here, you could believe that any artwork could grow to unholy proportions, in a sort of Food of the Gods mutation.
For disclosure: a working sketch of Bagley's piece, in far smaller form, made a debut back in 2011 in a group show I co-curated with Thomas Feulmer in a house in Fort Worth. That show came together with almost no prep time for the artists involved (it was in fact subtitled "Quick and Dirty"). Back then, while we appreciated the idea behind Bagley's whole Wall of Notes contribution (and I read all the notes and lists—a running wall of about eight feet), when she described at the time how much more there was where this came from and how she envisioned a massive installation of it, we wondered if this wall was a tip of a fascinating iceberg we might not ever get to see.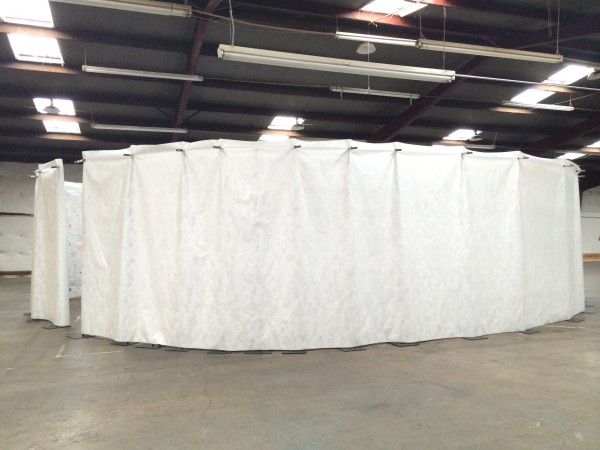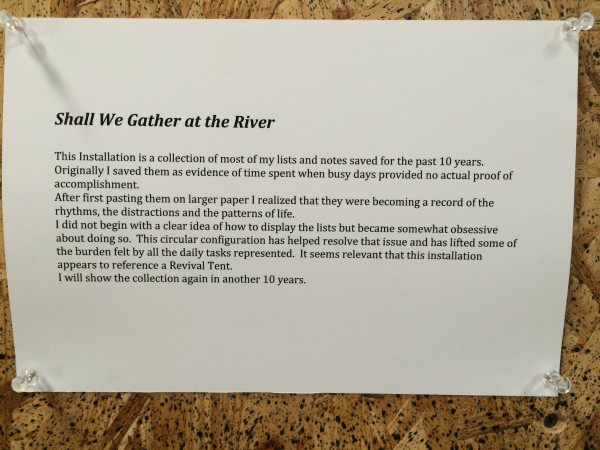 Shall We Gather at the River, thankfully, goes well beyond the tip and down into maybe the first few leagues of watery depth, and by that I mean psychologically. There's so much more where this came from, or at least I think there is. Real compulsion, which this piece amply illustrates, is tricky, profound, and masochistic. She had to make decisions about how much of this map of her mind to show us. The installation is imposing enough to make it clear that Bagley is a human deluge every day of her life, but it's engineered so we that can still navigate it.
That balance is crucial, and a testament to Bagley's professional experience: how much to show, and how much of that devil to keep down in the hole, so a viewer can chase it with their own imagination. Bagley's brain is constantly firing, and as with our better artists, it has to be. She promises to exhibit the work again in another ten years, and I assume she'll include all of this first iteration with the next decade's worth of notes appending and extending the nautilus.
She's gonna need a bigger boat.