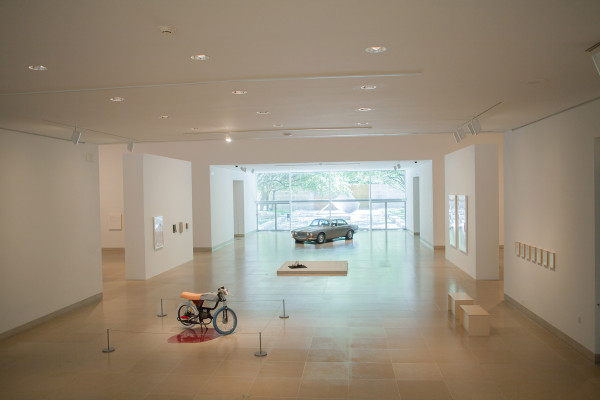 Last week Boom Town closed. The month-long group exhibition, curated by The Art Foundation, the Dallas-based art collective whose members now include Andrew Douglas Underwood, Ryder Richards, and Lucia Simek, occupied the Barrel Vault gallery and adjoining spaces set aside for the Dallas Museum of Art's contemporary collection. Watched over by Sol Lewitt's 1983 Wall Drawing #398, Boom Town was a quiet and beautiful testament to the artistic talent that is centered in the Dallas-Fort Worth metroplex.
The exhibition echoed the meticulous and astute curatorial talents behind shows such as Fountainhead, installed in The Gibson Company Lofts in April 2012, and twain, installed at the Grey Matters Gallery that October. These exhibitions demanded a level of examination and consideration by the viewer that was revolutionary for this area.
Rather than a singular theme or contrived message, Boom Town strove to proclaim and promulgate the artists at work here. This championing of the local is done in part to reveal a lack of interaction between artists and the philanthropic efforts of the area's patron class "hindering the crucial creative and economic synthesis needed to push our city into the global art dialogue." By doing so The Art Foundation invites a public conversation about what is created here, hopefully staying the migration of our artists to regions that support a more sustainable lifestyle.
Examining the works included in this exhibition, one can see why the DMA is finally lending its name to artists working in this artistic boomtown: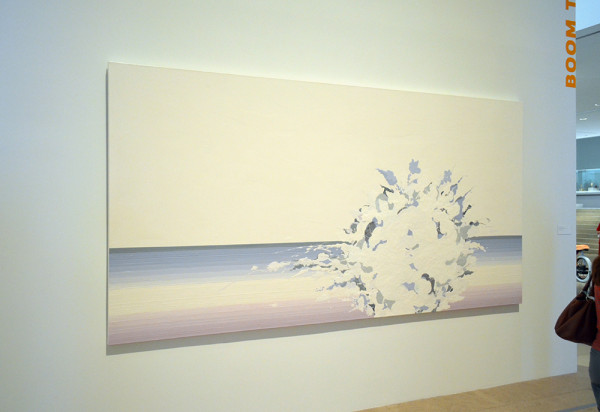 Kirsten Macy's In My Beginning Is My End, from Barry Whistler Gallery, is a monumental painting comprised of what seems to be carefully pulled horizontal stripes of lavender tones that stretch the length of the canvas, creating a soft horizon in the distance. Punctuating this ode to order however are bursts of the same enamel hues, that when paired together reveal a beautifully passive yet violent sensitivity.
Three of Arthur Peña's incredibly tactile assemblages, attempt 59, attempt 63 and attempt 64 are from a series in which Peña throws out notions of the classical artistic gesture, choosing to create objects that have a hand-crafted nobility to them. Peña's attempts are outspoken and gritty, standing in stark contrast to the polished floors and white walls of the museum. Peña shows at Oliver Francis Gallery.
Jesse Morgan Barnett's video and audio work Ward v4, originally exhibited at the Marty Walker Gallery, consists of a continuous stream of dust and unsettlement with no conclusion in sight. The experience created by this work can be likened to traveling down a lonesome dirt road with one's view constantly being clouded by dust kicked up by an automobile just far enough ahead to remain invisible.
Terri Thornton's drawings-with-audio works, entirely impossible: Dear T/aye g and entirely impossible: Voice in My Head, are beautifully personal. Originally shown at the Free Museum of Dallas, they speak to ideas of impasse and Thornton's own cognitive inabilities. The inspiration for these works sprung from a letter the artist received that was so obscure that Thornton had to reread portions of it to find its meaning. Recreating this cerebral state, Thornton has remade this letter not as how she received it but as how she perceived it, repetitions and all. With her faint voice reciting what seems to be an intense train of thought through a hidden speaker, visitors are invited to sit and feel what it is like to be in Thornton's mind. (Though such efforts were thwarted throughout the exhibition by the blaring film series in the neighboring gallery put on by the Dallas VideoFest.)
Brandon Kennedy's NFS., the artist's father-in-law's 1973 Jaguar XJ6 glistened in front of the window onto the DMA's sculpture garden. The car is filled with Kennedy's personal book collection, titles such as The Art of Asking Your Boss For A Raise by Georges Perec, Descartes' Devil: Three Meditations by Durs Grünbein and ABC For Book Collectors by John Carter. One begins to become weighed down by the sheer amount of knowledge that fills this emblem of frivolity, whose potential has been stripped away having been taken off the streets and placed inside the gallery.
Lastly, there was Gregory Ruppe's GTO, a motorbike that the artist had previously destroyed for his 2012 thesis exhibition Ghostride to Oblivion at TCU's Moudy Gallery, and rebuilt with handmade parts. GTO stood in the DMA's galleries in a pool of its own oil as though it had broken down in that very spot. Mirrored against works from the DMA's Roman collection of antiquities, it recalls a conflict between destruction and renewal, with the motorbike becoming a historicized object given a new life by the artist's hand. With its potential as transportation erased and its subsequent renewal as an artwork, The Art Foundation spoke about this sculpture as the first piece that it had selected for this exhibition. It has become for them like a "totem" for the show, a relic from the past that has been painstakingly resurrected for the present.
Looking at the quandaries that this curatorial team has placed in front of us and trying to piece together some commonality between the works on view, it becomes undeniable that there is talent amongst us.  Boom Town whispered into the audience's ear, "Here we are, look what we are capable of" and only on the last day of the exhibition, when the resounding roar of POST COMMUNIQUÉ and the Dallas VideoFest had lessened to a mere murmur, were the works in Boom Town were given the chance to scream this message out loud.
For the first time, one was able to really get into Thornton's head, be immersed in Barnett's ride, and contemplate the mountains of titles that filled Kennedy's seats. Those of you who were able to visit Boom Town on this final day, on what could be considered the exhibition's swan song, were lucky enough to be given the chance to become all consumed by the space and possibly for the first time to truly be able to gauge yourself against it. If this chance escaped you, I recommend that you keep watch for these artists' works in gallery and museum exhibitions in the area while you still can.
Boom Town was part of DallasSITES: Available Space at the Dallas Museum of Art, on view July 19- Aug 18, 2013. Artists included in Boom Town were Jesse Morgan Barnett, DB12 (Jesse Morgan Barnett, C.J. Davis, and Michael Mazurek), Cassandra Emswiler, Brandon Kennedy, M, Kirsten Macy, Margaret Meehan, Keri Oldham, Tom Orr, Arthur Peña, Linda Ridgway, Gregory Ruppe, Paul Slocum, and Terri Thornton.