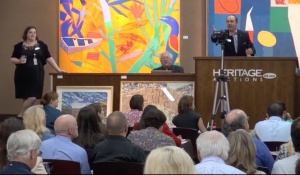 As mentioned in this space the week before last, the auctioning off of Belo Corporation's art collection on Oct. 18 in Dallas was sure to be a big success, and it turns out it was. According to artdaily.org, the auction, which was made up of decades' worth of Texas art, was standing-room only and brought in more than $620,000. This surpassed high-estimate expectations.
FYI: David Bates' "Blue Heron," considered the big-ticket item, "took top lot honors early in the auction when it crossed the block for $106,250, a new record for the artist."
A record was set for Dennis Blagg's work: two of his works sold after multiple bids, for $40,625 and $37,500. Also of note: "Two paintings by abstract artist Billy Hassell also saw interest by multiple bidders," with works selling for $21,250 and $20,000, "both fresh records for the artist." And, a "geometric abstract work by artist Dan Rizzie, ended at $32,500, also a record for the artist."
For more on this, go here.