Imagine if ABC's cheesy After School Specials featured Sesame Street characters whacked out on crack with a dose of Ryan Trecartin's depravity. That's House Party, the fifth episode of artist Elissa Stafford's Cherry and Dickhead series, now on view at Brand 10 Art Space in Fort Worth. In the series, Stafford bravely examines taboo subjects such as pedophilia, rape, bullying, substance abuse and domestic violence. She wrote, directed, starred in and edited the series of 10-15 minute episodes, as well as created the oversized, plush heads that each character wears.
The protagonists of the series are Cherry, a teenage girl with fire engine red hair and a blue face, and her friend Dickhead, a young gay boy with a pink peppermint-striped penis protruding from his head. Cherry and Dickhead play out abusive adolescent power struggles against a group of wicked antagonists—Blake, a pedophile with a long Pinocchio-like nose, and the A's, a group of three blonde mean-girls. Among other pressures, Cherry and Dickhead battle to be accepted by the A's and their boyfriends, with a few other minor characters included in the high school fray: the jocks who have footballs for heads and the nerds who are walking yellow English books.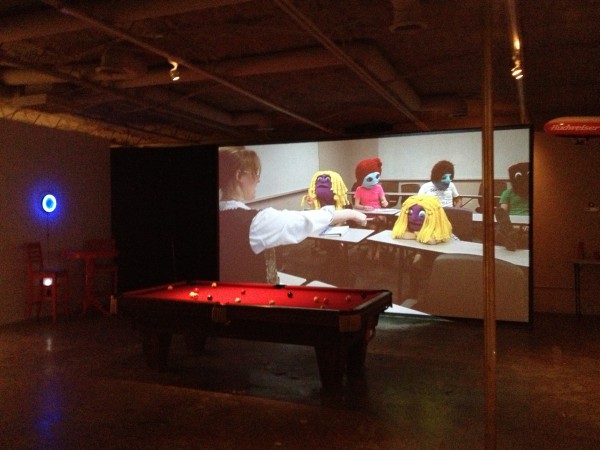 The installation at Brand 10 features part of the set from House Party—a pool table, a bar area and a pole (as in a pole-dancing pole)—with the video of House Party projected on the back wall. The video includes all of the predictable teenage themes—lots of copious drinking, drugs, sex and drama. I had to watch it three times before I finally decoded Cherry's whiny, valley-girl vernacular. All five episodes are told from Cherry's perspective, showing how she lacks street smarts, makes one bad decision after another, and manipulates her friend Dickhead, always roping him into her misadventures.
Episodes 1-4 of the series are screened on smaller monitors with headphones. It was a smart decision to create a more intimate viewing experience for these earlier episodes, since they tackle the tough, disturbing topics of rape, domestic abuse and pedophilia. Secrecy and shame shroud the issues, and showing them in a more private setting underscored that cultural act of hiding.
In episode 1, Life is Hard, Cherry tells us that her mom (played by Dallas gallerist Wanda Dye) is always drunk and too lazy to take care of her. Dickhead's dad (played by artist and CentralTrak director Heyd Fontenot) is also an alcoholic, who beats the shit of out his kid for being gay. It is interesting that none of the parent characters wear masks in the series. This adds veracity to the violence and abuse by showing the identity of the adult culprits.
Blake, the Peeping Tom character who watches Cherry and Dickhead, is introduced in episode 2, Watch Out. He follows them as they walk through the neighborhood, hiding behind trees and bushes, and peers over the fence when they are sunning by the pool. Cherry's grating voice is conspicuously absent during this episode, but the soundtrack of rhythmic, techno music is punctuated with tension as we hear Blake's labored breathing while he secretly watches the pair. The episode ends with Blake masturbating while looking at photographs of the two kids.
Blake finally manages to befriend Cherry and Dickhead in episode 3, Big Plans, buying them beer and getting them high. Cherry says, "I can't believe we got so wasted. You know you had a freakin awesome time when you wake-up in a strange place." This culminates in episode 4, Making Friends, when Blake puts roofies in their drinks and rapes them in his hotel room. When the two friends wake up the next day by the pool, seemingly oblivious to the previous night's activities.
Despite the fact that ridiculous-looking costumed characters simulated the rape scene, it was very difficult to watch. The perspective shifted from Cherry and Dickhead's blurry gazes to "us," the viewers, looking in as voyeurs, making us complicit in his crime. It wasn't as if the rape scene shocked me, I volunteer for an organization that rescues sex trafficked kids, and I hear these stories all the time, but I haven't been able to get those images out of my mind. Still, I wanted to shake Cherry and say, "Don't go to the creeper's room!" But I totally get it—she just wanted to fit in and have someone give her some attention. Like so many teens, her character suffers from low self-worth, which is why she is so ecstatic to be invited by the A's to the house party in episode 5, even if it means asking Blake, her rapist, to buy her some beer, her ticket into the party.
It is always tricky to use parody to examine socially taboo issues, but Stafford's videos powerfully resonate with the issues facing youth today. The filmed locations, like the low rent motel, back alley, and school classroom are ambiguous enough to be Anywhere, USA. She brazenly combines subversive parody with over-the-top absurdity and the result is brilliant. Greg Frost's cinematography and Stafford's editing are spot-on. The visual eye candy and levity of the crazy, plush characters allow the viewers some space to reflect and breathe in the face of so much corruption.
For those who want more of Cherry and Dickhead, Stafford plans to create the next few episodes from Dickhead's perspective, depicting what it's like to grow up as a closeted, bullied, gay youth. Stay tuned….
House Party is on view at Brand 10 through May 24.