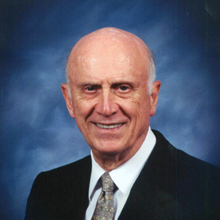 Houston philanthropist and oil executive Jack Sawtelle Blanton died on Saturday at the age of 86. Blanton's son-in-law told ABC13 that he passed away peacefully at his vacation home in Galveston.
Blanton may be best known within the arts for his namesake, the Jack S. Blanton Museum of Art at the University of Texas at Austin. When UT began a new museum building campaign in the mid-1990s, the Houston Endowment stepped forward in 1997 with a $12 million gift in honor of Jack Blanton, and UT's Huntington Gallery became the Blanton Museum of Art. Since 1990, Blanton had served as the Chairman of the Board of Trustees of the Houston Endowment, the largest philanthropic foundation in Texas, until he stepped down in 2003. He is credited with modernizing the foundation and more than doubling its assets, which now donates more than $75 million a year to non-profit organizations.
Blanton was born in Shreveport, Louisiana, and grew up in Houston, where he graduated from Lamar High School. He then earned a B.A. from UT in 1947 with a double major in government and history, and an L.L.B. from the UT Law School in 1950. After graduation, Blanton went to work for his father-in-law at the Scurlock Oil Company, rising through the ranks to become president in 1958 and CEO and chairman in 1983. He retired from Scurlock in 1988 to become president of Eddy Refining Company.
In addition to his service at the Houston Endowment, Blanton was also UT's Chairman of the Board of Regents and President of the Ex Students Association and served on the boards at Houston Methodist Hospital, The Greater Houston Partnership, The Harris County Hospital District, The LBJ Foundation, and the Houston Zoo, among many others. Over the years, he received numerous honors and awards, including the 2002 Ethical Leadership in Action Award from the University of St. Thomas, which stated that, "Jack Blanton consistently made wise and moral choices that have influenced a generation of new leaders."
With his first wife, Laura Lee Scurlock, he had three children, Elizabeth Blanton Wareing, Jack S. Blanton, Jr., and Eddy S. Blanton. He was later married to the late Lucinda Bailey Blanton and is survived by his wife, Virginia "Ginger" Nelson Blanton, his children, three stepchildren, 13 grandchildren, and 16 great grandchildren.
Funeral services will be held at 11 am on January 4 at St. Luke's United Methodist Church.