Firing Blanks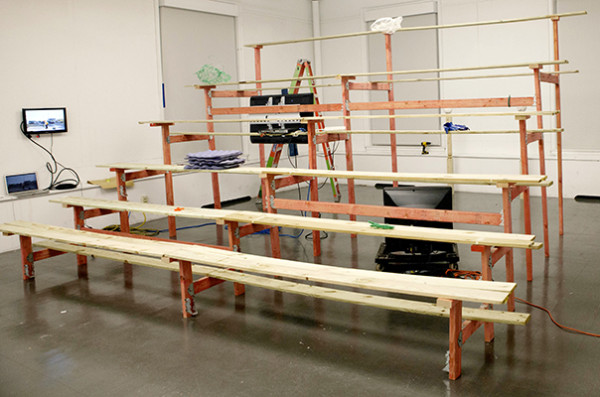 5 Plus Hearts, Kasey Short's installation at Big Medium, supposedly "explores different approaches in encountering human behavior and survival." That's great: a meaty, broad subject that could mean the current child refugee crisis at our border, or the lack of clean water in Africa, or humble interactions between kids at the mall.
But Short only provides one perspective, his own, and from what I'm shown, he sees the world as a young middle-class dude reminiscing on his high school days, borrowing heavily from Hollywood's high school vernacular. There are no other explorations or perspectives. That's fine, but the work doesn't match his text and it comes across as inflated art school babble.
Short assembles cheap, easily found or stolen materials like shipping pallets, plaster, thrift store picture frames, leftover canvas, spray paint into unremarkable assemblage paintings and sculptures. The largest work, Atrium Stadium, a haphazardly built high school bleacher, occupies the bulk of the space. Meant to simulate a manifestation of the mind's subconscious, it only reads as a poorly constructed object.  Atrium Stadium is festooned with trinkets of unsanctioned high school social activities, like a hacky sacks and spilled faux-marijuana. Loaded with knock-me-over-the-head symbolism, velvet ropes guard the VIP section under the bleachers.
Two phrases from the show's statement become crutches for what feels like an intellectually lazy exhibition:
1. His sculptures have a "purposefully failed likeness"
2. "circumstances are at once familiar and mysterious, furthering the confusion of the artist's intentions."
These vague statements tell me that Short is unwilling to own the work. It's up to me to fill in the blanks. Short tells me that it's not about how it looks, but about the ideas, but I don't see any ideas, so I'm left with just blanks.
Kasey Short: 5 Plus Hearts is on view at Big Medium in Austin through August 8.
Stupid Show Makes me Stoopidier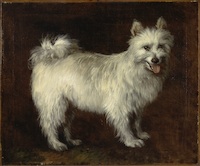 Just wasted my precious lunch break on the boring crapfest that the Blanton called In the Company of Cats and Dogs. Found myself not caring and playing 'Where's Waldo?' in search of the animal in each work instead. "Cat, cat, dog, man-dog, dog, anthropomorphize dog, small cat with lots of other creatures…"
In the Company of Cats and Dogs is on view at the Blanton Museum of Art through September 21.
Insert Review Title Here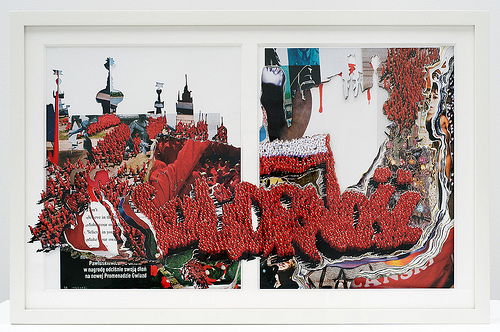 As usual, the summer art season slows down and commercial galleries trot out group shows in an attempt to clear out old inventory and test-drive a few new faces. It's sort of like a garage sale with a few unopened mystery boxes.
Opening without reception or celebration, Summer Show at Lora Reynolds Gallery is no different. The gallery reveals its own attitude toward the exhibition by omitting the customary opening night festivities. Even the gallery isn't too crazy about going through all the hoopla and expense of an opening for Summer Show. Labeled with a generic title, it reads like an afterthought.
I wanted to like the show because the work looks polished and professional in the gallery space, but some connections and visual cues made me turn on it after an initial viewing. Colby Bird's gorgeous lamps use the human equivalent of cats playing with tinfoil trick by employing mirror shelves. It gives the work dynamism that isn't inherent to the pieces. Opposite the lamps, in the gallery's front space, Roy McMakin's "abbreviated handles" on ceramic vessels are suppose to subvert the role of function in domesticity. My art guts don't buy it. The handles weren't practical to begin with and the vessels are hardly rendered useless. The missing handles and artfully placed holes speak more to class and sustainability than domesticity and companionship.
With lamps, vases, and a generic title, the exhibition makes me think, I'm no longer in a gallery, but at the local Crate & Barrel. It's too bad, because there's some work that kept my attention and picked at my curiosity. Noriko Ambe has a couple of pieces in the show of cut books and collage that referenced pop-art, politics, topography, and layered in a way that breaks the picture plane in intriguing ways.
Summer Show is on view at Lora Reynolds Gallery in Austin through September 6.
Comfy Sweater Too Comfy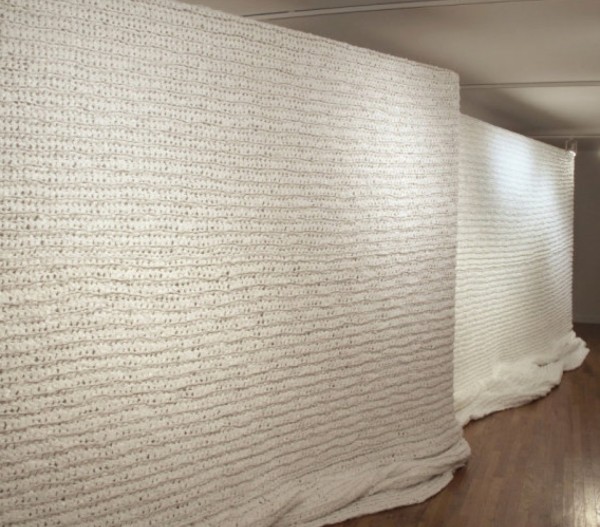 Like an old chunky sweater that gets busted out every winter, Soft Walls by Akiko Kotani at Women & Their Work performs, as it should: comfortable, predictable, and mostly dull.
I've seen this work before, because it relies on a formula mastered by Tara Donovan. Take a thing, repeat it a bazillion times, stick it in a gallery = audience in awe of the miracle! I'm suppose to marvel at the humble material and labor used to create it. I'm not. Donovan has a team of wonder-makers reducing the importance of the labor, and Kotani just didn't labor enough. Soft Walls just doesn't impress as a labor-intensive work. Additionally, yarn bombers have used crocheting in a far more interesting way outside of gallery spaces and in a constructive socially active way.
A few details that let me down:
The interesting wall placement of Soft Walls does not read like an artistic decision, but simply a way to hide the fastening of the crochet.
The color shift on the larger wall bothers me; it takes away from the "purity, transcendence, and light" as per the artist.
The Black Sea (the other work included in the show) is overshadowed by Soft Walls. It's trying to balance the exhibitions space, but reads more like an afterthought and an admission that the larger piece wasn't enough to make for enjoyable show.
Akiko Kotani: Soft Walls will be on view through August 29 at Austin's Women and Their Work Gallery.
Trust Your Art Gut is  RJ Harrington's new blog about art in Austin. Excerpts republished here with permission.