I spent the week of May 1-7 in New York to see galleries/museums and attend a curator conference. As an obsessive photo taker, I thought it might be fun to share.
Much of the conference's discussion centered around the visitor experience in museums and the blunt reality of the need to get people in the door (and maybe even have them come back). Obviously, this problem is relative; the Guggenheim and MoMA certainly do not appear to be having any trouble.
There were more questions: what is the new space of the museum? And the role of social or "participatory" museum? I listened to presentations about free membership, polling visitors, having visitors vote, new education strategies but, as I saw at the MoMA, a good cafe can't hurt.
Speaking of food… at MoMA, I saw an amazing exhibition of Dieter Roth's multiples, editions, and artist books. Roth moved from "systems" art, based on geometric permutations, to playing with comic book pages, newspaper clippings, postcards to grinding up books and remaking them into sausages(!). He even made chocolate busts of himself that he wished to be left outside for the birds to slowly eat away. As this video by MoMA explains, he often worked with food in his art and thought of the studio more as a kitchen than anything else. The exhibition showed a restless maker at work who cut up, reshuffled, and recombined the everyday minutiae of his personal world. Funny, absurd, ingenious, and a complete headache for conservators, Roth's obsessive mining of the everyday made an art of worshipping the by-products instead of the end products, resulting in a fascinating kind of personal archaeology to sift through.
Also on view at MoMA were exhibitions of Claes Oldenburg's The Street (1960), The Store (1961-62), Flags (1960), and Mouse Museum/Ray Gun Wing (1972-77). I enjoyed most looking at Oldenburg's Mouse Museum full of incredible knick-knacks he has collected over the years that actually give great insight into his work. Many of the often miniature items look like small-scale studies or sketches for his sculpture.
The Street and The Store were presented as a more conventional exhibition with objects displayed outside of their original installations. The cardboard sculptures from the street were suspended from the ceiling as fragments and many of the gooey plaster sculptures from the store were tacked to the walls. It brought up the issue of how installation art, torn out of its original context, can go from having a feeling of vitality as art to a slightly sanitized, historical artifact.
Moving on to the Museum of Arts and Design …
A pleasant surprise was the exhibition Against the Grain: Wood in Contemporary Art, Craft and Design, which brought together the often separate worlds of art, craft and design with compelling objects and installations. Above was one of my favorites: an "accordion" sofa made from over 8,000 chopsticks! The designer loves bridges and structures like the Eiffel Tower, and it is also a clever design for a small space in case you need to expand and contract your furniture. Other design/furniture-based objects below…
Matthias Pliessnig wraps steam-bent white oak around a chair by Michael Thonet. The gesture pays homage to the German-born cabinetmaker, Thonet, who was known in the 19th century for his now iconic bentwood chairs.
A consistent theme: wood doing things that it seems it shouldn't or couldn't. Above, "textile" is made from laser-cut wood pieces bonded to a textile base.
A work by one of the more prominent contemporary artists included in the exhibition, Phoebe Washburn's sculpture is great just for being inspired by the mouth of Dwayne Johnson a.k.a "The Rock."
In one of Sarah Oppenheimer's simple yet complex architectural installations, a hole is created at the intersection of two walls, destroying the corners and letting us see through.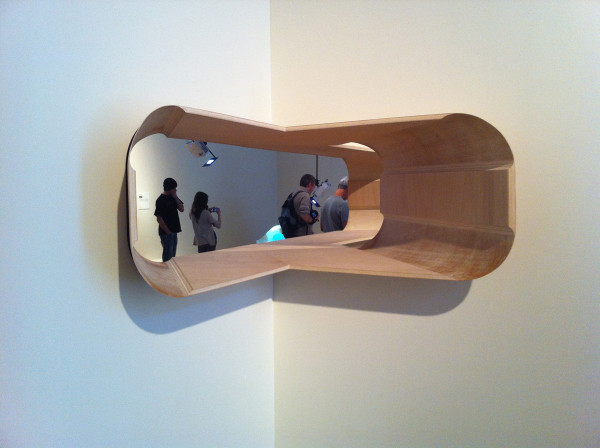 Now onward to Chelsea for galleries …
A predecessor to Oppenheimer, Gordan Matta-Clark's photographs, videos, and drawings were on view in a great show called Above and Below at David Zwirner. Installation schematics and documentation can be very dry, but Matta-Clark's photo-collage and videos made these projects come alive for me.
A project for Documenta 6 in Kassel, Germany, which according to Zwirner's press release, brave visitors could actually ascend.
There was a film about Matta-Clark's explorations of burial chambers underneath the Cathedral of St. John the Divine, the tracks running below Grand Central Station, and the sewer systems/tunnels of New York. I loved Matta-Clark's conversation with a tunnel builder and the details about these "arteries and veins" beneath the city.
This group show at Andrea Rosen's new space in Chelsea called "Gallery 2" played with tactility, surface, and material with an eclectic mix of artists, from Danish ceramicist Axel Salto to contemporary video installation artist Mika Rottenberg.
Greek artist Jannis Kounellis' installations at Cheim & Reid were theatrical tableaus full of weighty materials (steel, coal), cast off items (old glassware), and foreboding personal artifacts (overcoats, shoes). Kounellis was born in 1936, and the work elegiacally spoke to industry and the human presence left behind.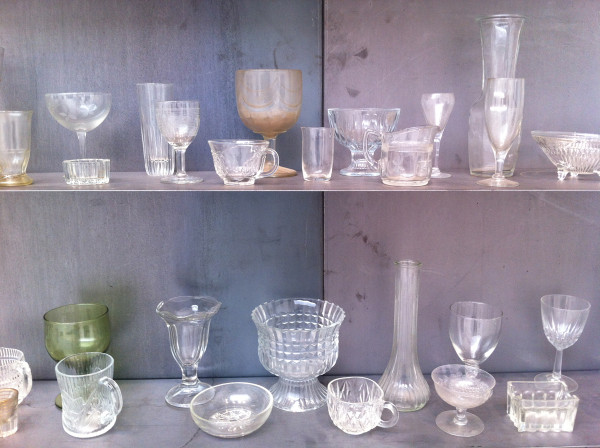 More by Kounellis …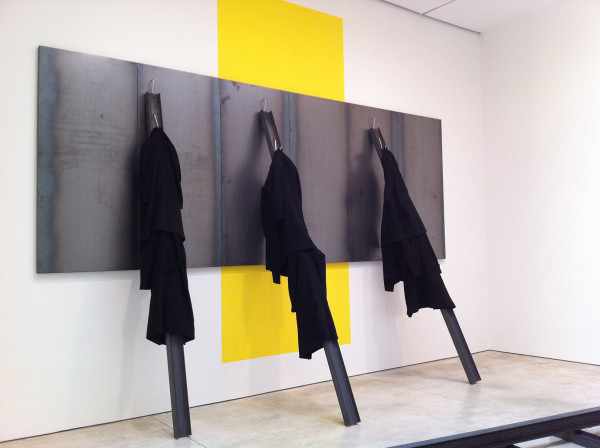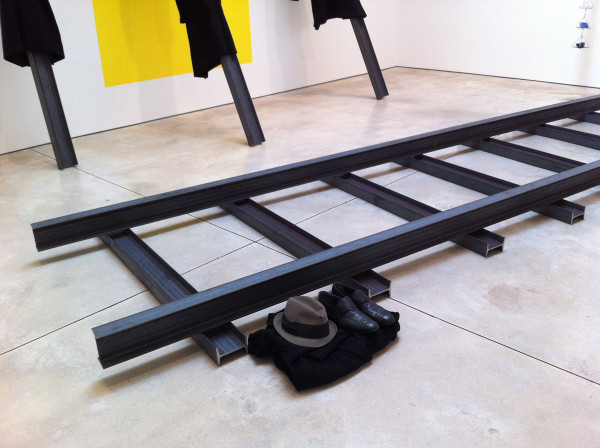 Still in Chelsea …
Loved these sublime, large-scale photos by Richard Misrach. According to Pace press release:
"Shooting from a hotel balcony in Hawaii, Misrach documents the sea's changes in color and energy, as well as the humans who enter the ocean's immensity to float, swim, surf, perform, and sometimes curl up at its edge."
Also at Pace Gallery, the latest from Tim Hawkinson below …
The wheels on those toes and the heel actually spun like roller skates. Absurd, wonderful, and meticulously made.
This picture is cropped and does not show how this armored character is balanced on a swooping tail of dried palm fronds. The armor looked like it was made of palm tree bark with acorn adornments.
Now to the Guggenheim ….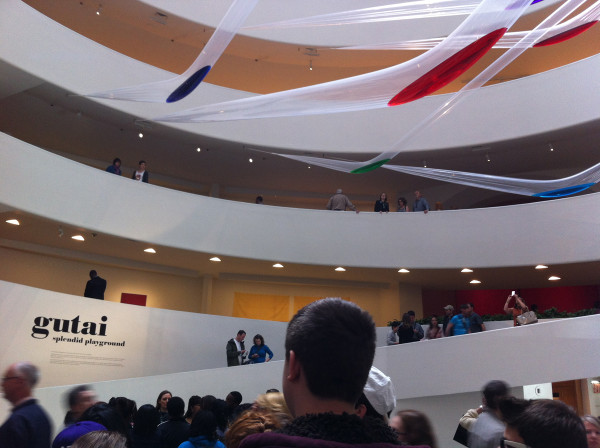 I saw Gutai: Splendid Playground at the Guggenheim, which was also a bit of playground/zoo. It was an eye-opening show about this avant garde Japanese collective, which was active from 1954-1972. There is too much to say about this group with their performance-based painting, temporary/interactive outdoor sculpture exhibitions, networked/international spirit with a published journal and, finally, an eye toward work about the merging of technology/urban culture/humanity. At times, it was hard to believe all of this was happening pre-1972. One highlight: the electric dress by Atsuko Tanaka.
The rotunda is a great place for these commissioned installations. It is also the only place where you can take photos, and it is a cathartic moment for people. Sitting down there for five minutes, I took my photos of people taking photos (the grid of pictures at the top of this post). I would estimate that on a busy day someone takes a photo of the Guggenheim every 15-30 seconds.
As part of winning the Hugo Boss Prize, Danh Vo gets an exhibition at the Guggenheim. For it, he installed the objects collected by visionary painter Martin Wong, who died in 1999. The collection was eccentric and arranged by like items in simple plywood shelves and cubbyholes. There was undoubtedly plenty to look at, but it somehow felt a little clinical as an homage. The most touching parts were Martin Wong's own notes and paintings for his mother and father.
On to the Whitney …
I could not take photographs of the exhibitions, but Jay DeFeo's retrospective was well worth the trip.
The intended show stopper is DeFeo's painting, The Rose. It is sensitively installed to be illuminated from the sides, mimicking DeFeo's bay windows which lit the work in her studio as she obsessively made it over almost eight years from 1958 to 1966. The painting's bulk and surface has a sacred, reliquary feel, like encountering a cathedral wall cut away from a ruin.
I actually spent more time looking at DeFeo's incredible drawings, which were done of everyday objects which fascinated her, such as an old piece of a coffee cup handle, her swimming goggles, a tape dispenser, and a tripod. They pointed to what they were with representational clues, but also showed a sensuous play with material and form where the ordinary and inanimate became something grander and full of wonder.
A trip off Manhattan to Brooklyn …
I saw this amazing mask while walking through a small section of African objects at the Brooklyn Museum. According to the collections website:
"Historically, all Chewa men belonged to the secret Nyau society. The society's masks represent the spirits of the deceased, but they may also represent wild bush spirits or caricature personalities from the wider community. Outsiders—including Swahili slave traders, British officials, the Virgin Mary, and other iconic foreigners such as Elvis Presley—have been considered representative of antisocial traits and undesirable values."
LaToya Ruby Frazier's powerful black and white photographs document her familial life and their decaying surroundings in Braddock, Pennsylvania, an old steel mill town suffering from the economic effects of deindustrialization.
With a bed sheet duct-taped to her bedroom wall as a backdrop, Frazier documents her lupus attacks. Many of her images are of her family's medical problems, which bring up the issues of environmental concerns in lower-income neighborhoods and the negative consequences of the town's industrial legacy.
Other images show the destruction of a local hospital and problematic access to healthcare.
Also on view at the Brooklyn Museum were El Anatsui's large-scale, monumental works, including (above) his Rice Gallery installation Gli (Wall).
One of my favorite moments was Red Block (2010) and Black Block (2010) installed next to one another. How nice would an Anatsui "monochrome" show be?
These red and black pieces were unique because of how they folded and curled off the wall. Anatsui generally leaves this at the curator's discretion, and I liked what seemed to be an approach I had not seen before.
Also, Black Block read almost like snakeskin or leather from afar, reminding me of just how amazing Anatsui is with his signature material of discarded metal bottle tops, which he somehow has still not exhausted.
DONE, completely wiped out, and back to the hotel …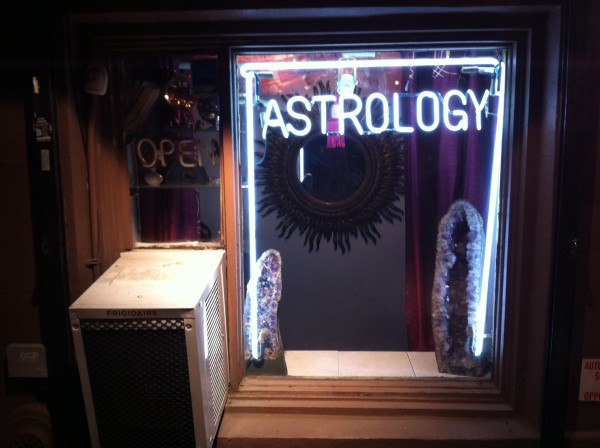 The above photo I took is not "art," but a psychic's office (do you call them offices? shops?) next to my hotel. I include it as a slightly lame, concluding joke and to point out, in a roundabout manner, how my week in New York did not give me any deep revelations into the future of art. Instead, it was more about looking toward the past at artists who still seem timely—some of the highlights being exhibitions of Dieter Roth, Jay DeFeo, Gutai, and Gordon Matta-Clark.  My next trip is to Hong Kong and Beijing. I am not necessarily expecting to find "the future" there either, but I'll take plenty of pictures just in case.