San Antonio
UPCOMING EVENTS
ONGOING EXHIBITIONS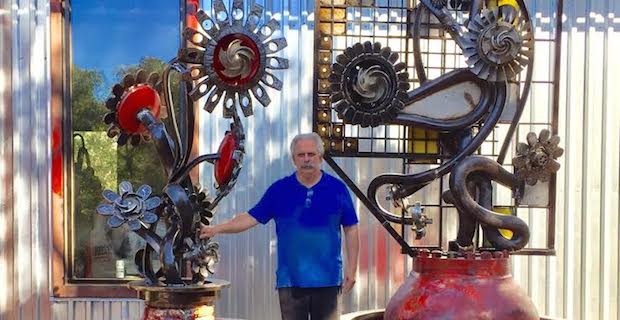 Thursday, 2.23.17 | 5:30–7 pm
An exhibition of sculptures by Mountain Springs, Texas-based artist George Tobolowsky. Created from found objects and castoff pieces of metal, the works are created to fit together like pieces of a puzzle.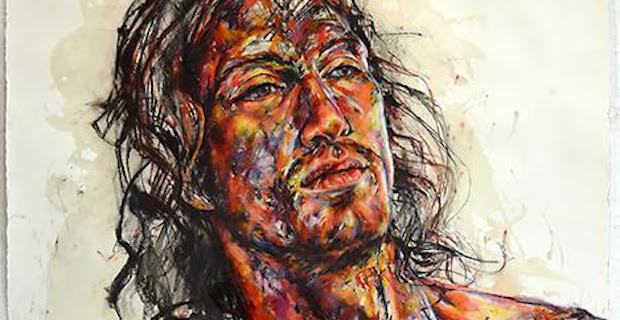 January 6 through February 24, 2017
A show of large-scale figure paintings by Lubbock artist Ghislaine Fremaux.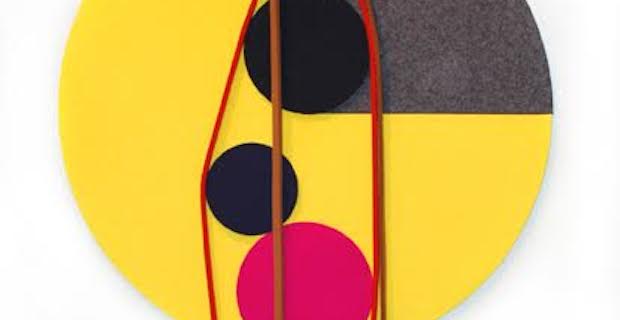 January 25 through February 25, 2017
A group exhibition featuring eight artists who "delve into curvilinear shapes and forms with a bold intellectual and playful practice using art history as an impetus." Artists include Constance Lowe, Jesse Amado, Andrés Ferrandis, Nicolás Leiva, Nate Cassie, Laura Anderson Barbata, Ricky Armendariz and Ethel Shipton.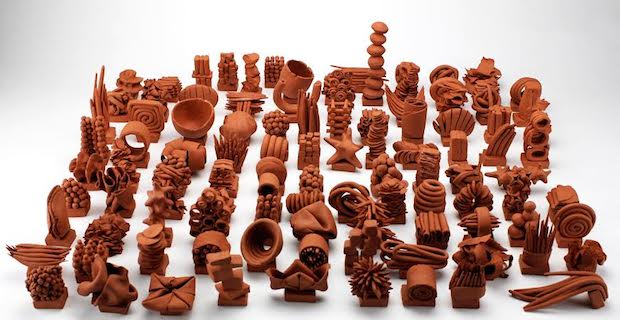 February 3 through 25, 2017
Love more – Hate Less showcases a selection of contemporary, political and socially-driven ceramic works by artist Verena Gaudy.Elegy is a collection of expressive oil paintings by Patricia Guerrero that explores the idea of childhood memories that are often lost or incomplete.Ashley Mireles' Seven Scenes constructs illustrative narratives based on her environment as well as concerns that at times include all or no relationship to identity, love, and extraterrestrials.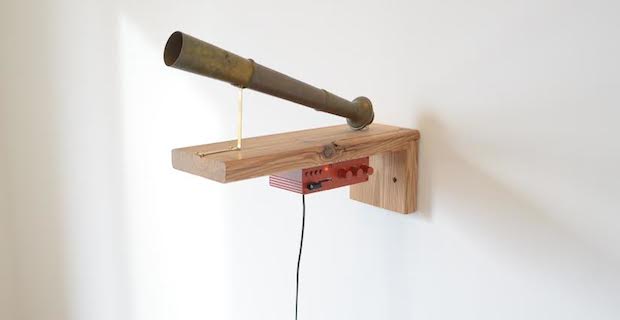 January 26 through February 26, 2017
An exhibition highlighting the Southwest School of Art's faculty members.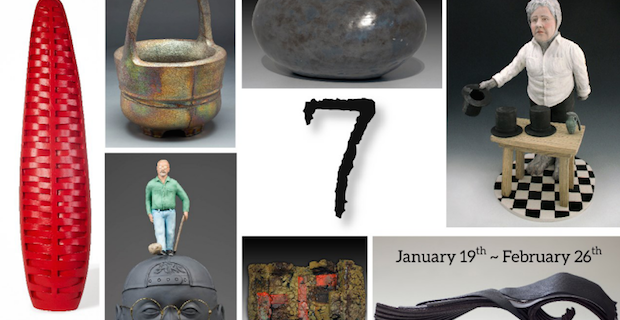 January 19 through February 26, 2017
An exhibition featuring works by ceramic artists Susan Budge, Jeff Forster, Verne Funk, Pat Johnson, Wendan Lin, James Watkins, and Tracye Wear.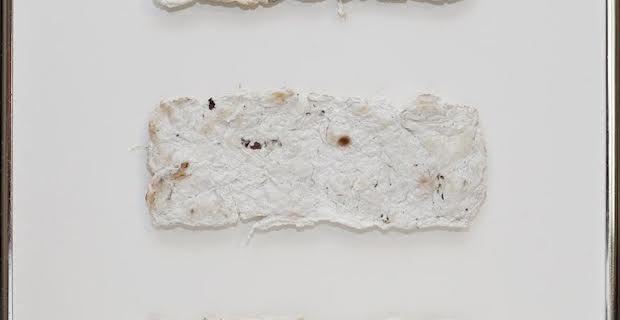 February 11 through 26, 2017
"In a continuation of Jenelle Esparza's work with cotton, Lucre will be comprised of approximately 250 pieces of handmade cotton paper money, various found objects, and graphite drawings. The focus of this installation is the fiber itself, the hands it passes through, and the money that passes in all directions."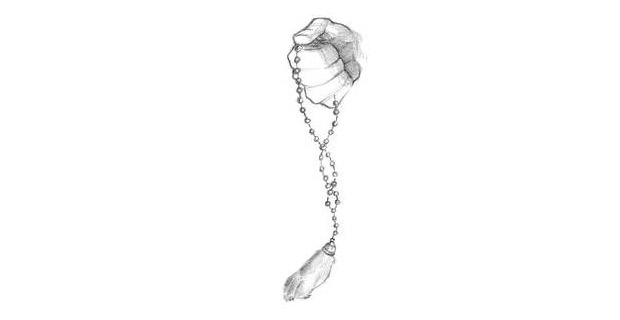 February 11 through 28, 2017
A show of new artwork by Christopher Ochoa.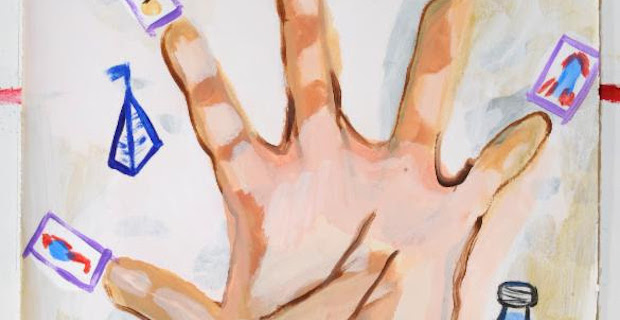 February 14 through 28, 2017
A pop-up show of works by Victoria Suescum.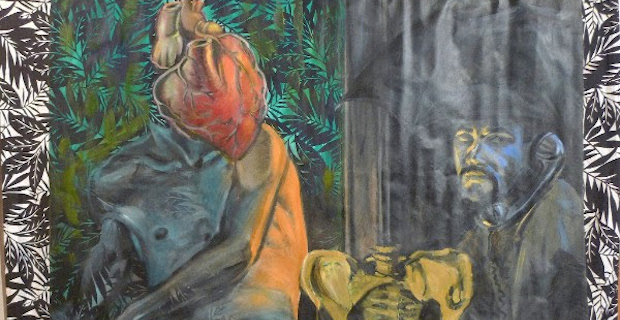 February 2 through March 3, 2017
Two shows of early works by Ángel Rodríguez-Díaz. El Mero Chile / The Full Monty showcases paintings of male subjects Rodríguez-Díaz created in New York from 1983 to 1992, and Nueva York - San Antonio is a show of recently discovered paintings by the artist.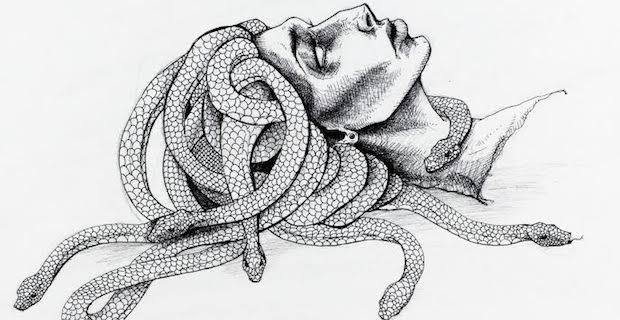 February 11 through March 3, 2017
An exhibition featuring works by Diana Casanova and Michael Aaron Williams.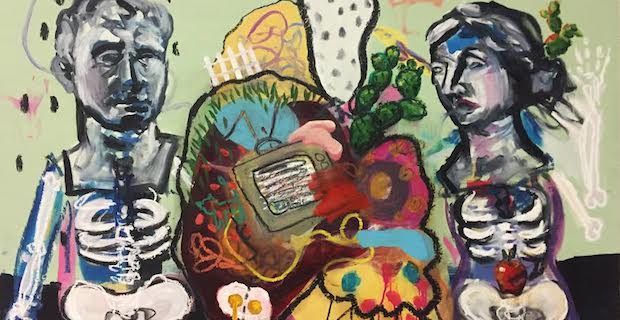 January 14 through March 4, 2017
An exhibition of works by Ana Hdz-Burwell. The artist on their work: "In these pieces I am exploring individual identity with the use of cross-cultural ideas with an emphasis on the exploration of the inner self."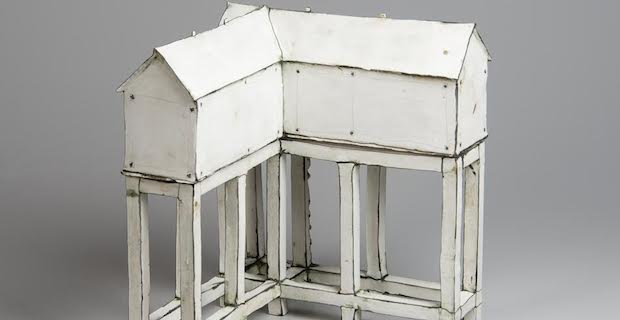 February 4 through March 4, 2017
A show of ceramic works by Mary Fischer.
February 9 through March 4, 2017
Through Ordinary Queens, New York artist Sandra Mack-Valencia aims to make "a bold statement where everyday women are elevated to royal status to highlight the driving force of their presence in the world."
February 10 through March 25, 2017
A show featuring paintings by Lauren Riojas and mixed-media works by Clay DeStefano.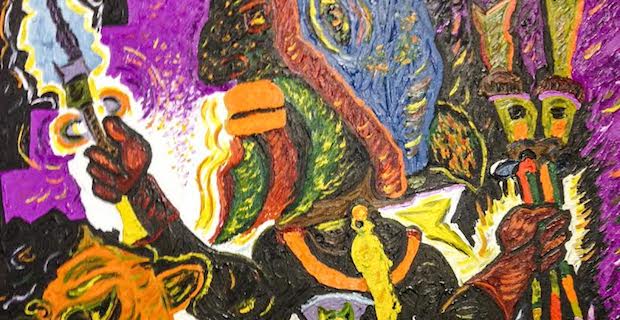 February 9 through March 26, 2017
An exhibition featuring works by Andy Villarreal, Kristin Eyfells, and Johann Eyfells.
February 1 through April 1, 2017
A new media happening. For more details: http://18007892228.com/Call: 800 789 2228 to access virtual convenings on three different singularities:Press 1 for Hydrology Press 2 for Material Press 3 for FinanceTo return to the main menu, press #Virtual Conference 2017 by William Sarradet An informal speculation conference on the future of hydrology, material and finance. in association with the society of something.The Virtual Conference will conclude with a private presentation on the subject of SaaS products and their role in New Media art. An invitational event set for Spring is forthcoming.Speakers: -Morehshin Allahyhari and Sam Robinson with Patrick Romeo -Carolyn Sortor and Marcos Yturri -Peter Fend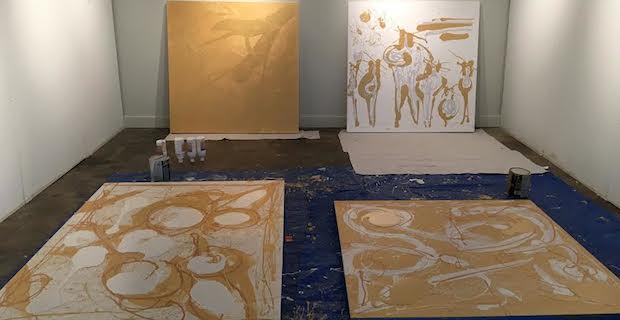 January 13 through April 14, 2017
An exhibition of works by San Antonio native AJ Rodriguez. The works in the show draw attention "to mostly unnoticed or (taken for granted) beauty, and this time, specifically spotlighting the human form."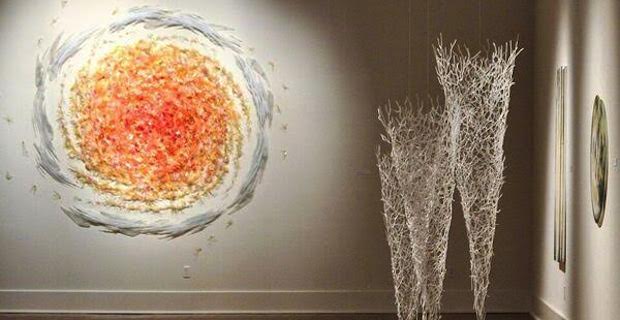 January 21 through April 21, 2017
An exhibition of works by Houston artist Margaret Smithers-Crump. The pieces in the show are inspired by nature and the fragility of the Earth's ecosystems.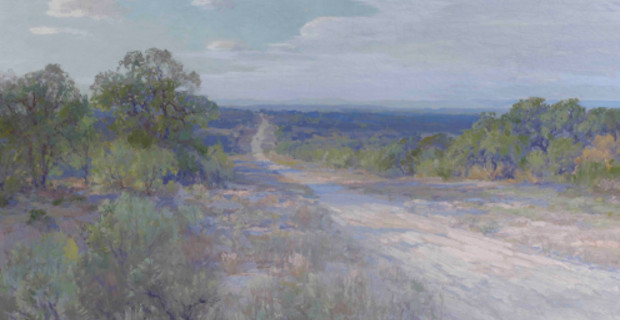 January 20 through April 23, 2017
An exhibition of works by Texas landscape painter Julian Onderdonk (1882–1922). Onderdonk is a San Antonio native and is best known for his paintings of bluebonnets.
June 30, 2016 through April 30, 2017
An installation by Brooklyn-based artist Alyson Shotz. Shotz's site-specific installation Scattering Screen encourages visitors to interact with the garden and notice particularities in the garden's landscape.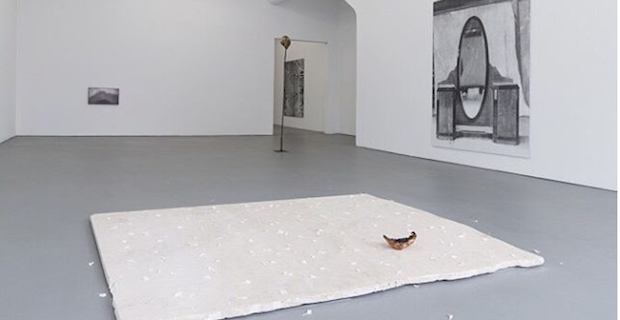 January 26 through April 30, 2017
A show of works by Natasha Bowdoin, Harold Mendez, and Rodrigo Valenzuela. This exhibition was organized by Artpace's Spring 2017 curator Michelle Grabner.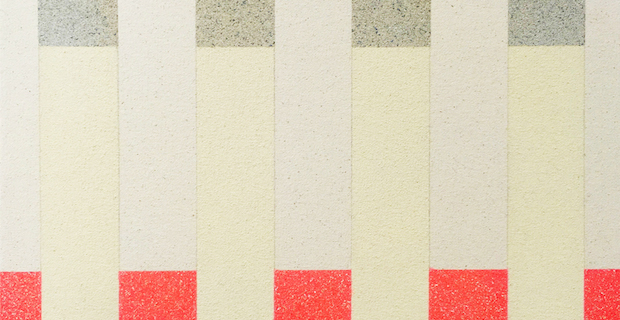 January 26 through April 30, 2017
For Open, San Antonio artist Benjamin McVey will use Artpace's gallery space as his painting studio.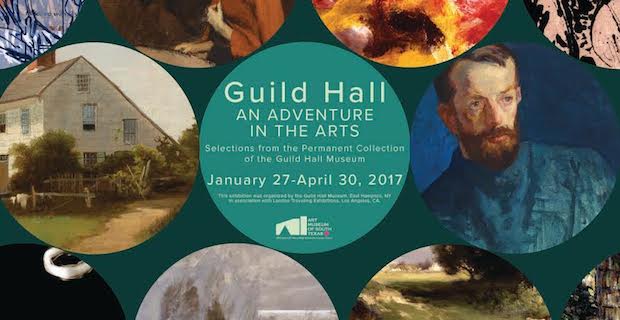 January 27 through April 30, 2017
A show of works from the Guild Hall Museum in East Hampton, New York. The show includes 73 works by 40 artists, including, among others, John Chamberlain, Chuck Close, Willem de Kooning Elaine de Kooning, Adolph Gottlieb, Robert Gwatheny, Childe Hassam, Jasper Johns, Andy Warhol, Robert Rauschenberg, William King, Donald Lipski, Thonas Moran, Robert Motherwell, Hans Namuth, Larry Rivers, David Salle, Alan Shields, Moses Soyer, Raphael Soyer, Saul Steinberg, Donald Sultan, and Lemuel Maynard Wiles.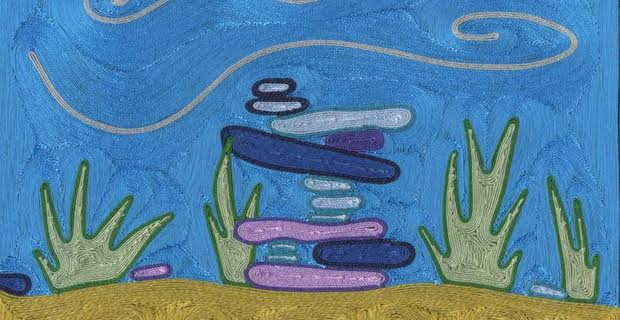 January 17 through May 4, 2017
A show of works by Austin artist April Sullivan. Sullivan creates meticulous paintings using different colors of yarn.
February 2 through May 7, 2017
An exhibition in celebration of Blue Star's 30th birthday. The artists in the show were asked to respond to an artwork from Blue Star's first exhibition. However, they were only given the title and description details of the work. Artists in this show include: David Almaguer, Joe Harjo, Jennifer Khoshbin, Michele Monseau, Andrei Renteria, Rainey Rabbit, Anthony Rundblade, and Ed Saavedra.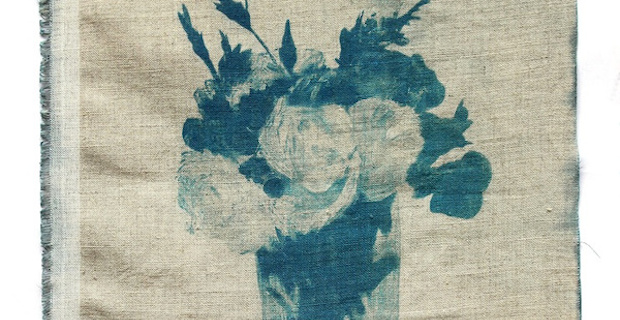 February 2 through May 7, 2017
"The Blue Hour (A clock stopped), investigates the historical intersection between art and science through the exploration of the pigment Prussian blue." The show will feature paintings and sculptures that aim to tap into our cultural and social associations with the color blue.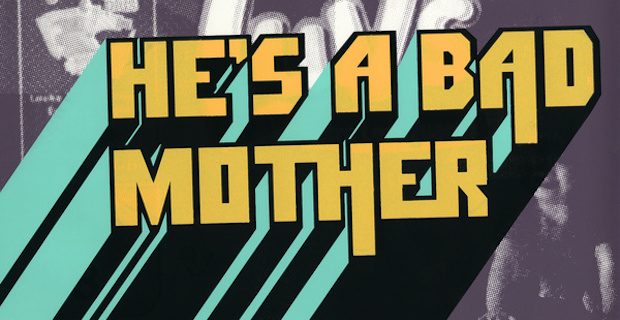 February 2 through May 7, 2017
An exhibition of Julia Barbosa Landois' M*dres silkscreen print series. The pieces in the show examine how "gendered language reflects and structures our political and cultural attitudes towards women."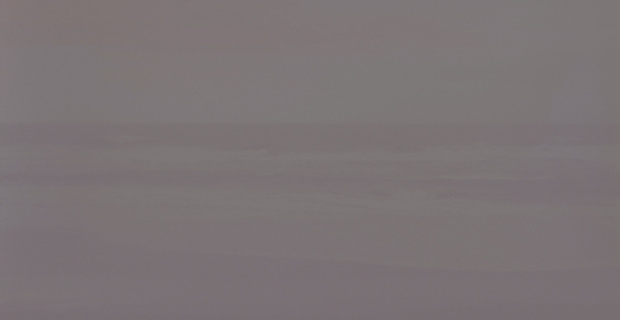 February 2 through May 7, 2017
A show of works by John Steck Jr. The exhibition will feature photographs from Steck's Lament (Disappearing photographs) series in which he creates images that retain their sensitivity to light. Ultimately, his images disappear completely from his photographs.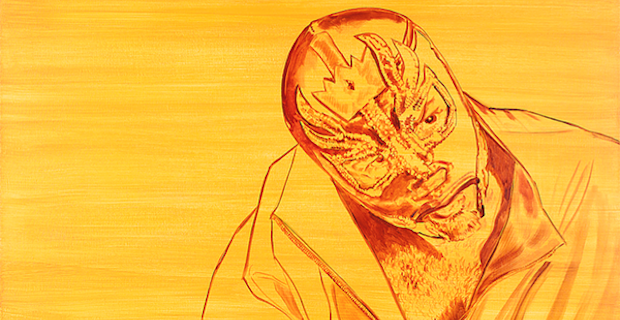 February 9 through June 11, 2017
An exhibition featuring nearly sixty works spanning the breadth of Ángel Rodríguez-Díaz's career.
April 30, 2016 through July 29, 2017
The Texas debut of Secondary Stories, a room-sized installation by Brazilian artist Rivane Neuenschwander. The artist's works address "language, nature, social interactions and the passing of time."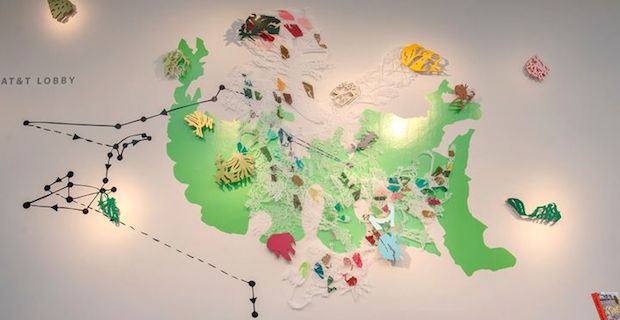 August 4, 2016 through July 30, 2017
An installation by San Antonio-based artist Leigh Anne Lester. The work is inspired by science, botany, and genetic modification.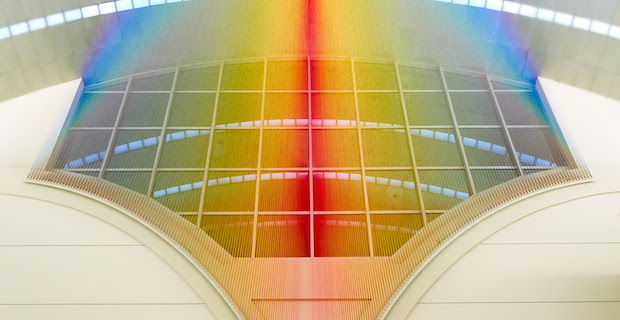 October 11, 2016 through October 11, 2019
A new installation by Dallas artist Gabriel Dawe. The piece is located in Terminal A by the Southwest ticket counter.