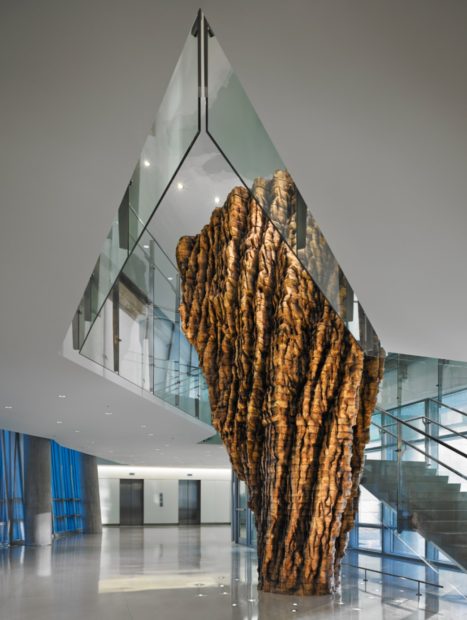 The FBI's Miami field office had a giant commissioned artwork installed inside its big building lobby last year, and the work proceeded to make a lot of employees sick—even sending one to the hospital for 11 days. The piece is now in storage in Maryland. A few days ago Politico got the skinny on the story.
The 17-foot tall wooden piece, titled Cedrus (and shaped much like a tornado), is by well-regarded artist Ursula von Rydingsvard, whose large works are generally installed outdoors. Cedrus cost the General Services Administration $750k and is made of… oh no. Western red cedar. This is an allergy nightmare for some people. Sure enough, after installation, some office workers came down with all kinds of asthma, allergy, and rhinitis symptoms, some of them severe.
The GSA may or may not be entirely convinced that the sculpture could be the culprit. Gizmodo received a statement from the GSA about the matter, and the agency has claimed that after the first symptoms showed up in the workers, it:
 "…immediately contained the artwork in plastic… and "enhanced air filtration" in the FBI building, "deep cleaned" the office spaces, spoke with the artist, and consulted with the Federal Occupational Health (FOH) agency. According to GSA, the Federal Occupational Health agency "found insufficient evidence to implicate the artwork as the source of health conditions reported by FBI employees."
For more on this story, go here, and here.