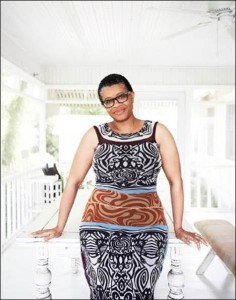 Novelist and playwright Shay Youngblood, currently based in Denton, was in Japan on a writers' residency when the 2011 earthquake, tsunami, and nuclear disaster hit. She was in Tokyo and working on a novel around themes of memory and home by interviewing architects and like, but the experience prompted her to shift gears and spend time talking with people who had lost everything in the devastation.
Youngblood (who was the first-ever writer in residence at the DMA) will present her performance piece, Add Architecture, Stir Memory, which "uses a mixture of interviews, animation, live action, video and soundscapes she recorded in Japan," on Tuesday evening, August 4th at UNT On The Square in Denton.
Via UNT: "'The novel paled to these real life moments that were happening,' she said. 'So many people had lost their homes. What does it mean to have lost not only your home and loved ones but your entire community?'  She noted some people talked about very specific places, such as a fireplace and staircase."
Shay Youngblood will perform Add Architecture, Stir Memory from 6:30 to 8 p.m. Aug. 4 (Tuesday) at UNT on the Square. It is free and open to the public. For more info, go here.