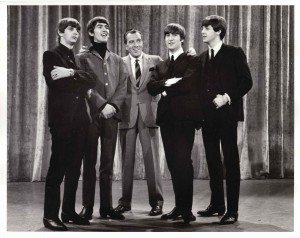 First, a qualifier: I am a huge Beatles fan, and have been since I was little. Would I go see this show on my own? I doubt it. There is not another Fab Four factoid or photo out there I need to see or know. Would I take my nieces, who are in elementary school? Yes. Museumify that stuff, give it some context, and roll up for the Mystery Tour, children.
The announcement that the LBJ Presidential Library in Austin is hosting a touring show of early-Beatles stuff, and it's co-produced  by the Grammy Museum and titled Ladies and Gentlemen…The Beatles! leaves me a bit hot and cold.
Here's the skinny: this exhibition promises to "explore(s) the impact The Beatles' arrival had on American pop culture, including fashion, art, advertising, media and music, from early 1964 through mid-1966 – when the British boy band was at its peak." So there's your context.
And a note on the stuff: "On display will be more than 400 pieces of memorabilia, records, rare photographs, tour artifacts, video, and instruments from private collectors and the GRAMMY Museum, including the original Ludwig drum head Ringo played on 'The Ed Sullivan Show.' It even includes an oral history booth where visitors can leave their own impressions of the timeless group."
The show opens Saturday, June 13 and runs through the year; the exhibit is free and open to the public. Take your kids. Find your info here.