FotoFest is gearing up for its 16th Biennial in spring of 2016 and today it announced this installment's title and theme: "CHANGING CIRCUMSTANCES: Looking at...
Read More
Chinati Weekend is coming! From 5-10pm on Friday evening, studios and galleries in downtown Marfa will be open with exhibitions and performances. On Saturday, there...
Read More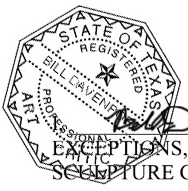 I'm not saying that many of the works on display would not have been better left in their shipping crates, but whether dogs or divas, I'm glad they were here.