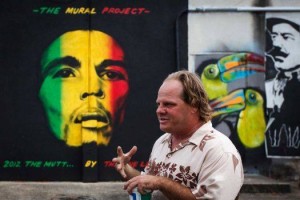 Johnathan Estes, founder of Southern Artists Foundation, a nonprofit organization that works to help autistic children, which runs Kingspoint Proper, a concert venue and art gallery, was killed on Monday evening.
According to yesterday's story on Click2Houston.com, in which Estes' identity had not yet been confirmed, police say they responded to a shooting call around 9:30pm to the parking lot outside Kingspoint Proper. Estes was found with several gunshot wounds and was transported to the hospital, where he later died.
A father of autistic children, Estes created the Southern Artists Foundation in early 2011 to organize local artists to work in the community and help raise awareness about autism. The art space, known as Kingspoint Mullet (a reference to the front gallery space and the back party space: "Business in the front, party in the back") offers street artists a place to create murals legally.
The Facebook pages of Johnathan Estes and Kingspoint Proper are already overflowing with posts expressing shock, grief, and condolences. A memorial is planned for Friday, 7pm, at Kingspoint Proper (10900 Kingspoint Rd., Suite 5, Houston 77075).
(Photo by Michael Paulsen/Houston Chronicle staff)