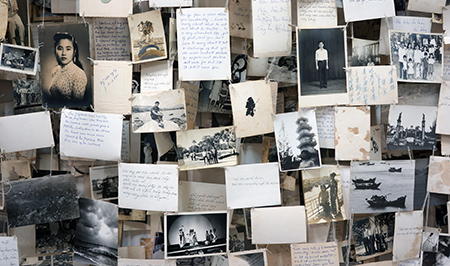 The entirety of Dinh Q Lê's room-filling installation at Rice Gallery weighs roughly forty pounds.  This relatively small heft consists of other people's memories in the form of decaying photographs.  They are wallet-sized, the images themselves unspectacular.  There are goofy outmoded hairstyles, immortalized beach vacations, and babies staring into the middle distance.  In short, they are ubiquitous.  But lest we write them off as the fodder for someone else's storage unit or attic closet, they call out to us.  Each photo is inscribed on the back, some in Vietnamese but many in English. Some feature banal descriptions or cryptic poetry, still others with poignant urgency, pleading for remembrance.  The most specific thing about these photos is their origin.  All are from Vietnam, pre-1975.
Lê has woven the photos into loose panels and arranged them into rectangular constructions of varying heights.  The artist considers them mosquito nets of a sort, and thus the entire installation a kind of refugee camp, a "sleeping, dreaming memory of Vietnam."  To my mind they form a series of towers, they are the semi-permeable walls of the past.  We can enter only with our eyes, much in the way we construct a memory: lacy bits of fact forming a vague half-truth in our minds.   This idea is especially evident in the one "tower" in the installation in which all of the photos face the interior.  The viewer is banished from the garden, allowed only glimpses of former happiness.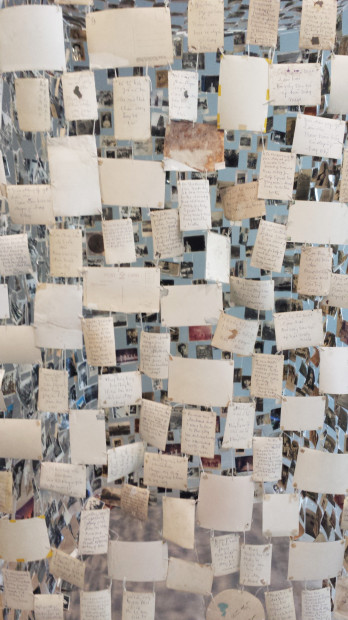 The inscribed messages on the photos' reverse convey a sense of yearning, but also speak to the necessity of perseverance.  The words are culled from interviews about the war era, and snippets of the epic Vietnamese poem Truyện Kiều, the tragic story of a woman who sacrifices herself to save her family.  This kind of familial rending is evident in some of the text, but there are also references to lives lived happily away from home and homeland.  What is especially striking (and counter to our stereotypical stateside images of Vietnam) is that the images themselves don't hint at any unrest.  The biggest allusion to the idea of displacement, this massive movement of reluctant émigrés, is in Lê's title, Crossing the Farther Shore.  Yet even in this there is a poetic distance.  Is he referring to his own harrowing exit from the country in 1978, or to time itself, with its relentless forward movement towards that final "shore?"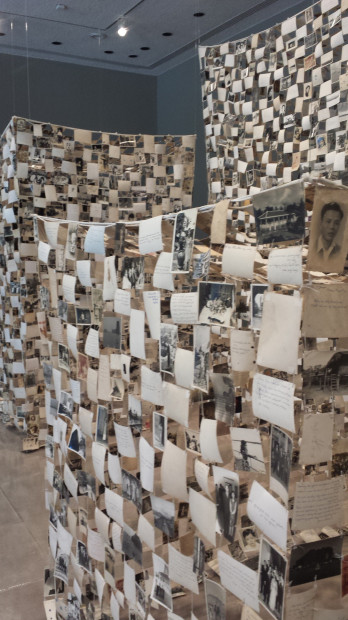 We can only guess at the fates of many of the individuals sunnily smiling in these pictures.  That these (and many more like them) were collected by strangers speaks to the uprooted movements of their owners. The soft gray walls of the installation space provide a visual counterpoint for the age-stained paper, but also lend the entire installation a reverential quality.
The photos, paired with even a cursory knowledge of historical events in Vietnam, may lead some viewers to feel the pang of hindsight.  I think that misses the point.  Lê's selection of these photos is purposeful.  They are someone else's family, but they might just as easily be yours or mine.  History teaches us to view ourselves along a grand arc of mass migrations, movements, and "isms" and war.  Lê's installation drags us back into the material world, a place where paper yellows and people go on living.  Remembrance is a gorgeous gesture but it can paralyze too.
Dinh Q. Lê: Crossing the Farther Shore will be on view at Rice Gallery through August 28, 2014.