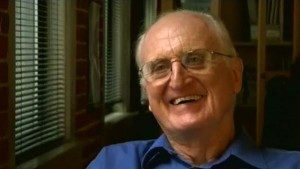 Mike Russell Parker, legendary typographer, type designer and type historian, has died at the age of 85. Credited with the development of over 1,100 typefaces, Parker is perhaps best known for introducing Helvetica to the world.
As director of the Mergenthaler Linotype Company, Parker was a fan of the "rational" Swiss style of letter design, in which, he said, "you draw the counters and let the black fall where it will." reports Fast Company. Parker and his team took the font Neue Haas Grotesk and reworked it for Linotype's machines, The font eventually became known as Helvetica, one of the most popular fonts in the world (used by McDonald's, Verizon, NYC subway signs, and NASA, to name a tiny fraction). In 2007, the year of the font's 50th anniversary, it was celebrated and strangely debated in the critically acclaimed documentary Helvetica and was the subject of the Museum of Modern Art's exhibition 50 Years of Helvetica.
Parker was born in London and originally planned to become a geologist like his father, but then decided to become a painter, but discovered he was colorblind. He graduated from Yale with an undergraduate degree in architecture and master's in design. After working at Linotype, he co-founded Bitstream, the first company dedicated to producing digital fonts, according to CNN.com. He also founded Pages Software and served as historian for the Font Bureau. Parker died on Sunday, four days after suffering a stroke, after a long fight with Alzheimer's. According to his caregiver and ex-wife, his ashes will be scattered at his family home in Massachusetts, without a tombstone.