Houston's Discovery Green Park is hosting an installation of Exxopolis, an enormous temporary environment by international inflatable art specialists Architects of Air from Monday, April 29 through Sunday, May 5. The piece, made from translucent PVC was described as "going up inside a rainbow" is town to help celebrate the park's fifth birthday.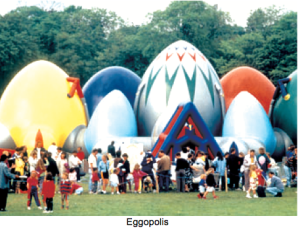 Exxopolis is the company's twentieth design, an homage to their first, Eggopolis, built 22 years ago in Nottingham, England "with help from volunteers and the Community Service workers from the Probation Service." Two million visitors and 38 countries later, the current piece occupies half a football field and rises to the height of a 3-story house.
Exxopolis will be open to the public on April 29-May 1, from 9am- 2pm; Thursday, May 2 & Friday, May 3, from 1-7pm and Saturday, May 4 & Sunday, May 5, 10am – 7 p.m. Tickets are $10 for adults, $5 for children under 12 and free for children under 3. No shoes, no strollers, no dogs, no jumping, but it's wheelchair accessable.
If you'd like, the nine minute video below will tell you all about how great the "luminarium" experience is, with peppy clarinet accomapniment!