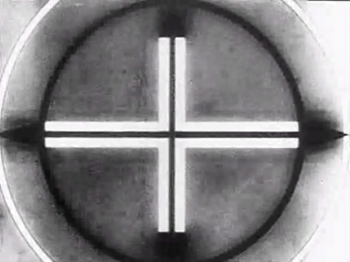 Man, what a treat. The good folks at the
Austin Film Society
's
Avant
Cinema
series are presenting
a posthumous "career retrospective"
of the
amazing films of
Bruce Conner
. From
AFS's website
:
Widely considered the father of "found-footage" filmmaking, Conner had
an enormous impact on mainstream image-making despite the subversive
nature of his restless art, influencing everything from music videos to
television advertising to internet-age "mash-ups."
The Harvard Film Archive program notes for a retrospective of Conner's work adds:

It is difficult to measure the profound impact of the late Bruce
Conner's films (1933-2008) upon postwar American cinema and popular
culture. Perhaps most influential was Conner's unique approach to
montage and the almost uncanny editorial acumen that guided his work
from his very first film, the found footage masterpiece A Movie
(1959). From a strictly technical standpoint, Conner's precision
cutting was easily as skillful and sophisticated as that of the great
Soviet masters. And yet Conner used montage to explore a far more
ambiguous and multivalent register than the often politically schematic
work of the Russian avant-garde. Rather than message-driven texts,
Conner's cinema refashions film and television images into haunting and
illuminating textures that unleash and channel the inner, unconscious
forces at work within cinema and popular media, releasing the ghosts of
trauma and nostalgia from the machine. Films such as Report, Television Assassination and Crossroads repurpose
iconic images and televisual events—JFK's assassination, the Bikini
Atoll tests—into meditations at turns mournful and outraged, and always
deeply insightful about the power and limits of the moving image's
capacity to tell and to show.
The selection of films is pretty fantastic, including the brilliant "A Movie" (1958), as well as one of my favorites:
Mea
Culpa (1981), somewhat recently featured on Art Fag City's "8 Top Music Videos
Made By Artists: The Classics."

Here is the best primer I could find on Conner:
"The Legacy of Bruce Conner"
on
Diagonal Thoughts
Conner
caused quite a stir before and after his death with his reticence to
have any of his work available in any way other than the original
prints. This resulted in some very heated and pertinent discussion of
what should be allowed or made available on the internet, and called
into question the politics of copyrights restrictions in the context of
experimental media.
The
film tells the story of an aspiring rap artist and her streetwise
husband, trapped in New Orleans by deadly floodwaters, who survive the
storm and then seize a chance for a new beginning. It's a redemptive
tale of self-described street hustlers who become heroes that takes you
inside Hurricane Katrina in a way never before seen on screen.
But
don't worry, it's certainly not preachy, or cheesy, like
Spike Lee
's
"
When The Levees Broke
" sometimes was. It also isn't absolutely bleak,
though you probably will cry and shake your fist at the Bush
administration (like we don't have enough chances to do that as it
is…). But anyways, HIGHLY RECOMMENDED. Read the NYT review by Manohla
Dargis
here
. At the Arbor until
Tuesday
NOVEMBER 13
so hurry up.
A question hangs
over Wild Combination, a new documentary that tells
the life story of Arthur Russell: how to define such a complex
musician? A classically trained cellist from Iowa? A member of the New
York performance art scene that centred around the non-profit space The
Kitchen? A musician at the heart of the city's experimental music
community? The uncredited fifth member of the Talking Heads? An
orchestral composer? A disco writer and producer? As the writer and
experimental musician David Toop puts it during the opening scenes:
"How could one person work in all these different ways?"
Read an interview with Wolf: "MATT WOLF, WILD COMBINATION: A PORTRAIT OF ARTHUR RUSSELL" in Filmmaker Magazine
WILD COMBINATION is only playing on Monday and Wednesday at the Alamo Ritz, but is available from Plexifilm DVD pre-order.