I've been reading an early text by
Victor Burgin
, the conceptual artist, theorist, writer, and one time Turner Prize short-lister ('86). The work from the 80's that I had cut teeth on has the advertising-critique gloss and airless neo-Marxist flavor that sort of made it blend into the 80's woodwork, and fail to get much of my attention. But like most artists who persist, neat boxes and polemics melt down, the Freud and Feminism fade into the background, and you even see latent romantic inclinations, once utterly taboo, find expression in his later work.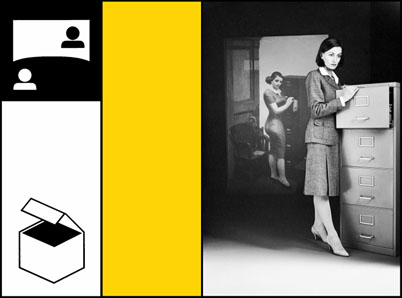 (Office at Night, 1986 (one of seven sections))
Here's the quote that struck me, from an essay around 1984. He's decrying the backslide from conceptualism into marketably expressionistic painting:
"What we can see happening in art today is a return to the symbolic underwriting of the patriarchal principle by means of the reaffirmation of the primacy of presence. The function of insistence upon presence is to eradicate the threat to narcissistic self-integrity…which comes from taking account of difference, division."
[That could actually apply to my father's irrational fear of Barack Obama, come to think of it – when I called Sunday, he had just gotten home from the gun range, and after a while of pleasantries he asks me what I think of Sarah Palin. Oh, god, here we go, I thought. Yes, he thinks Obama is a closet Muslim, waiting to reveal his friendship with Osama Bin Laden after the election; and even scarier, all those new taxes (Dad! You've lived like a pauper on Social Security for 15 years! Roosevelt was not the devil! You're taxes won't go up!) And oh, how he loves Sarah Palin…]
I found an interview from a few years later where Burgin makes some predictions and expresses his art-world wish list:
"Burgin: If you'd asked me that question twenty or more years ago I would have found it much easier to answer. Back then, I wanted to see a dissolution of the hegemony of modernism and an expansion of art-making to include considerations of content that, you may remember, Greenberg defined as "something to be avoided like a plague." I wanted content to be defined not solely in terms of "personal expression" but in terms of critical social and political issues — considerations that Greenbergian modernism defined as improper to art. I wanted an end to the definition of visual art in terms of the traditional media alone. I wanted to see a use of contemporary technologies and forms that would make a link between what was on the gallery walls and what was in the world outside. Today most of that seems to have happened. But what didn't happen, or at least didn't happen very widely, was the element of critique. What took over was a sort of sixties pop art celebration of the eighties, a period of Reaganomics and junk bonds, when a speculation-fed art market had expanded to the point where it could economically support those "alternative" sorts of activities — but only to the extent that they could be commodified. It will be interesting now to see whether what emerged in the late eighties in an expansionist economy will develop, or even survive, across the nineties, which seems almost certain to be a period of recession and retrenchment in the U.S. What I would like to see now, though, is going to be much harder to get. I would like to see the creation of a critical and curatorial climate in which long-term critical projects in art can be sustained and flourish. I would like to see novelty and "mediability" displaced from their present positions as paramount aesthetic values. I would like to see just a little less of museums being led by the nose by fashion. This is even more politically important now that being "right on" is becoming chic. I would very much like to see "critique" take forms other than simple accusation. There's a great belief among self-defining "political artists" that the other guy did it. It's never our own fault, is it? So I would like to see an end to "the oversimplification of everything."

Well, so much for his wish list (novelty unfashionable? It's only ever more so…) And for the 90's being cashless. What I like in the earlier quote is the bit about the insistence on presence as applicable for our moment, when it seems that the market drive is fueled by a death-defying impulse to purchase/commodify the products of a supposed (mostly latent if not dormant) critical apparatus whose entire social/political trajectory had historically been to undermine the very consumers who now rabidly fund it (don't lose the image of the millionaires sprinting to booths at art fair previews – they may have stopped the running of the bulls , but we'll always have Armory). Reinforcing "narcissistic self-integrity"? What on earth else is a new Hirst supposed to do? Art by narcissists for narcissists. A match made in heaven.
What's perpetually sort of hinches my shorts is the conundrum of how art as critique has been thoroughly disemboweled, so you have the vacuous-seeming products that just baldly capitulate to being baubles for a new aristocracy (Liz Peyton, Koons, et al); or you have the need for pure spectacle to garner any attention whatsoever, making less likely precisely the kind of space where art (vs. mass media) can actually function (with new buildings built to house art only reinforcing this); and you have the art that pretends to any sort of critique already co-opted on arrival, or so ill informed of precedent and intellectually graceless that you just end up wanting to agree with Kuspit despite yourself and hate everything (which I don't, and don't). Hirst kind of illustrates all manner of nonsense. His apologists would claim that there is some kind of wink-nudge democratizing critique built in, and that he's opening doors for everyone else. Who are they kidding? He's just getting what he can while he can, and seeding more of that (so-called) free-market "narcissistic self-integrity." Such is the deadly nightshade garden that he grows.
But the existence of figures like Burgin are signs of hope, and the reason to keep at it. Exhibitions and books like his won't pack them in or dominate the best seller lists, but the sort of critical/poetical space-between-genres he and the many artists like him open up are often the last refuge for those seeking a fresh take. That's all we ever really need. A fresh take.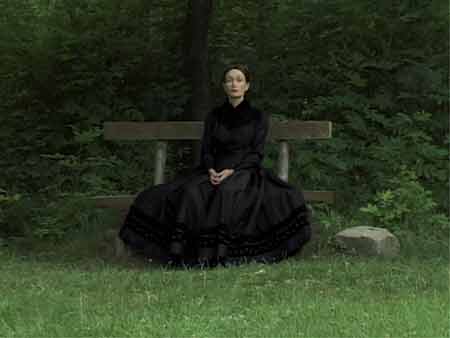 (NIETZSCHE`S PARIS, STILL #2)