OK, it's time to put up or shut up. I've been railing against bland, least-common denominator public art for years. Sara Kellner seduced me into making a proposal for the Metro Solutions (read: light rail) art program (see
Metro Mole part 1
). Now I've been selected to design something for Metro's Northwest Transit Center.
Years ago when he had his CAM show and did Core studio visits, I got to take Tony Cragg to lunch at Butera's (remember Butera's?). Cragg had just finished a large outdoor piece titled

World Events

for the 1996 Summer Olympics. You may recall it: a network of cast-aluminum drawing mannequins that forms a huge child holding a ball.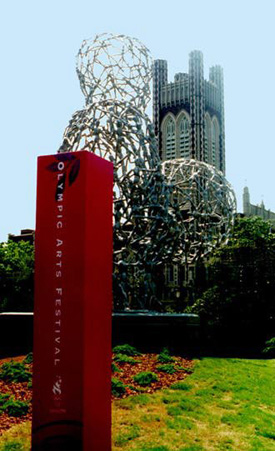 It's easily the worst thing Cragg has ever done and unfortunately one of the most public. It stung him. His disconcerting advice to us young artists with hopes for public commissions was "be careful what you wish for." But time cures all: after the Olympics, everyone forgot the piece; it was hard to find a photo for this blog post. The only detail I could find is this one, from a similar sculpture. It was posted on the site of the aluminum manufacturers that commissioned it.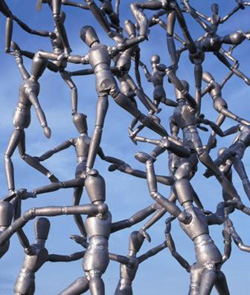 The Northwest Transit center is that raft of futuristic white pyramids wedged into the armpit of the 610/I-10 freeway interchange.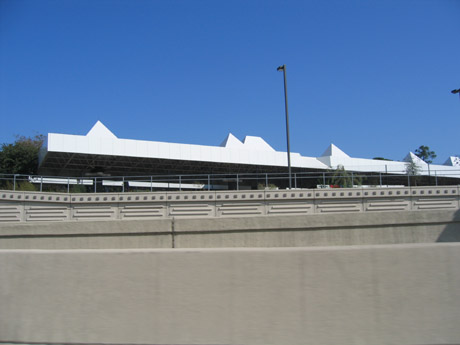 Although I'm supposed to come up with a preliminary design by December 17, and the selection process began last February, I'm still completely out of the loop in the design process. The only plan of the site I've gotten so far is this one I got off Google Earth.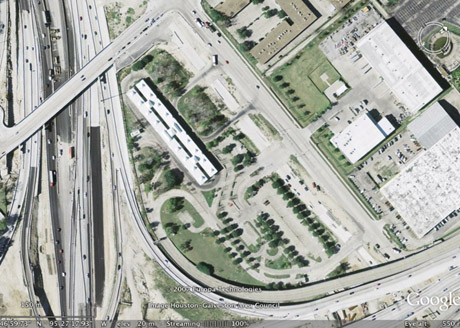 Art as afterthought, indeed.