Thrice in the last week the apocalypse has come up in studio visits. THRICE! !!! ! The reasonable way to think about this ominous coincidence would be to consider our contemporary culture. I, however, prefer to think of my studio visits with Matt Rebholz, Jules Buck Jones and Jonathan Marshall as prophetic reminders that every day we move closer in time to December 21, 2012.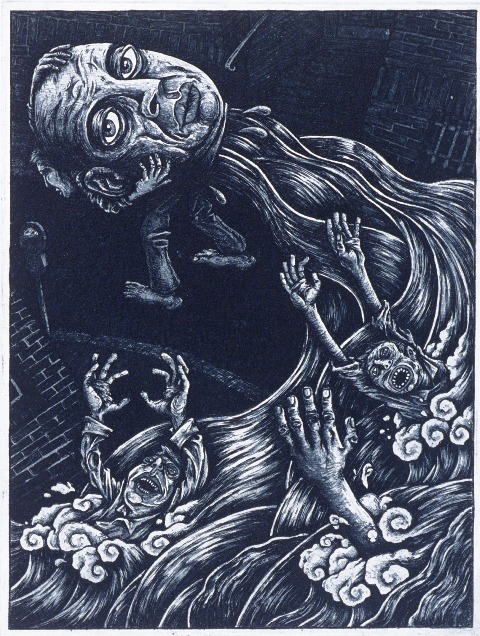 Above, an image from Matt Rebhloz's Golem project, a series of aquatinted etchings is inspired by the myth of the Golem–a being created by a rabbi using the same formula God used to create Adam to protect Jewish people from persecution. Rebholz inflects the story with searing cultural commentary and sardonic twists of personal history. Here,  flood waters point to the 1919 Molasses Disaster in Rebholz's native Boston.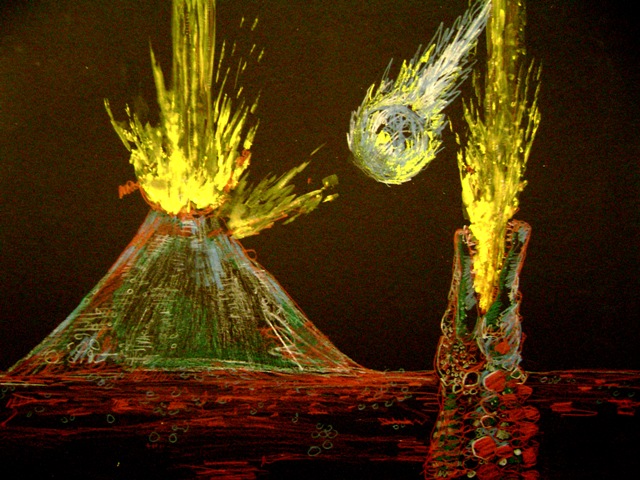 Lava spews from the mouth's of both volcano and alligator in Jules Buck Jones' vision of the apocalypse. As one of the world's oldest species, the alligators survival skills are no match for the astroids hurtling towards Earth. But it will be a good fight, nonetheless.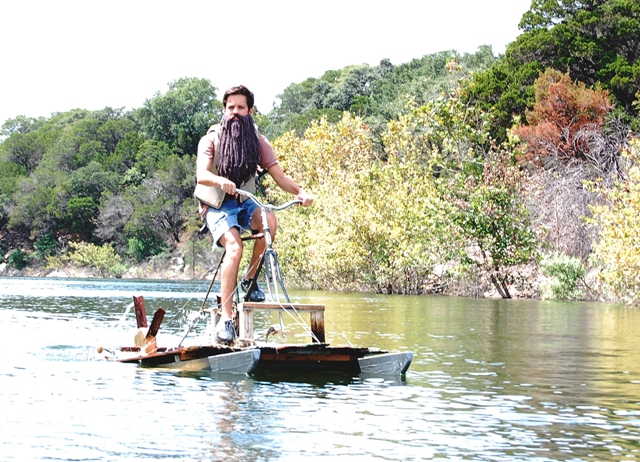 Jonathan Marshall peddles towards the sea as Lenny, the ingenious everyman protaganist in a post-apocalyptic epic quest. Marshall's The Book of Lenny opens at Art Palace on October 20th.
Be it by flood, asteroid, or El Nada, Rebholz, Jones and Marshall are prepared…are you?
Here's a link to the Jonestown Death Tapes .
Here's a link to the first site that pops up on Google when searching "artist as prophet" :
 And finally, a link to This American Life's "Apocalypse" episode :
The internet is contemporary culture's crystal ball, and accordingly we should learn how to tan leather.