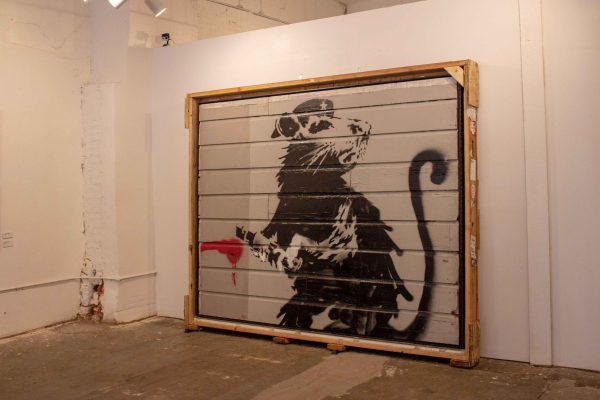 For what perhaps is the first time ever, you can now see a large-scale wall painting by Banksy in Texas. Although the anonymous British artists is famous for his romps through urban centers during which he throws up site-specific murals, tags, and hosts other interventions as if he is the city's artist-in-residence, his cameo in the Lone Star State is much more low-key: from September 7, 2018 through September 29, the artist's Haight Street Rat is on view at Cultivate 7twelve, an arts space located in Waco. The 14'x16′ artwork, which features a rat wearing a beret and holding a spray can, is part of Writing on the Wall, the venue's current show exploring street art and graffiti.
The idea to bring Haight Street Rat to Waco was first posited by local small business owner Summer Shine after she viewed the 2017 documentary Saving Banksy. Shine brought her idea to Rebekah Hagman, the director of Cultivate 7twelve, and the two of them worked together with Fiona Bond, executive director of cultural arts nonprofit Creative Waco, to bring the artwork to their city. The three women believed that the showing of a work by Banksy would be a perfect opportunity to help draw attention to Waco's burgeoning art scene. Hagman added, "Waco is in the beginning stages of this cultural renaissance, and we are so excited about the role we get to play. To bring such a big name with such a powerful message to Waco is so exciting."
Recently, Haight Street Rat has been touring venues across the U.S. courtesy of Brian Greif, a street art enthusiast and patron. As documented in Saving Banksy, Greif saved the piece from the artist's 2010 visit to San Francisco in an attempt to donate it to a museum. His decision to cut the work off a building is the central of conflict in the film: if street art is for everyone, and street artists willingly paint pieces on the sides of buildings with the knowledge that they'll be removed, vandalized or painted over, then is it ethical to remove a graffiti piece from public view in an attempt to preserve it?
This question has become increasingly relevant over the years, especially with the art of Banksy, as building owners and collectors have removed the artist's pieces from buildings and then sold them at auction. Many street artists' problem with this is two-fold: it de-democratizes the artwork and also cuts the artist out of the transaction.
Currently, Greif is touring Haight Street Rat to venues that meet his requirements:
1. The exhibit must be free and open to the public.
2. The exhibit must promote the importance of Street Art.
3. The Painting/Rat image cannot be commercialized.
Despite galleries and collectors offering Greif upwards of $500,000 for the piece, he refuses to sell it, instead saying that since it was made to be seen by the public, the public should have access to it. And although Banksy doesn't usually agree with the coopting of his work, reportedly he approves of what Greif has done with Haight Street Rat. Via Greif's site, Save the Banksy:
"We have been in touch with Banksy and have been informed that he is supportive of our efforts to save his last remaining piece of art from his 2010 visit. It has not always been this way, but over time we have proven that our intentions to preserve and show his rat to the public are pure. This has been established through direct talks with museum professionals and Banksy's validation office."
You can catch Banksy's work at Cultivate 7twelve in Waco through September 29. Brian Greif will be in Waco for a conversation on Friday, September 28 from 6-7:30PM.