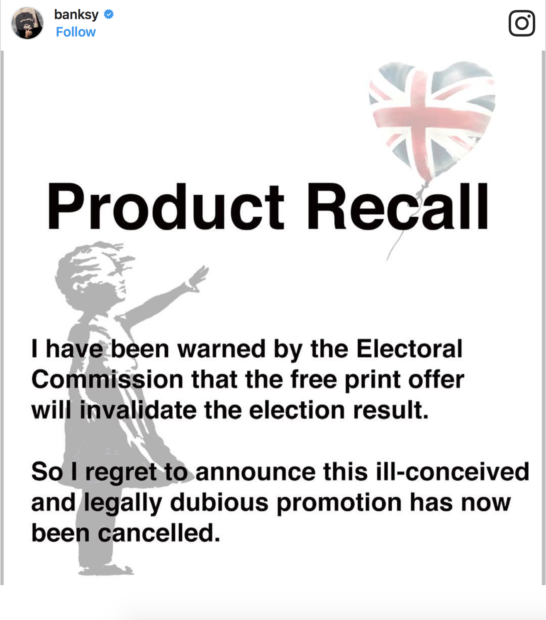 Hyperallergic reported today that Banksy had promised to give away a new limited edition print to voters in his hometown UK region (the Bristol area) who voted against the conservative Tory party; in order to receive a print, the voters would have to photograph their completed ballot to prove how they'd voted. The Electoral Commission balked at Banksy's offer and made clear it "may have constituted a criminal offense and invalidated election results." The general election is this Thursday. The giveaway was scheduled for Friday.
Photographing a completed or marked election ballot is illegal in much of the UK (as it is here). A section of the Representation of the People's Act in the UK states that no one can "directly or indirectly induce a voter to display his ballot paper after he has marked it so as to make known to any person the name of the candidate for whom he has or has not voted."
In response, Banksy retracted his offer and released the following statement: "I regret to announce this ill-conceived and legally dubious promotion has now been cancelled." The image on the print was one slightly tweaked from an earlier Banksy image, of a young girl releasing a balloon. Banksy's legal representation added a note to his cancellation statement about the print, stating that it was meant as a "souvenir piece of campaign material, it is in no way meant to influence the choices of the electorate, has no monetary value, is for amusement purposes only and is strictly not for re-sale."
For more, go here.