Ed note: This is a recap of an event that took place in Dallas on March 6: a panel discussion for the Nasher Prize Dialogues in partnership with The Sixth Floor Museum at Dealey Plaza. The title of the event was 'Sculpture + History,' and featured artists Alfredo Jaar, Paul Ramírez Jonas, Jill Magid, and Lauren Woods, and was moderated by art critic Ben Davis. 
This may have been the rock-star artist panel of the year in Texas. Featuring any of these artists singularly would be a draw, but to have a group of such high-profile international artists together in Dallas at one time is a coup for the Nasher. (I imagine just working around each of their respective schedules was daunting.) The location, The Sixth Floor Museum, was also a smart decision, adding additional context to the discussion about archives, truth and systems of power within art making.
The moderator, prominent New York-based critic Ben Davis (currently National Art Critic for artnet News), introduced each artist, who in turn gave a brief overview of his or her work accompanied by a few slides. The first question the panel entertained was to explain the artist's duty in presenting the truth in our post-truth and fake-news culture.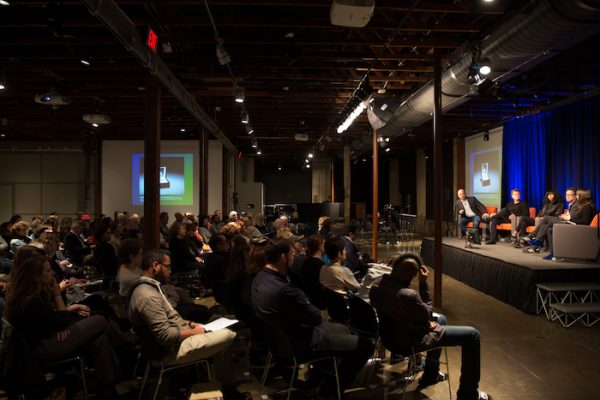 Jaar, who was trained as an architect and is best known for his site-specific interventions and installations, responded that artists do not represent reality — rather they create models of representations of the world, and thus a new reality. This was a mantra that he repeated throughout the evening.
Magid's work reveals truths within systems of power that are typically closed or hidden from the public. Although at times, she presents her work as intimate narratives, her investigations into governmental systems are always grounded in reality, not fiction.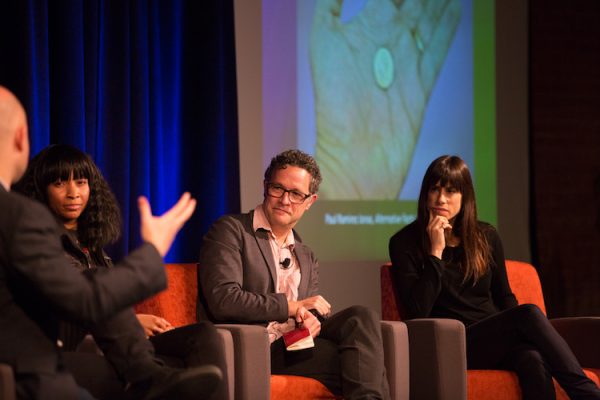 Dallas' own Lauren Woods whose ethno-fiction films examine the constructions of truth within African and African-American identity answered that the question isn't about truth, but what is on the official record. She seeks to challenge the record — to represent a plurality of voices that have been omitted from official records.
Of all the panelists, Jonas' work responds most directly to the relativity of truth. His practice includes direct exchanges and social contracts with the public, asking them to tell him truth and lies. Most recently in his work he's responded to current political culture by extracting promises from his viewers, then posting these promises publicly as street signs.
Another topic covered by the panel included the issue of understanding the public audience. Jonas contested that the art world is very homogenous, suggesting that healthier discourse can be found in the larger public. Magid posited that the question isn't who is the audience, but rather who has the tools for access?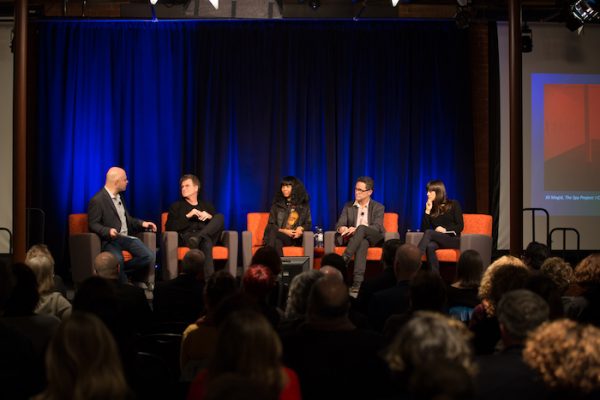 Other questions addressed the relevance of art in this Trumpian moment, as well as what artists can bring to the table as an alternative perspective or way to approach current problems. Jaar's statement that art is 99% thinking and 1% making brought a chorus of respectful disagreement from the other panelists. Magid responded that making is a way of thinking or processing ideas. Jonas said the moment when the idea becomes form is the most important. Woods spoke about her duty not only as an artist, but a citizen to work to rectify hidden or omitted histories. Of the four panelists, her work is the most focused on direct activism and change.
I admit, my star-struck adrenaline rush started to evaporate during the second hour of the discussion. The panelists' and audience's fatigue was palpable. The conversation began to circle back. Only Davis' enthusiasm didn't subside. Selfishly, I wished for more images, rather than the same few that looped throughout the presentation. But mostly I wished for more time for audience questions. Still, overall, the discussion covered many salient points relating to the practices and concerns of today's artists, as well as to citizens grappling with the current political climate. I hope that this dialogue series is one that the Nasher continues.
(Images: Daniel Driensky)