T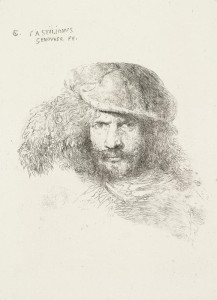 he Kimbell Art Museum in Fort Worth has announced the loan (and exhibition) of 90 works on paper by Italian artist Giovanni Benedetto Castiglione (1609-1664). The lender? Queen Elizabeth II herself and the British Royal Collection.
And Castiglione was quite a character. Definitely violent. Possibly a murderer. Via the Kimbell:
Despite his impetuous, unpredictable behavior, which ultimately thwarted his ambitions, Castiglione was arguably the most innovative and technically brilliant Italian draftsman of his time. The British Royal Collection holds the finest surviving group of his work, and this exhibition aims to reinstate the 17th-century master as one of the greatest graphic artists of the Baroque. Castiglione: Lost Genius will be on view free of charge in the Renzo Piano Pavilion from November 22, 2015, through February 14, 2016.
Also, this:
 As his ambitions grew, Castiglione began to tackle grander themes of mythology and religion and created large drawings in oil on unprimed paper that are among the most original and exciting works on paper of the entire Baroque. He also worked in etching and invented the monotype technique, a striking hybrid of drawing, painting and printmaking that was adopted by artists such as Degas and Gauguin some 250 years later.
For more info, go here.