For most outsiders, Aggies are mystifying. If you didn't go to Texas A&M—if you have not drunk the maroon Kool-aid—your soul will probably never really be stirred by Aggie culture. You might even think it's a little weird. As one UT Austin student observed, "they have so much school spirit, it's terrifying."
I'm an outsider to A&M. Until last month, I had never visited the campus and hadn't really given the place much thought, beyond the fact that it seems pretty conservative and has a military group that wears jodphurs and boots.
One reason A&M has never been on my radar much is because it doesn't have an art department. The closest they come is something called a Department of Visualization, which mostly teaches computer animation. The J. Wayne Stark Galleries reportedly do good exhibitions, but unfortunately they were closed when I visited over Memorial Day weekend.
The rest of the campus, however, is fascinating. And yes: it's weird.
If universities project their sense of identity through their campuses, the usual image is one of gravitas, beauty, and intellectual openness (university shares the same root as universe, after all). Think stately, gracious, ivy-covered buildings of stone or red brick. By contrast, Texas A&M is a fortress: a sturdy, solid, no-frills series of beige bunkers that convey something of a siege mentality. It projects intellectual safety, rather than intellectual openness. At A&M, you get the sense that sharing in the experience of the group is more important than striking out on one's own as an individual.
The place is also covered with bronze statues, plaques, and other memorial signifiers. I've heard there's more bronze at A&M than at any other university in the country (unverified, but could be true). Every brick has a name. Every bench has a plaque. Almost nothing that can have been given a veneer of meaning has been left untouched. While it's true that all universities have their traditions and memorials, A&M takes this notion to a whole other level.
But if you take into account that A&M was founded as a military college, this all makes sense, right down to the strikingly ugly, drab Brutalist architecture. In fact, the A&M campus feels more fortress-like than some actual service academies like Annapolis or Air Force. (West Point also looks like a fort, but that's because it actually was one before it became a school.)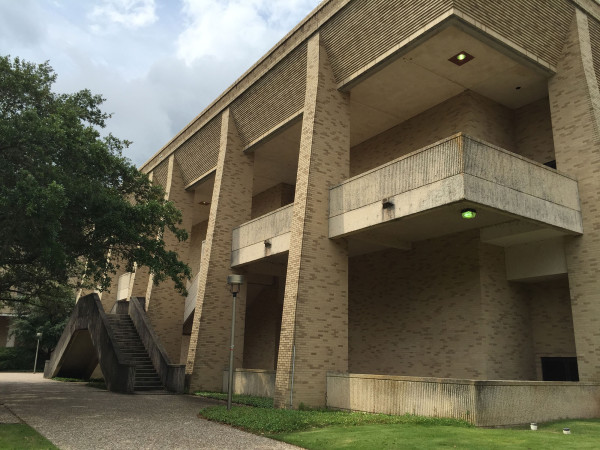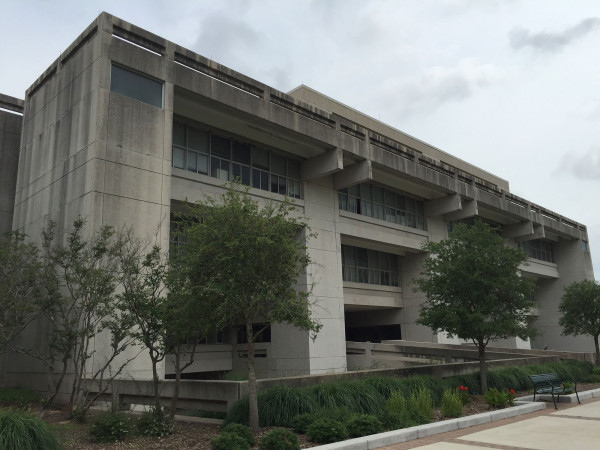 In addition to the militarism, there is Manifest Destiny on view at every turn, which is perhaps fitting for a college with "agriculture" in the name (hence the "A"). These lines from the 18th-century English poet John Dyer are engraved on the side of one building:
To Teach
The stream a better course
And till the wild
And drain the fen, and
Stretch the long canal.
In other words: step aside, Mother Nature. We can do this better.
(I mention the mostly-Brutalist campus architecture, but there are several older, more charming buildings, with pretty tile work and animal motifs. Although they do say slightly creepy things like "genetics:")
But far and away, the most interesting aspect of the A&M campus is the remarkable number of bronze statues scattered around campus. In addition to the many statues of men who've been important to the school's history, you also get oil field roughnecks, children pointing feathers towards the sky, eagles, golden retrievers, bronze tarps lying on the ground, bronze disembodied hands holding drumsticks… they are everywhere. Here is a sampling.
I think my favorite is the gigantic class ring outside the fancy new alumni center: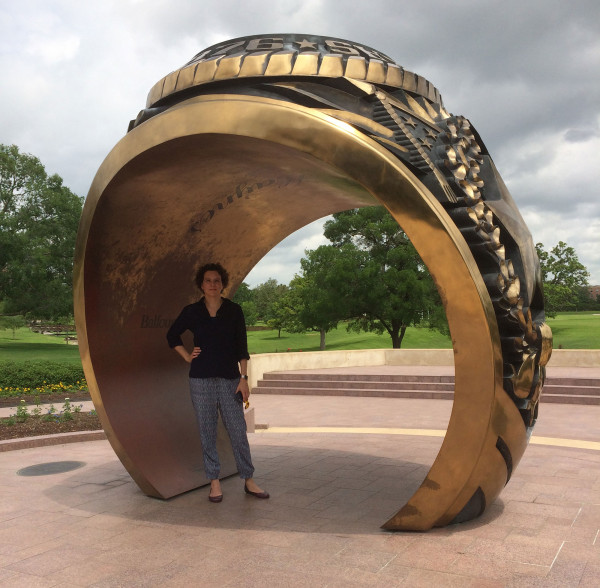 Elsewhere on campus: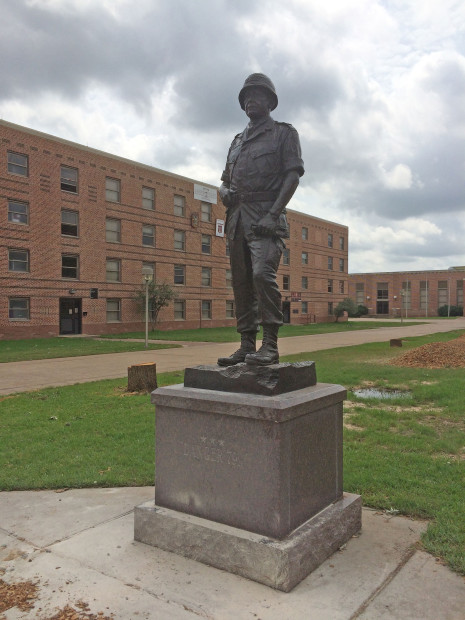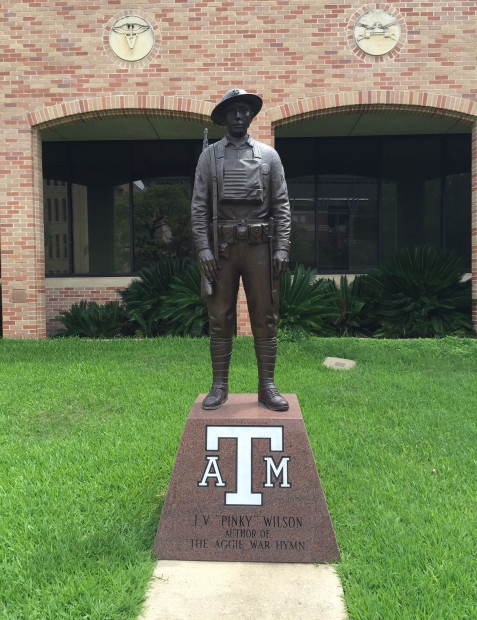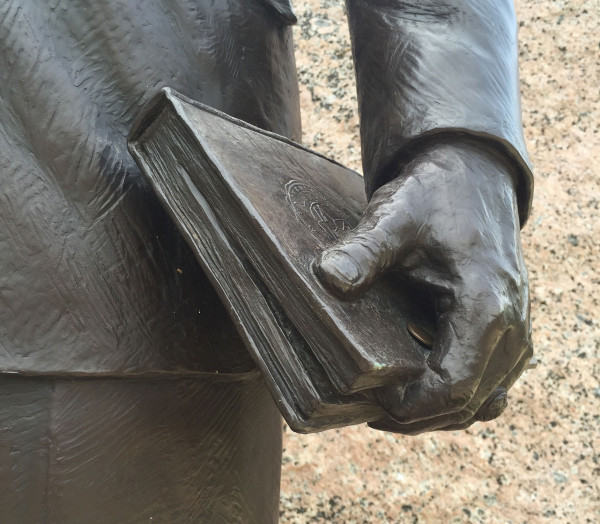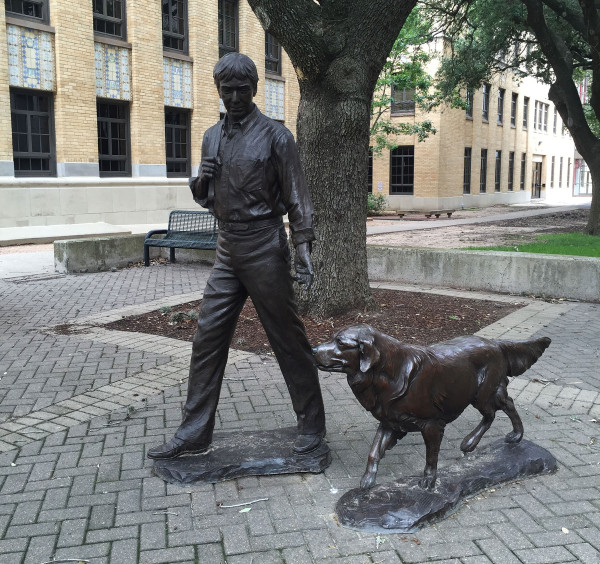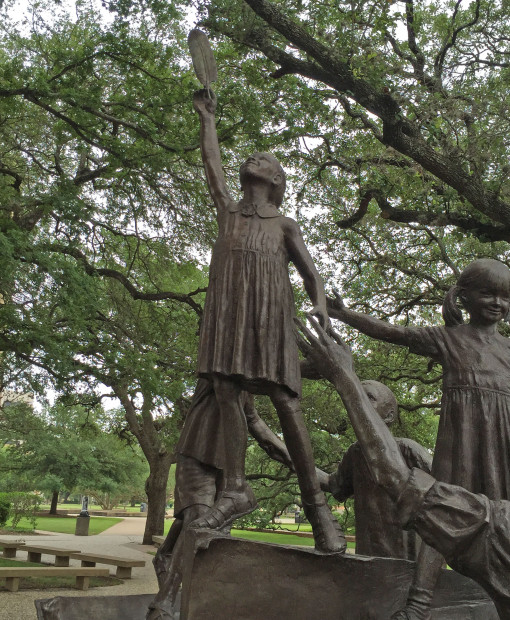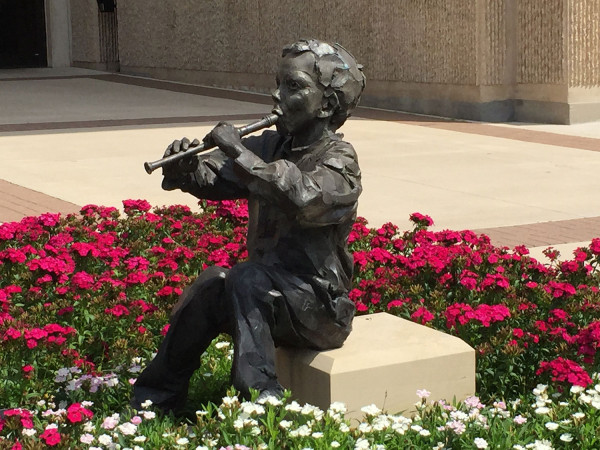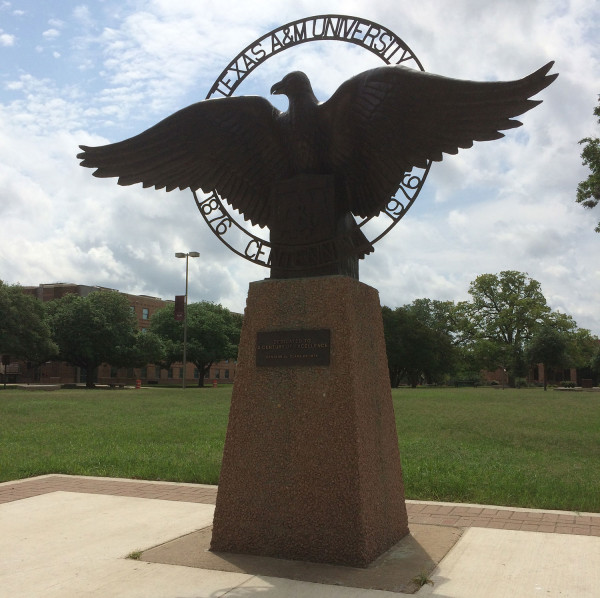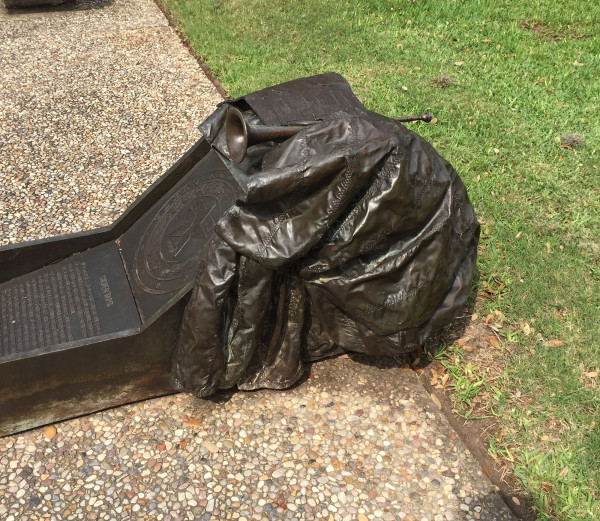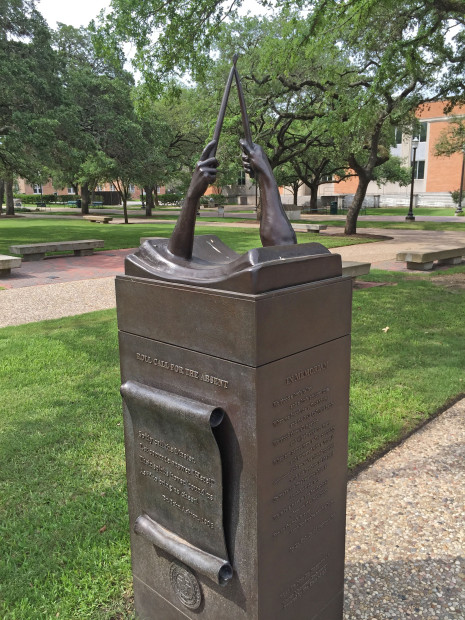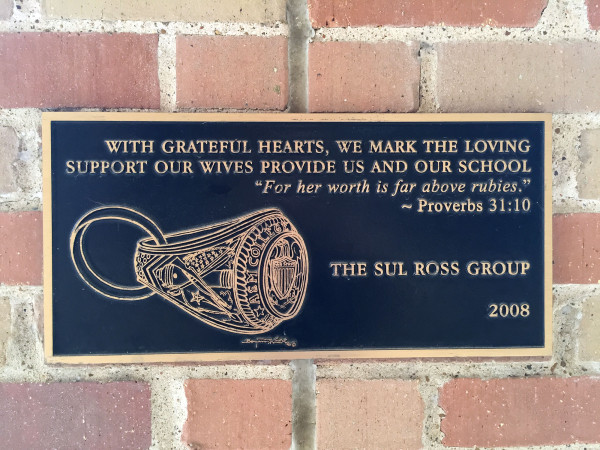 Speaking of wives, there's a tree on campus where students traditionally get engaged: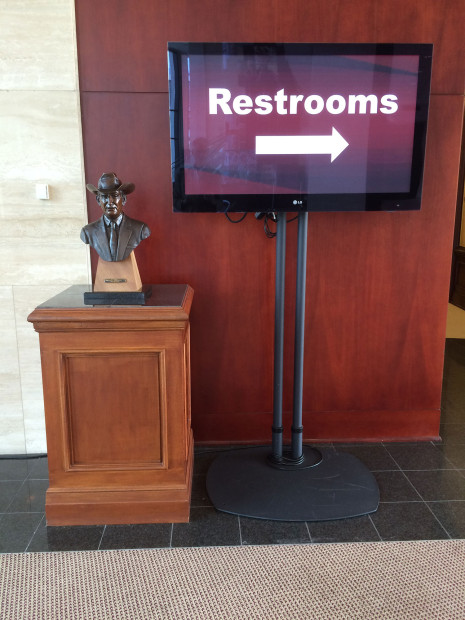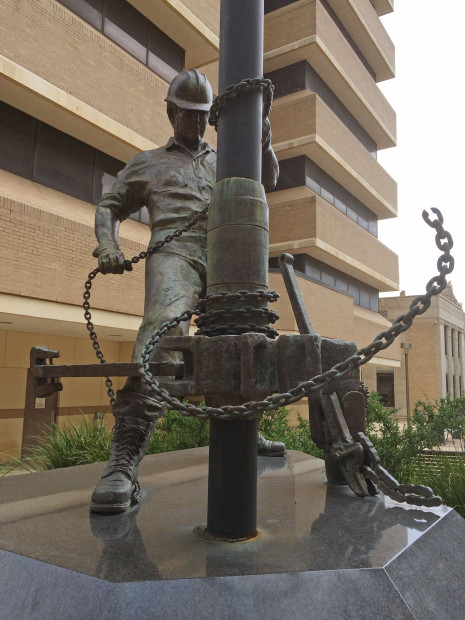 Another statue worth mentioning is at the George H.W. Bush Presidential Library on campus (which is fascinating unto itself). This is a monument to the fall of the Berlin Wall. Apparently Mr. Gorbachev didn't tear down the wall, the mustangs of freedom did.
So yes: to this outsider anyway, the A&M campus feels unattractive, humorless and a little silly. They have more bronze statues than you can shake a stick at, there are overbearing messages of social conservatism everywhere, and if you're interested in good art, you're out of luck, at least in the public spaces. These people couldn't paint bigger targets on themselves for ridicule if they tried, right? And yet: the president of the school famously leaves the door to his house on campus unlocked. Students and faculty will tell you not to lock your car, that you could leave a computer lying somewhere on campus and it would still be there when you get back. And it would. That's the flip side to all the sanctimoniousness at A&M: there really is a palpable, profoundly likeable sense of honor at the place (and I'm not just saying that because it's one of their six core values that's repeated all over campus.)
Recently, an artist who taught at both UT Austin and A&M told me that, while the UT students were far more urbane and sophisticated than A&M students, they were also more disinterested and seen-it-all-jaded. Whereas the A&M students, with their earnestness and ingrained respect for authority, were more attentive and worked harder. My friend was somewhat at a loss as to which was preferable.
******
Finally, you can't talk about the culture of memorialization on the A&M campus without addressing the elephant in the room: the bonfire (or as Aggies call it, simply "Bonfire"). There are actually two monuments to Bonfire on campus. The first is a three-part miniature that depicts erecting Bonfire; Bonfire in flames; and the tools used to construct it. These sculptures, collectively titled "The Spirit of Bonfire," were placed in 1987, 12 years before the tragedy: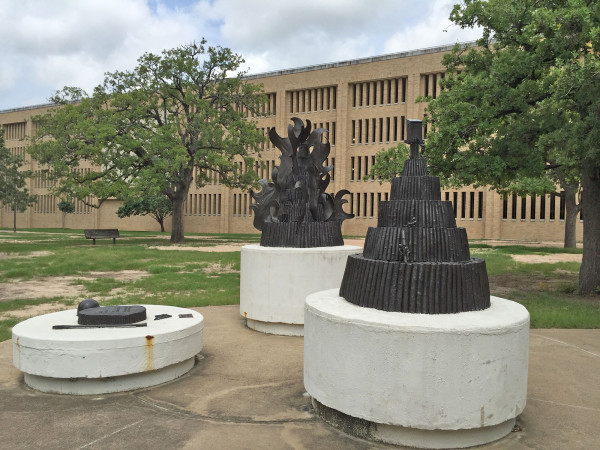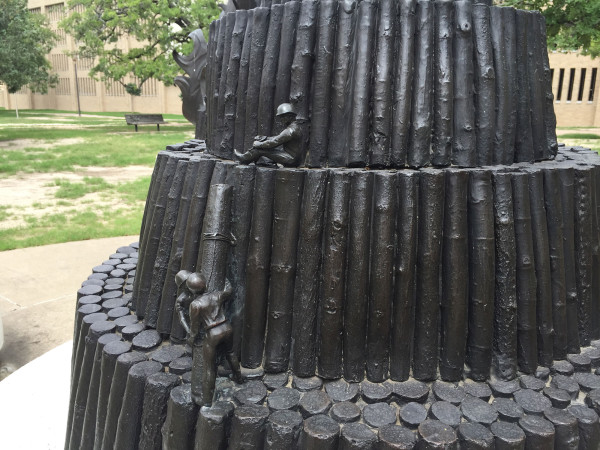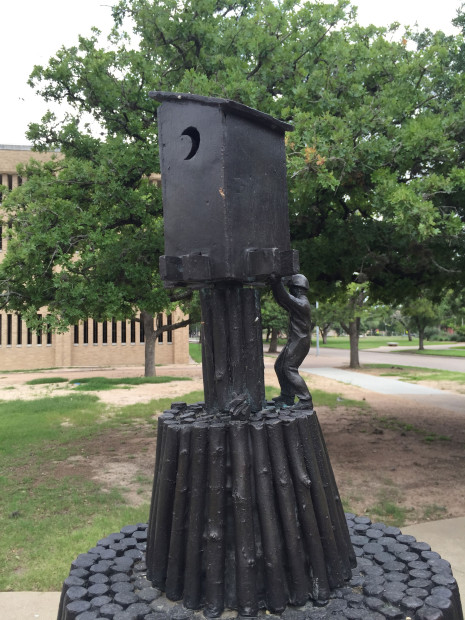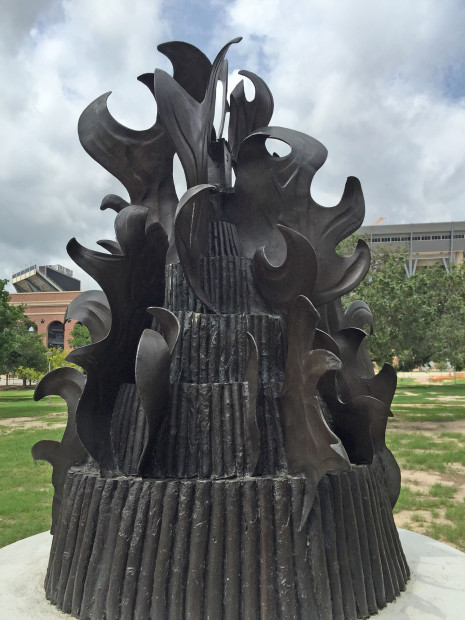 On the other end of campus, there is also an enormous, Stonehenge-like monument to the 1999 tragedy: 12 students, mostly freshmen, were killed in the middle of the night when Bonfire collapsed, and another 27 students were injured, some very seriously. The memorial, like the old bonfires themselves, dwarfs anything comparable on campus. It is as enormous and solemnly grand as something you might see on the Washington Mall or the beaches of Normandy. Indeed, it's so grandiose as to seem almost tone deaf, at least to an outsider—after all, more A&M students died in each of the various wars of the 20th and maybe 21st centuries than in Bonfire, yet none of those memorials warrant several acres of hewn, engraved stone. I asked a friend of mine who went to A&M about it, and here's what he said:
I'm the worst Aggie in the world, but Bonfire was the only Aggie tradition I thought was unique and historical. I never wanted to go work on it, but a lot of kids at that school did, and a lot of them wanted to be "part of the school." Consider that they worked on it for months; it was more than just one football game thing. It was months of getting up at 4am and working like a lumberjack. Personally, that was nothing I was interested in. But when you went to one, there was no denying it was awesome. You could feel the heat coming off it 2 miles away. It was impressive. So then, [when] these kids died, every Aggie felt it. Then…recriminations, blame, finger pointing (that happens when kids die) but instead of saying, let's engineer something safer or figure out what went wrong, they just killed it. To me it was a sign of the times a bit: "If it's scary, it needs to go away."

So that's the thing: for Aggies (even self-described bad Aggies like my friend), Bonfire stirs up a painful mix of emotions. The memorial is disproportionate to the war memorials on campus, because Bonfire looms disproportionately large, still, in the collective Aggie imagination. It's hard not to wonder what this memorial will mean to future generations, when the pain of the loss is abstract and forgotten, and there is no living memory of the old 6-storey log burn involving thousands of felled trees. Will it seem like an odd corner of campus? Or will it, like most things at A&M, be encrusted with ever more layers of solemnity, sacredness, and meaning?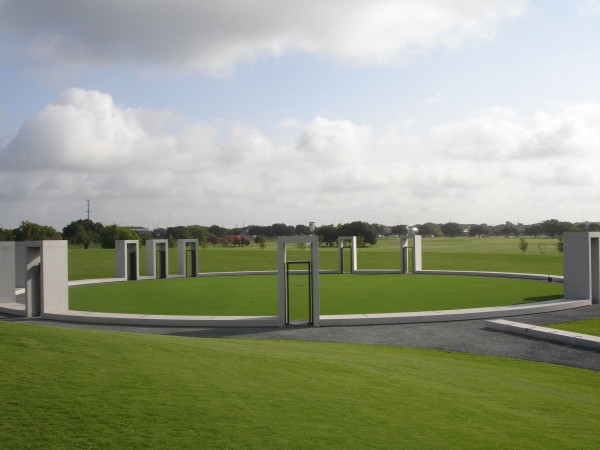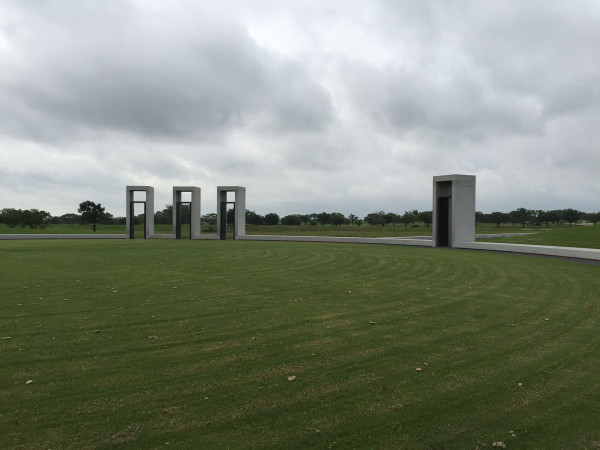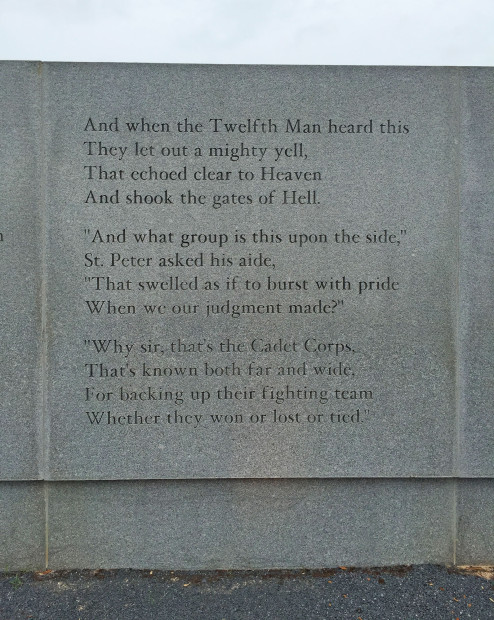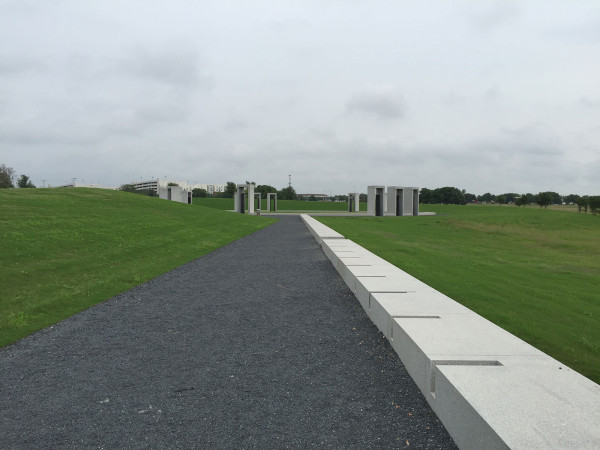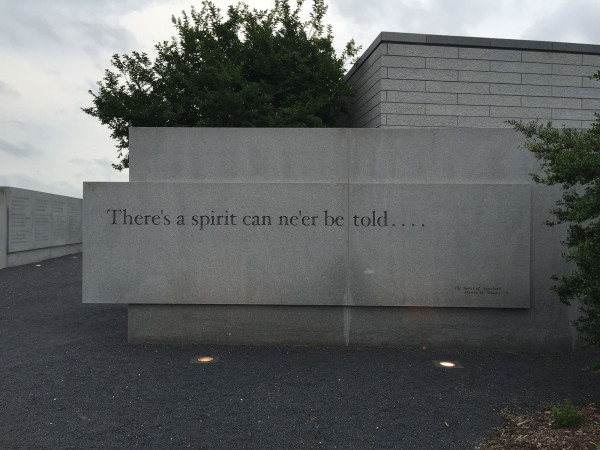 Correction 6/7/15: The "M" in A&M was originally misidentified as "military." It stands for "mechanical," representing the engineering schools at Texas A&M.